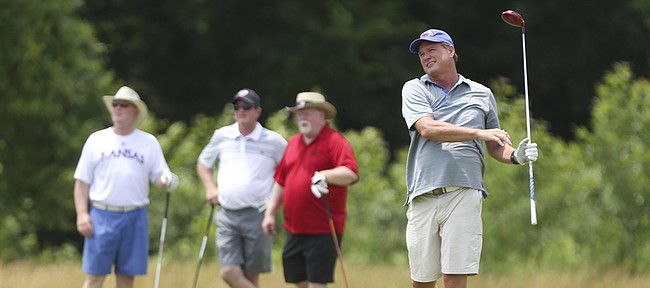 The setting happened to be sunny, scenic Eagle Bend GC, and the event the Bill Self/Lawrence Parks and Recreation Department Golf Classic, but the subject after lunch and right before 1 p.m. tee time Friday was basketball, of course.
Everybody's buzzing about 2016-17 Kansas University freshmen Udoka Azubuike, Josh Jackson and Mitch Lightfoot, who each had a batch of highlights the past two Wednesdays in Self campers games and who also have impressed in KU's official summertime practices.
Azubuike, a 7-footer from Nigeria, scored 26 points off 13-of-15 shooting in last Wednesday's camp intrasquad game, shaking the Horejsi Center rims in the process.
"I don't know exactly what he was, he was around 'three bills' when he got here," Self said of Azubuike, who pushed the 300-pound standard. "It is going to fall off him in a short period of time.
"I think he'll lose 15 or 20 (pounds) pretty easy," Self added of baby fat on the 16-year-old center. "He's not too heavy, though. He carries it well. He probably for longevity probably needs to drop a few. He is an explosive dude. I can't get over how athletic he is."
Azubuike's raw power already has impressed many.
"We've had some pretty strong guys We've never had anybody you are scared every tine he dunked, it (backboard) could shatter," Self said. "If you've seen that movie 'Blue Chips,' when Shaq (Shaquille O'Neal) is in that back gym dunking before anybody knew about (him), that's what Udoka looks like. Of course, he doesn't have the skill set yet to be great right now. He has good feet, soft hands. I think he'll develop that and be a really special player."
Jackson, 6-8, 200 from Prolific Prep in Napa, Calif., who is ranked No. 1 in the Class of 2016 by Rivals.com, scored 19 and 21 points in the two campers games the past two weeks, showing a nice touch from three-point land, as well as strong ability to drive and finish via the dunk.
"Josh is doing well. I think he's very happy. Josh didn't play much ball in the last couple months, let his body kind of rest up and heal up," Self said. "He had some nagging stuff (bumps, bruises). Josh is going to be a special guy. If you were just to watch them all right now you would say, 'Well, this 15 or that 15 minutes one looks better than the other.' I'm pretty confident when he gets really comfortable, he's going to look really good the vast majority of the time he's out there."
Then there's ultra-competitve 6-8, 210-pound Gilbert, Ariz., freshman Mitch Lightfoot, who is known for his competitive spirit. He had 11 points in the first of two camp games.
"Very competitive and a good athlete," Self said. "He's going to remind us a lot of the Travis Relefords, Elijah Johnsons, Kevin Youngs and the Bradys (Morningstar) and Tyrels (Reed) that come in and pay their dues, but you look up and say, 'Gosh, I'm glad we got him.' I think he's going to be one of those guys."
Lightfoot was thrust in the spotlight when he went up to block Jackson's dunk try in the first campers game, appeared to get all ball but bumped Jackson, who fell hard to the ground. Jackson had his wind knocked out but was uninjured on the play.
"I heard about it," said Self, who couldn't watch the camp games in accordance with NCAA rules. "They (Jayhawks) should play. Whatever playing is, that's what they should do. I don't look at it as, 'Don't go after Josh.' I wouldn't say that about any player. Summertime obviously you don't want to do anything that would be jeopardizing anybody. If you play, you are gonna get hit. If you get hit, you are gonna fall. Certainly that was the case with that one play. Josh is fine. He didn't have a problem with it."
Coleby doing more: Self on 6-foot-9, 240-pound junior transfer Dwight Coleby, who had left ACL surgery last Oct. 17: "I still think it could be any time he gets cleared. He's doing more and more. He's doing contact half-court. The doctors haven't released him up and down to be full go yet."
Self on soph guard Lagerald Vick, who erupted for 29 and 23 points in the two campers games: "I would say even in our workouts, Lagerald has to be probably the most improved over last year so far. You'd like to see all your veterans get better. Usually the guys who improve the most are the guys between their freshman and sophomore year. He so far looks the role of taking the biggest step."
Self on 6-10 soph Carlton Bragg Jr.: "I think Carlton is going to be terrific. He wasn't confident last year enough probably to be a scorer with all the other guys. This year I think he'll be confident enough to be a scorer. He certainly is a talent. He's getting bigger to me. He looks bigger. I don't know if we can get him close enough to the rim to rebound it right now, because he definitely wants to play on the perimeter, which all big guys do. He's really a talented kid."