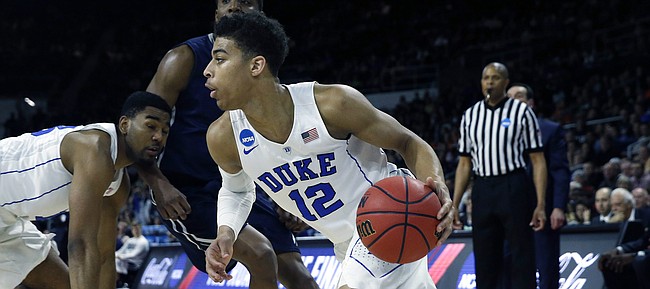 Former Duke University point guard Derryck Thornton has decided to continue his basketball career at USC.
Thornton, a 6-foot-2 freshman who recently revealed plans to leave the Durham, N.C., school after one season, on Friday chose the Trojans over Kansas University, Washington and Miami.
Thornton must sit out one season in accordance with NCAA rules. He will be allowed to practice with the Trojans, however.
"He really got along with (associate head coach) Tony Bland, (head coach Andy) Enfield and the whole staff," Derryck Thornton, Sr. told Scout.com. "He liked all four staffs but it was really the trust level at USC with Bland and the staff and the comfort of being home."
Originally from Chatsworth, Calif., Thornton — who played two years of high school ball at Findlay Prep in Nevada — averaged 7.1 points and 2.6 assists while logging 26 minutes a game in Duke's 36 games. He hit 39 percent of his shots, including 32.5 percent of his threes and 69 percent of his free throws. He had 93 assists versus 59 turnovers with 27 steals.
Thornton was ranked No. 14 nationally by Rivals.com his junior year at Las Vegas Findlay Prep where he averaged 17.0 points and 6.2 assists. He elected to reclassify last summer and play for Duke, which needed immediate point guard help. Because he had repeated the third grade, Thornton entered Duke at the age of 18.