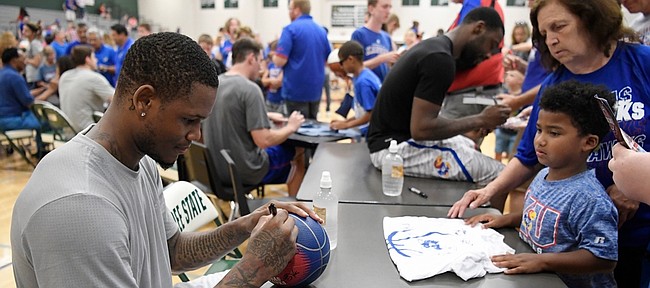 Former Kansas University guard Ben McLemore was determined to give a sellout crowd something to talk about Thursday night at Free State High.
"I love putting on a show, man. It's fun going out there, giving this whole event a show. Doing it for the kids … it's all for the kids," said the 6-foot-5 third-year member of the NBA's Sacramento Kings.
He knocked down seven three-pointers and finished multiple dunks en route to 38 points in his KU Blue team's 90-83 loss to the KU Red squad in the eighth-annual Rock Chalk Roundball Classic, a benefit for area children battling cancer. McLemore's career high in an NBA game is 31 points vs. Phoenix.
"It's always good to be back in Lawrence, Kan. It's home for me. I love seeing my former teammates and all the coaches. It's good to come back and enjoy the love," McLemore added.
McLemore, who missed five of his first seven shots then heated up to hit six of his next eight attempts, including four threes, actually will be back in town again next month. He and former KU guard Andrew Wiggins of the Minnesota Timberwolves are hosting a camp for youths ages 6 and up July 13-15 at Rock Chalk Park's Lawrence Sports Pavilion.
McLemore, a 23-year-old St. Louis native, is coming off a so-so 2015-16 season under one-and-done Kings coach George Karl in which he averaged 7.8 points a game off 42.9 percent shooting. Next year, in the final year of his contract, McLemore will play for new Kings coach Dave Joerger.
"He's excited. I'm excited. He sees I can be a big factor for this upcoming season and throughout my career," McLemore said. "I know the whole Kings' base, the team, the organization is excited, especially with the new arena (Golden 1 Center) and coach Joerger being involved. It's a building process for us. It's definitely going to come along. I've got to continue working hard this summer and perform next season."
McLemore has been in the news this week. He issued a "half court swish/dunk challenge" to several NBA players to hit a half-court shot, grab the basketball as it descends through the net, then dunk it as he did in a video available at http://usat.ly/1XYQpK0.
"I always practice half-court shots after practice, after workouts," McLemore said. "I said, 'Let me try this.' I shot it half-court, swished it, ran to go get it and dunked it. I challenged a few guys I know who probably can do it, also challenge the fans to do it and the entire NBA. Be creative with it."
On Thursday, nobody else on the Blue team scored in double figures. Former KU forward Kenny Gregory had nine points and Elijah Johnson seven. For the winning Red squad, Kevin Young of Puerto Rico's pro league, had 25 points and Cole Aldrich of the Los Angeles Clippers 17.
The 6-foot-11 Aldrich, 27, is a free agent this summer following a productive sixth season in the league. He averaged 5.5 points off 59.6 percent shooting and 4.8 rebounds per game, logging 13.3 minutes per contest in 60 games. He became a member of the rotation as the season progressed, scoring 21 points and grabbing 18 rebounds versus Utah.
"Free agency starts July 1, so we'll kind of see what happens, go through the options," Aldrich said. "It's a little easier of a free agency this year than past years. For me, you just continue. The body of work, getting better and finding ways. I just finished my sixth year (in league). I'm just starting my prime.
"For me, the Clippers still have a little bit of cap space to go back there. That is an option. We had a great time. It was fun. We gave it everything we had this year."
The Clippers lost Chris Paul and Blake Griffin to injury in the playoffs, falling to Portland in six competitive games.
Aldrich was a fan favorite on Thursday, wearing green shoes "to make me look faster than I am."
"It's great to come back. I still have some friends here. The fans here are the reason why I come back, to support everybody who supported me over the years," said Aldrich, a native of Bloomington, Minn. "I try to make it to this event every year just because Brian (Hanni) and his team do an unbelievable job helping those families who need the help." Hanni, radio voice of Texas Tech sports, formerly worked at Lawrence's KLWN. He is a candidate for the voice of the Jayhawks' job vacated by Bob Davis, KU's play-by-play announcer for football and basketball the last 32 years.
l
This, that: Former KU and NBA big man Scot Pollard hit a three. … Former KU women's team standouts Natalie Knight and Carolyn Davis each hit a three. … Former KU football player Kerry Meier had a bucket. … Former KU guard Tyrel Reed arrived late, then shook off the rust to score 12 points, hitting two threes. … Former KU great Darnell Valentine served as one of the coaches, as did former KU center Eric Chenowith. … Recent grad Hunter Mickelson competed and had five points.
RED (90)
Jeff Hawkins 1-6 0-0 3, Aaron Miles 3-6 0-0 6, Stephen Vinson 0-0 0-0 0, Cole Aldrich 7-10 2-2 17, Kevin Young 12-16 1-2 25, Nick Bradford 4-5 0-0 9, Jeff Graves 3-9 2-2 8, Michael Lee 0-4 0-0 0, Tyrel Reed 5-11 0-0 12, Scot Pollard 2-4 0-0 5, Brandon McAnderson 0-4 0-0 0, Natalie Knight 1-2 0-0 3, Little Kid From Stands 2-6 0-0 4.
BLUE (83)
Ben McLemore 12-23 7-7 38, Conner Teahan 1-2 0-0 2, Elijah Johnson 3-5 0-0 7, Brady Morningstar 3-7 0-0 6, Kenny Gregory 4-6 0-9 9, Justin Wesley 2-2 0-0 4, Jeff Carey 2-4 0-0 4, Hunter Mickelson 2-5 1-2 5, Caroline Davis 2-3 0-0 4, Greg Dreiling 0-1 0-0 0, Chris Zerbe 1-2 0-0 2, Kerry Meier 1-2 0-0 2.
Three-point goals: Red: Reed 2, Pollard, Hawkins, Aldrich, Bradford, Knight. Blue: McLemore 7, Johnson, Gregory
x-Red team is off two points