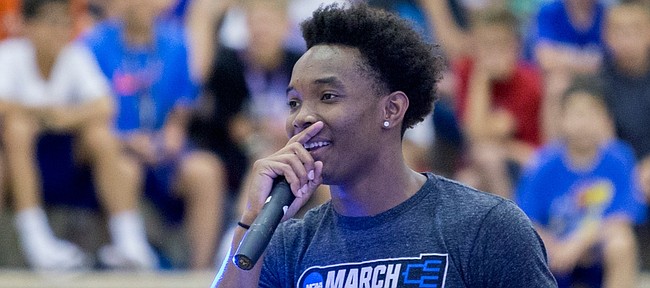 It should come as no surprise that Kansas University junior Devonté Graham, who coach Bill Self has been told by his players is "the most popular kid on campus," charmed several hundred of Self's basketball campers on Monday in Horejsi Center.
"How old was I when I first started playing basketball? I was 4, which is why I wear No. 4. That's a little fun fact right there," Graham, a 6-foot-2, 175-pound point guard from Raleigh, N.C., said in a Q-and-A session.
"I was good from a young age. I used to play football and basketball. I quickly figured out football wasn't the sport once I got to high school. Seeing all those big dudes on the field … I just liked basketball way more," he added.
Graham shared another "fun fact" regarding his superstitions.
"Before the game, I always put on left sock, right sock, left shoe, right shoe," said Graham, who averaged 11.3 points off 46 percent shooting (44.1 from three), 3.7 assists and 3.3 rebounds his soph season for the Jayhawks (33-5). "I always eat candy before the game. I don't know if that's a good thing or not. I eat candy, get some energy."
Graham so far this June has been a counselor at various basketball camps while, of course, playing a lot of basketball.
"We work out eight hours a week (with coaches for eight weeks in accordance with NCAA rules). There's weightlifting, (unsupervised pick-up games) and I go shoot by myself at night-time. At 9:30, I go shoot an hour or hour-and-a-half," Graham said.
Graham's goals for the summer are simple.
"I've got to be even more of a leader," he said. "I was working on that last year. Especially with all the new guys and freshmen, it's one of the big things I've been working on."
Freshmen Udoka Azubuike, Josh Jackson and Mitch Lightfoot have joined junior transfer Evan Maxwell on campus for summer school.
"They (KU newcomers) ask questions and all that kind of stuff. They don't know where to go. The first couple weeks, you've always got to try and help them out," Graham said. "Coach is on us about it, so we're trying to help those guys out.
"I mean, they all look pretty good. It's a comfort thing. They are kind of timid now. They are not in shape, but good enough shape for right now. It's definitely a new team. We've got a lot of new players. We're all getting to know each other right now."
Brown working on list: Troy Brown, a 6-6 senior-to-be combo guard from Las Vegas Centennial High who is ranked No. 8 in the recruiting Class of 2017 by Rivals.com, plans to announce a list of schools after the upcoming Peach Jam AAU event.
"Arizona, Cal, Kansas, Stanford, Oregon. They're all recruiting me to play the one, but they also say that they like that I can play the one through the three," Brown tells Zagsblog.com. "I'm going to be looking at the environment of each school. I want to be comfortable wherever I'm at, so I want to be able to enjoy everything with the school. I want to be able to have a relationship with the coaching staff on and off the court as well," he added.
Richards offers: Nick Richards, a 6-10 senior-to-be from The Patrick School in Elizabeth, N.J., who is ranked No. 19 by Rivals.com, has received offers from KU, Kentucky, Syracuse, UConn, Villanova, Rutgers, Seton Hall, Oklahoma and others, Zagsblog.com reports. Richards is a native of Jamaica and has only been playing organized basketball for about three years.
"He is long, athletic, moves really well down the floor and can sometimes stretch the floor with his mid-range jmper," Zagsblog.com's Chris Cirillo reports.
Newman visits WKU: Former Mississippi State guard Malik Newman, who has left the SEC school after one season, visited Western Kentucky last weekend, WBKO-TV in Bowling Green, Ky., reports.