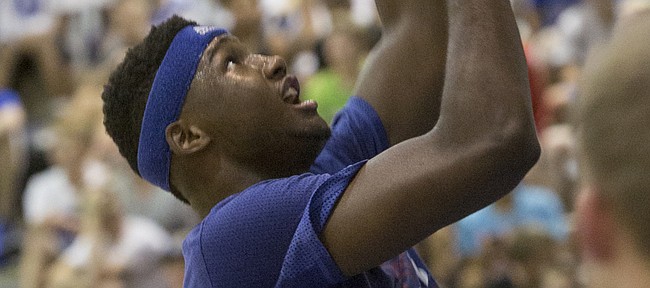 Carlton Bragg Jr., remembers the day he made his own fashion statement on the basketball court, discarding long, saggy shorts for the kind basketball players wore before Michael Jordan dropped the seam in the 1980s.
"It was my sophomore year, AAU season. I was in the bathroom and everybody took their shorts (from team personnel). There was a small pair of shorts. I had to put them on. I scored 44 or 45 (points), something like that. I kept 'em after that," related Bragg, KU's 6-foot-10, 235-pound sophomore power forward from Cleveland.
Bragg never was comfortable wearing shorts three or four inches below the knee.
"It's more comfortable. I sweat so much it's so heavy under my legs," Bragg said. "This feels comfortable to me."
He thinks he can talk teammates Devonté Graham and Mitch Lightfoot to help him start a new trend of shorter shorts.
"I'm trying to get it back. I'll give it one more month. It's coming back," Bragg said with a smile after taking part in drills for hundreds of Bill Self basketball campers Tuesday in Horejsi Center. "They (teammates) say it's not their style. I'm going to get a couple people with me for sure."
Bragg said the key to looking sharp with shorter shorts is to wear compression tights, as well.
"You've got to, got to. You don't want to look a little suspect," Bragg said, smiling.
The player who averaged 3.8 points and 2.5 boards a game his freshman season is already looking a bit bulkier than a year ago.
"I'm getting stronger, going with Hudy (Andrea, strength coach) every day, every morning just getting my body ready. I've put on six, seven pounds of muscle so far," Bragg said. "I'm building more. I'll probably put on another 10 hopefully. It's about eating right, getting challenged each and every day."
He said he was pushed around on the block his freshman campaign.
"Coming from high school to college … it's a big difference," Bragg said. "Playing fast. The veterans had a lot of experience over us. They knew what to do. We were just out there learning. It was hard but fun at the same time."
Bragg's also been working on his skill set this June.
"Getting back in shape, working on my jumper, pull-ups," he said. "Ballhandling and the mindset to attack, attack. It (his game) is going to be a big surprise for everybody this year, trust me."
Bragg said he's been amazed at the play of freshman big Udoka Azubuike, who stands 7-foot, 270.
"He's a big fella. I think he's 7-feet, 7-1," Bragg said. "Wait until he starts getting angles and knowing the experience like we do. He's going to be tough, tough. When he gets the ball he really can score. It doesn't matter. He's going to dunk it. I didn't know he could run the floor like that. He can run for a big fella."
Of frosh forward Lightfoot, a 6-8, 210-pounder, Bragg said: "I've taken Mitch under my wing, leading him by example. I love his game. His personality is great. He reminds me of myself."
And for freshman guard Josh Jackson, Bragg said: "He's my roommate. He likes to joke around. He's feeling more comfortable with us."
Bragg was in an especially good mood on Tuesday, a day after his hometown Cleveland Cavaliers stunned Golden State in the Bay Area to cut the deficit to three games to two in the NBA Finals with Game 6 on Thursday in Cleveland.
"I'm loving it," Bragg said. "Good win yesterday. I think we're going to come out and win. I knew they had that mindset, the killer instinct and LeBron (James) with his leadership carried the team. They've just got to buckle down on defense, stop (Stephen) Curry and Klay (Thompson), stop them from having those 30- and 40-point games."
Bragg, by the way, might be convinced for an encore of his piano playing at this fall's Late Night in the Phog. He recently shocked some campers by performing for them.
"They were very amazed," Bragg said. "One kid came up to me and said, 'I saw you at Late Night.' I said I'd play for him again. I played a little 'Ego,' little Rihanna, 'Work.' I'm trying to take a class this summer, get my skills back, get it back up to par for this year."
This, that: Former Mississippi State guard Malik Newman is on a campus visit to North Carolina State, Zagsblog.com reports. ESPN.com's Jeff Goodman says he'll visit Miami this weekend. He's also considering KU, Western Kentucky and others. ... Draftexpress.com says former KU forward Cheick Diallo will be taken 19th in the June 23 NBA Draft by Denver. Wayne Selden Jr., is listed as No. 19 pick of Round Two by Detroit.