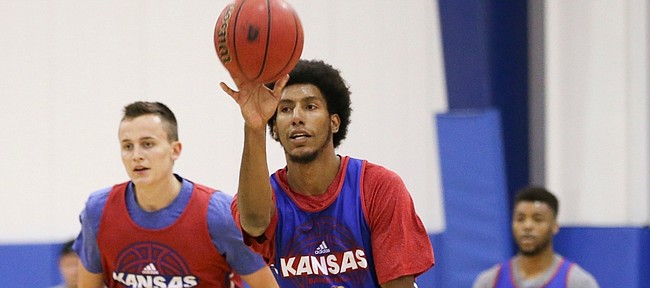 Former Kansas University basketball forward Kevin Young, who just recently returned from Puerto Rico, where he played this past season for Indios de Mayaguez of the Baloncesto Superior National League, fit right in with the current Jayhawks during Wednesday's Bill Self campers game in Horejsi Center.
The still-slender 6-foot-8, 190-pounder, ran the court effectively with Josh Jackson, Frank Mason III, Landen Lucas and the rest of the winning Blue team members — to the tune of 16 points off 8-of-11 shooting.
"It was a lot of fun. Those guys are very talented. They seem like a great group of guys. They're going to be good. It's my first time actually getting to see all of them at the same time," said Young.
"The big kid … once he gets his footwork down and learns how to use his body, he's going to be really good. He has the speed and the body," Young said of 6-11, 270-pound freshman Udoka Azubuike, who had eight points for the losing Red team.
"I think so, from what I've seen," Young responded when asked if the 6-foot-7 Jackson, who had 21 points, appeared worthy of the hype of being the country's No. 1 recruit. "He played really well in the scrimmage. I think he's going to be a great fit here."
Young was a senior transfer out of Loyola Marymount during the freshman campaign of current seniors Landen Lucas and Tyler Self.
"Landen shot a three today," Young said with a laugh of the 6-foot-10, 240-pound Lucas, who missed, but did finish with 10 points off four inside buckets and two free throws. "Before when we were working out, he was shooting with me a little bit. I thought it (three) was good. I doubt we'll see that from him during the season. He's getting a lot better and he's gotten a lot stronger," Young added.
The 25-year-old Young, who is originally from Perris, Calif., has been busy since graduating from KU after the 2012-13 season. He's played in Mexico, Canada and Puerto Rico as well as the NBA's Developmental League. Last season, he averaged 1.3 points and 1.8 boards in 14 games for the Maine Red Claws, before heading to Puerto Rico where he averaged 10.5 ppg and 6.7 rebounds in 35 games.
"I love it. I'm Puerto Rican. It's always an honor to play for a team out there," Young said. "I love coming back (at season's end). My mom still lives here. I got to see my little brother graduate from Free State. I'm proud of him for doing that. I love it here. It's home."
Young in 2014-15 averaged 17.4 points and 8.8 boards for the Halifax Rainmen of NBL Canada. He also was named the league's defensive player of the year. It was a successful season except for one thing. The Rainmen players were fined $5,000 each and suspended from the league for an indefinite amount of time for boycotting the final game of the league Finals. The Rainmen figured it was too dangerous to play after a fight broke out between the teams at a morning shootaround.
"They eventually asked for a majority of our team to come back. Most of us decided not to," Young said. "Most decided to go other places. I think two players went back to the league and played, but not for the same team. They basically erased our team out of the history books in Canada and brought in another team in the same city. They just changed the name."
What actually happened?
"There was a big fight before the game. A big brawl started out at a workout. It just got crazy," Young said.
Of the total experience in Canada, he said: "It was a lot of fun. The competition was OK. It wasn't much compared to Puerto Rico. Puerto Rico is a physical league. They have a lot of ex-NBA players there."
Young isn't sure where he'll play next season. "I'm taking this summer off from the (Puerto Rican) national team to work on my skill sets. Hopefully I'll get a little stronger and better," Young said. "I miss it every day," he said of KU. "There's nothing like it. I've played different places and the fans don't compare anywhere, not even close. Just being able to be in that fieldhouse atmosphere and being loved like we are here, it's amazing.
Big game next week: Young will play in Brian Hanni's Rock Chalk Roundball Classic at 7 p.m., Thursday at Free State High. The game will feature more than 30 former KU basketball players. Tickets are $10 and all proceeds benefit local children fighting cancer. They are on sale at 23rd Street Brewery and also AAA on Wanamaker in Topeka. To volunteer or donate to the game contact Brian Hanni at brianhanni@hotmail.com. Information on the game is available at facebook.com/rockchalkroundballclassic.
Also Morningstar's New York Pizza has announced it will donate all sales Wednesday to this year's Roundball Classic beneficiaries.
Attendance talk: KU led the Big 12 Conference in home attendance for the 30th consecutive season, it was announced Thursday. KU averaged 16,436 per home game. That figure ranked ninth nationally. For all games, home, neutral and away, KU ranked seventh nationally.