Add "tough" to the list of words used to describe Kansas University freshman guard Josh Jackson, the No. 1 prospect in the recruiting Class of 2016 according to Rivals.com, Scout.com and 247sports.com.
Jackson, a 6-foot-8, 200-pounder from Prolific Prep in Napa, Calif., scored 21 points off 10-of-17 shooting while helping his Blue team to a 92-85 victory over the Red squad in the Bill Self campers game on Wednesday in Horejsi Center.
He managed to escape injury after getting hammered by freshman forward Mitch Lightfoot on a second-half drive down the middle of the lane.
Photo Gallery
Bill Self Camp Scrimmage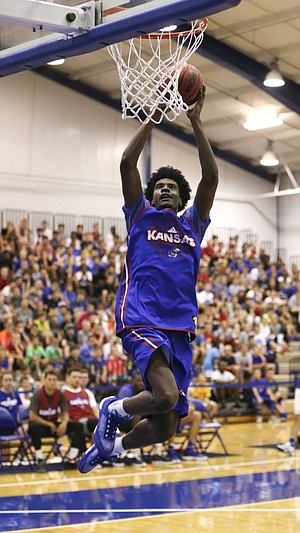 Jayhawk newcomers, upper classmen and players of old squared off for a scrimmage on Wednesday during Bill Self's basketball camp at Horejsi Center.
Jackson, who was hit going up for a right-handed layup, had his feet fly up in the air before he descended hard on his backside underneath the goal.
No hands broke his fall.
He immediately rolled over and placed his hands first on his head, then over his eyes in obvious pain.
"It wasn't as bad as it looked. I just got the wind knocked out of me. It's part of basketball," said Jackson, who only needed a minute on the bench to make sure all of his body parts were where they were supposed to be, before returning to the scrimmage.
"Oh, yeah, he'll definitely hear about it," Jackson stated with a smile, asked if he'd tease Lightfoot about the play.
"He already did, a little bit, actually," Jackson added of talking to the 6-8, 210-pound Lightfoot, who had 11 points for the Red team.
That play put a scare into several hundred campers, who otherwise stomped their feet in approval, with Jackson performing as well as advertised.
He had a steal and two-handed flush for his first bucket, then swished a 15-foot jumper. He also hit a floater in the lane, a three-pointer from the side and right-handed stickback of his own miss of a driving layup out of his left hand.
"It's extremely intimidating," Jackson said of running the court with the likes of veteran Frank Mason III, who had 24 points for Jackson's Blue team; former KU forward Kevin Young, who had 16 points; senior Landen Lucas, who had 10; and former KU guard Brady Morningstar, who chipped in nine.
The losing Red team was led by sophomore Lagerald Vick, who had 29 points off 10-of-13 shooting, with seven threes.
"They are a lot stronger than I am. They've got a lot more experience. I'm just trying to learn a lot of things from them that they went through when they were in my position," Jackson said. "I'm just trying to learn as many things as I can to help better myself and my team this year."
Jayhawks past and present have given him some advice since his arrival on campus for summer school Monday.
"Probably a few I've been getting is to believe in myself a little bit," Jackson said. "I know that I'm a freshman. Many people who have all these expectations for me, they just tell me not to let it go to my head, just let me play my game and let it all come naturally."
He is willing to admit he feels "a lot of expectations. I'm just trying to come here, be part of a winning team, win as many games as we can and hopefully I fulfill every expectation I have this year."
Music to fans' ears will be his declaration that he's in no hurry to head to the pros.
"Just to get better while I'm here," he said of his own personal goals to go with the obvious — winning. "A lot of people would say I'm a one-and-done player. I don't really view myself that way. I think I'll be here as long as I need to be, until I feel I'm ready to take that next step. While I'm here, I want to get as good as I can and win as many games as I can."
KU coach Self said this week he has been impressed with Jackson's personality.
Jackson has gone out of his way to introduce himself to teammates and other students on campus, not wait for strangers to come up to him. The roommate of Vick and Carlton Bragg Jr. (14 points Wednesday), Jackson said he already has received the most help from Mason and Devonté Graham.
"I didn't want to let anybody down. I just wanted to show them I could play and be helpful to the team this year," Jackson said of his first conversations with his new teammates.
Jackson met the media Wednesday for the first time in a long time.
He hadn't spoken since April at various prep all-star games. Until Wednesday, the Detroit native had not yet explained publicly why he chose Kansas over Arizona and Michigan State on April 11.
"I picked KU because I felt it would better me the most on and off the court as a man and as a player," he said. "I felt like the coaching staff around here I could really trust. I loved all the guys on the team. I felt they were all playing for the right reasons. I got a real family feeling here. When I was here (on visit for Texas game), I knew in my mind this is the place I wanted to be."
He said he felt a good vibe from the players on his visit.
"To win at all costs," he said. "A lot of guys who have a lot of talent mainly worry about scoring and looking good. Me and the rest of the guys on the team … I can see it's about winning. Each and every one of us will do whatever we have to do to make sure that happens."
Of wanting to play for a tough coach like Self, he said: "Just because I know how I need to be coached to make myself a better player. I know every successful team has had a tough coach. I felt coach Self was the perfect coach to coach me. I don't like things being handed to me at all. I believe that's the way things should be done and the way things have always been done. Everything has to be done the right way."
On a personal note, Jackson, whose mom, Apples Jones has been in town this week to help him get settled, has found Lawrence as pleasant as can be.
"I thought it would be a little cold, little gloomy," he said. "I got here, and it was beaming sun in my face. I was like, 'What, am I in Lawrence right now?' I couldn't believe it. I felt like I was back in California."
Recruiting update: KU has extended a scholarship offer to 6-5 small forward Marcedus Leech, who made an unofficial visit to campus Wednesday, Rivals.com reports. He's a sophomore-to-be from Poplar Bluff (Mo.) High.
BLUE TEAM (92)
Josh Jackson 10-17 0-0 21, Evan Maxwell 3-5 0-0 7, Frank Mason III 10-13 0-0 24, Landen Lucas 4-6 2-2 10, Clay Young 2-2 0-0 5, Brady Morningstar 4-5 0-0 9, Kevin Young 8-11 0-0 16.
RED TEAM (85)
Lagerald Vick 10-13 2-2 29, Carlton Bragg 6-11 0-0 14, Udoka Azubuike 4-6 0-0 8, Devonte Graham 3-8 0-0 8, Mitch Lightfoot 5-9 1-2 11, Brannen Greene 4-9 0-0 9, Christian Garrett 1-2 0-0 2, Tyler Self 1-3 0-0 3.
Three-pointers: Blue (Mason 4, Clay Young, Jackson, Maxwell, Morningstar); Red (Vick 7, Bragg 2, Graham 2, Greene, Self).
x-Red team scoring is off one point.