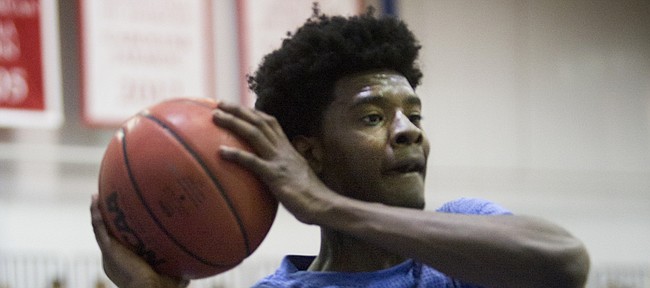 Josh Jackson and the rest of Kansas University's perimeter players ran through shooting drills on one end of the court, while fellow freshman Udoka Azubuike and the other Jayhawk big men roamed the other side, thrilling several hundred Bill Self basketball campers during a 30-minute exercise on Tuesday at Horejsi Center.
Jackson, the No. 1 recruit in the Class of 2016 according to Rivals.com, showed a nice touch on his jumpers and also thrilled the foot-stomping youths with an assortment of slams, while Azubuike appeared to be trying to tear down the goal on his power jams.
"I don't know if you can tell, he's really big and strong and athletic. I don't think I've ever been around ... I don't think we've had anybody who probably has as many physical tools as what he has from a post-man position," KU coach Self said of Nigeria native Azubuike, a 6-foot-11, 270-pounder out of Potter's House Christian in Jacksonville, Fla.
"He has a lot of things you can't teach. Obviously he's very athletic for his size," Self added of Rivals.com's No. 31-rated player nationally.
Whereas it may take the 16-year-old Azubuike some time to get adjusted to major-college basketball, the 6-7, 200-pound Jackson is expected to grab a starting spot to start his one-and-done season.
"Zero for today," Self said, asked his expectations for Detroit native Jackson, "but for the year I want him to be the best freshman in the country. I really think he has a chance to impact us as much as any freshman can impact any program. Obviously he has to knock the rust off and get stronger. There are a lot of things he needs to do to put himself in position to be that, but certainly that is our goal for him and I think that's the goal for himself too."
Jackson's personality has already drawn rave reviews after one day in town.
"He is surprisingly to me very very humble and I would say responsible, disciplined," Self said. "I figured that recruiting him and kind of reputation-wise he'd be kind of rough around the edges. He's not. He's pretty refined in so many ways. Now his game needs to become more refined, but off the court he's got a personality. He's smart. He's ridiculously bright, articulate and makes an unbelievable first impression. From what people have told me he's won everybody over that he's come in contact with on campus in Day One just because he's shocked them. He doesn't wait to be introduced to somebody. He goes and introduces himself. I think his personality is going to be pretty infectious."
Asked if 6-8, 210-pound frosh Mitch Lightfoot can help the team this year, Self said: "I don't know. I would think so. We recruited him to play. If he's not part of the mix certainly I guess we can talk about that (red-shirting) later but I see him being a guy who will fight for minutes now."
Coleby not 100 percent: Dwight Coleby, a 6-9 junior transfer from Ole Miss, who had left ACL surgery the second week of October, took part in drills Tuesday but will not play in today's campers game.
"He hasn't been released to play yet," Self said. "That's the best I've seen him look as far as moving by far. There's still no contact. Hopefully he'll be full speed within a month, but he hasn't responded quite as quickly as what some of the other guys we've had who have had that surgery have."
Early Late Night info: Late Night in the Phog will be held at 6:30 p.m., Saturday, Oct. 1, KU announced Tuesday. As at KU men's home games, KU students will be allowed to enter Allen Fieldhouse two hours prior to Late Night festivities, at approximately 4:30 p.m. KU students will enter through their customary, separate game-night entrance on the northeast side of Allen Fieldhouse. Doors will be open to the general public at 5 p.m.
Svi training: Svi Mykhailiuk is back in Ukraine training for the Under 20 European championships July 16-24 in Finland. "I think he leaves for Italy tomorrow or the next day to play some exhibitions before he plays in the 20 and under. He's excited about that," Self said of the junior guard.
The great one remembered: Self explained that he once met the late, great boxer, Muhammad Ali. "He came to a fight night in Tulsa when I was coach at University of Tulsa," Self said. "It was a big deal because he and Joe Frazier were both there the same night. You talk about a small town, six or seven bouts, you've got Ali and Frazier in attendance, that was a big deal. When you say meet, it was 'Hi, sir,' that was about it. it wasn't like we had a long dialogue. That was pretty cool. I grew up always cheering for the guy fighting him because he was so cocky. Now I realize cocky was cool. He brought so much attention to the sport. To hear all his quotes and sayings, pretty good, pretty good," Self added.
It was interesting that Self saw Frazier and Ali in the same building. Ali tossed a batch of insults Frazier's way before and after their three fights.
"Based on what I have understood, they got close in their later years," Self said. "From what I understood, Ali felt bad about doing that. He changed his view on how he handled some things he might have handled better. He sold tickets. You watch those fights … those are real fights."