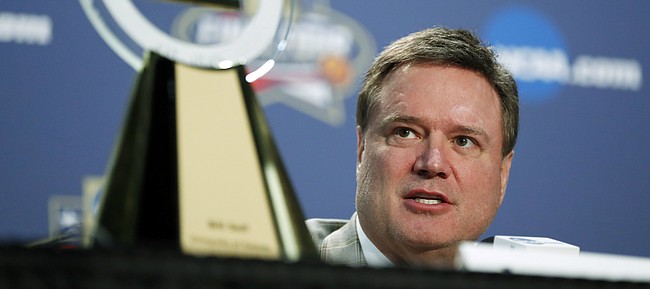 There's an old golf story floating around that compares former Kansas basketball coach Roy Williams' countless rounds of golf at Alvamar to the first time current KU coach Bill Self played there.
The story recalls how Ol' Roy would arrive early, pick the teams, call the game, pinpoint the specifics and head to the first tee knowing that every detail of the round was just as he liked it.
That was not the case when Self first teed it up at the same course 13 years ago.
Instead of outlining every detail, Self's crew arrived a little before its tee time, strolled to the first hole and went for it like a weekend foursome.
That disparity, though having nothing to do with basketball, represented one of the most obvious differences in the transition from Williams to Self.
Since then, with Williams moving home to North Carolina and passing the torch to Self, who three times has defeated his predecessor in the NCAA Tournament, Kansas basketball has traveled down a different path than the one it walked under Williams for 15 seasons.
The wins have continued to pile up, and KU has remained a perennial title contender, but five oh-so-subtle tweaks that followed Self's arrival set a new course for Kansas and brought us to today, where Self and the Jayhawks sit on the verge of tying UCLA's record of 13 consecutive conference titles heading into 2016-17, which officially opens with Late Night two months from today.
Hello, giant Jayhawk
With a new hoops coach and new athletic director leading the Jayhawks into 2003-04, Self and Lew Perkins decided to do something bold. Gone was the old state of Kansas logo that sat at mid-court of Allen Fieldhouse. In to replace it was a 251⁄2-foot Jayhawk that promised to jump off television screens and lead the movement toward stronger branding of Kansas basketball.
"That's when we knew things were changing," said one former player who began under Williams and finished playing for Self. "The big Jayhawk. The new video board. They just modernized the whole facility. I grew up in this modern world, and I was, like, 'Yes! Look at this big Jayhawk. Look at that video board.' It was just awesome to experience that. And I can tell you, for recruiting, that stuff is huge."
More than Williams, Self always has seemed open to the idea of glitz and glamour guiding his program. And throughout the years, he has shown greater acceptance of the need for trendy uniforms, flashy play, bold changes to the locker room and facilities and the hype that accompanies recruiting. In addition, Self, better than most, has embraced the importance of the one-and-done culture without sacrificing sound fundamentals.
Another former player asked about the difference between the two coaches referred to this as Self being "more John Calipari than Dean Smith."
2004 Elite Eight run
Say what you will about a coach guiding players he inherited, but the run Self's Jayhawks made during the 2003-04 season was crucial to his being accepted quickly by the Kansas basketball community.
Fresh off of back-to-back Final Fours and an appearance in the national title game, Kansas was in the middle of one of the most impressive strings of recent success.
In his first season in charge, which included a few noticeable changes in style of play and program priorities, Self's fourth-seeded Jayhawks advanced to the Elite Eight before losing to Georgia Tech in a game that could have gone either way.
Another Final Four would have been the dream scenario, but getting back to the brink of the big stage proved just as important.
"Once he got us there, we got the sense that, 'Well, this dude does know what he's talking about,'" said a reserve guard on that 2003-04 team. "He proved that he could get us there his way, and that was huge. That's when we really started to believe."
Expanded recruiting corridor
So great was Williams' respect for his mentor Dean Smith that the longtime KU coach often avoided mining the same areas of the country for talent while at Kansas.
For the most part, this meant areas east of the Mississippi River, which left Williams to restock the roster of one of the best programs in the nation with roughly half of the country's population at his disposal.
The thought was that there were enough players in the Midwest and on the West Coast — areas in which Williams did very well on the recruiting trail — to keep Kansas competitive without forcing Williams to confront the uncomfortable task of recruiting against Smith, which inevitably would have happened.
When Self arrived, all bets were off. The East Coast became a target area because of the number of tough and talented athletes that fit the Self mold who resided there. And some of KU's top players under Self have come from areas that Williams might never have recruited — Russell Robinson, Tyshawn Taylor, Thomas Robinson, Marcus and Markieff Morris, to name a few.
Self's recruiting philosophy is simple: Go wherever you have to go to get the players you want. And KU's recent rosters have proven that Self has not been shy about traveling anywhere to get top talent. From Cali and Vegas to New York and Florida, Minneapolis to Texas, Africa, Canada and Ukraine, Self has pulled players from all over the world into the Kansas basketball family.
Defensive principles
Both coaches like to stress fast offense, but that strategy ranks as the most important thing for Williams and sits more in the No. 1A slot for Self.
Williams believes a team can get up and down the floor no matter what happens on the defensive end.
Self, however, preaches that in order to play fast, you first must get stops.
It's important to remember that just because Williams feverishly waved his arm to inspire fast breaks, it did not mean he dismissed defense.
In fact, another former Kansas player who has familiarity with both Williams and Self said the big reason people believe the two are so different is the way they emphasize defense.
"Coach Williams spent as much or more time on defense as coach Self," the player said. "But because of the style of offense coach Williams had, it took away from our defense."
When comparing the two during their time at KU, a few former players recalled Self putting a greater emphasis on film study. Self uses tape early to emphasize a few core requirements that remain constant.
"Coach Self gets the principles of the defense in, and the guys understand that very early on," one former player said. "So, as the season goes along, you're tweaking, and you don't have to spend as much time making major adjustments."
While Williams stressed team defense, Self views defense as a very personal skill rooted in pride and toughness. His quest each year is to find five players — and preferably more — who can guard their men and tackle the challenge of not letting an opponent get to the basket.
Even though their points of emphasis were different up front, both Self and Williams strongly believe that even the best offensive teams cannot win big without solid defense.
It's here where the two Hall of Fame coaches are most alike, even though it may not always appear that way. As one of the former players consulted for this column said, "When you cut 'em open and see what they're about, they really are very similar."
Another former Jayhawk suggested that Self's sideline demeanor — a roll of the eyes, heavy cringe or icy glare — might paint the picture that defense is more important to him than to Williams.
Man about town
From the minute he arrived in town and was greeted at the Lawrence airport by a few adoring KU basketball fans, Bill Self has been visible in Lawrence.
And you'd be hard-pressed to find a person who has seen him be anything but comfortable with his perpetual presence in the spotlight.
Whether it's out at dinner with friends or at speaking engagements from golf tournaments to black-tie galas, Self carries with him the charm and charisma that makes him approachable and beloved.
Williams did not. Although he often flashed his charming, southern personality, Williams preferred to stay out of the public eye and often kept the company only of his closest friends behind closed doors.
Self's willingness to let more people in, along with his uncanny ability never to forget a name or face, has helped the program soar to extraordinary heights, inspiring an even stronger family feel between fans and team.
"Coach Self is such a people person with everybody," one former player said. "He just makes everybody from Bob Davis to the facilities guy and everybody on the street feel a real connection with him. That's just how he is. And it's important to him."
Added another former Kansas player of Self's positive public image: "I think that built the brand and helped with donors and people feeling connected to the program. That stuff adds up and is important. During the down years, that helps build up equity."
The Jayhawks, of course, have had very few down seasons during the 13-year Self era.
After winning 24, 23 and 25 games during his first three seasons, Self rattled off an average of 32.5 victories over a seven-year stretch that included six 30-win seasons, one national title and two Final Four appearances.
With a record of 385-83 in his first 13 seasons, Self is ahead of the torrid pace set by Williams, who finished 418-101 in his 15 years in charge of Kansas basketball.