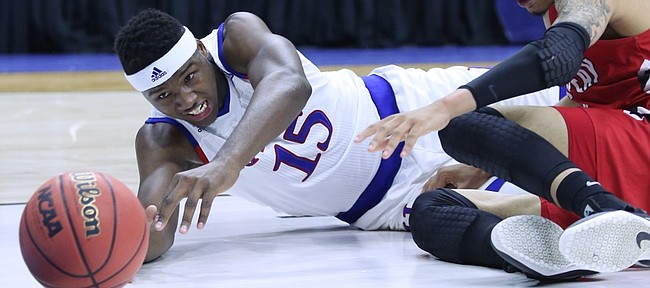 Based on the inflated heights on some college basketball rosters, the players must have been measured when standing on high school press clippings.
So many players listed as 6-foot-9 by some schools actually measure closer to 6-7. Then there is Carlton Bragg Jr., the sophomore forward from Cleveland who projects as a starter at power forward for Kansas this season. To the naked eye, Bragg looks closer to 6-11. He looks as if he has grown a couple of inches since arriving on campus.
"A lot, yeah," Bragg agreed during a recent conversation.
Might he now be 6-11?
"Of course I am, I would say," Bragg said.
It's not important enough to him to ask to be remeasured. He only worries about what is under his control, including the basketball he bounces off the floor.
"I can handle it well," said Bragg, who scours YouTube for dribbling drills. "I'm trying to get really good at it. I'm working on it a lot by myself. Two basketballs, pound dribble, between the legs with two basketballs. I'm always looking at the stuff Kyrie (Irving) does."
Bragg tends to refer to the members of his hometown Cleveland Cavaliers by their first names and says "our" when referring to the NBA champions with pride.
He watched Game 7 vs. the Golden State Warriors at a roller-skating rink in Kansas City with fellow KU students from outside the basketball program.
"They had a big TV up there, and we watched it before skating," Bragg said. "There were a lot of Golden State fans there, so it got kind of intense toward the end."
His nerves calmed once "I saw LeBron (James) get that block. That's when I knew we wanted it more than them. That's the energy play. Then Kevin Love stepped up and got the stop with (Stephen) Curry, and then Kyrie hit the shot."
Clearly, Bragg greatly respects NBA players. He fully understands how good they are, how much he has to improve to compete well against them. Maybe that's why he did what so few with his size, skills, athleticism and overall potential do, deciding against declaring for the NBA Draft.
"Everyone was testing the waters," he said. "It's cool for them. I thought it was better to focus on getting better for next season."
Bragg might have been the first Kansas player drafted, but will have a better NBA career for having waited. Remember Xavier Henry? Sadly, the NBA barely does.
Far more important than whether the top of Bragg's head measures 81 or 83 inches from the floor, is how filled with wisdom it is for a man so young.