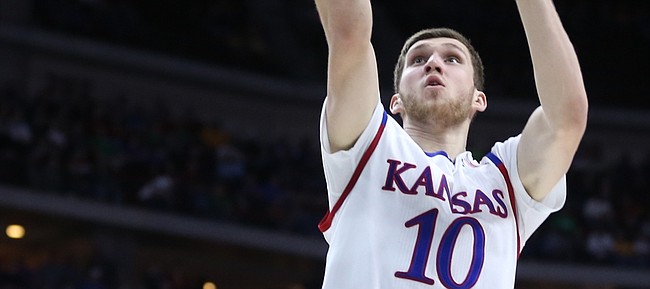 Kansas University's men's basketball exhibition game against Emporia State, initially set for Nov. 7, now will be played at 7 p.m., Sunday, Nov. 6 in Allen Fieldhouse, KU announced Tuesday.
The game will be televised on the Jayhawk Network/ESPN3.
KU will be traveling to Honolulu a few days in advance of its regular-season opener against Indiana on Nov. 11. The Jayhawks then travel to New York to play Duke on Nov. 15.
The Jayhawks will play Siena on Nov. 18 in Allen Fieldhouse, then play a pair of games in Kansas City, Mo.: vs. UAB on Nov. 21 and either George Washington or Georgia on Nov. 22. KU will meet UNC Asheville on Nov. 25, Long Beach State Nov. 29, Stanford Dec. 3, UMKC Dec. 6 and Nebraska on Dec. 10 in Allen. Also, KU plays Davidson on Dec. 17 in Sprint Center, travels to UNLV on Dec. 22 and meets Kentucky on Jan. 28 in Lexington.
Svi pots 17: KU junior guard Svi Mykhailiuk scored 17 points off 8-for-23 shooting in Ukraine's 72-70 victory over Latvia on Tuesday in the Under 20 European World Championships in Finland.
He hit one of eight threes and also had four rebounds and four steals in 35 minutes.
Offer to Grimes: KU has offered a scholarship to Quentin Grimes, a 6-4 junior shooting guard from College Park High in the Woodlands, Texas, who is ranked No. 38 in the recruiting Class of 2018 by Rivals.com. He also has SMU, Tennessee, Texas A&M; and others on his list.
Offer to Dotson: KU has offered a scholarship to junior point guard Devon Dotson, according to Rivals.com. Dotson is a 6-1 junior point guard from Providence Day in Charlotte, N.C., who is ranked No. 49 by Rivals.com.
White pondering choices: Former KU and Nebraska guard Andrew White III has not yet picked his transfer destination. He has visited both Syracuse and Michigan State and is said to be considering Texas and VCU, maybe others.
"He's a really good three-point shooter. He's obviously big at 6-7, so that's a match-up problem. He's mentally tough and aggressive. He'll get in there and rebound. He's not a softie," Bleacher Report's Jason King told syracuse.com. "I think they worried a little bit about his quickness and lateral movement at Kansas. Bill (Self) is a big-time defense guy.''
King added: "From all indications, he's a real top-notch dude. He's a good ambassador. He's going to do well academically. He's not going to divide a locker room. He was really well-liked. For that reason, I was a little surprised about him leaving Nebraska.
"At the end of the day, he has one year of college left and he probably wants to play in the NCAA tournament and that wasn't going to happen at Nebraska.''