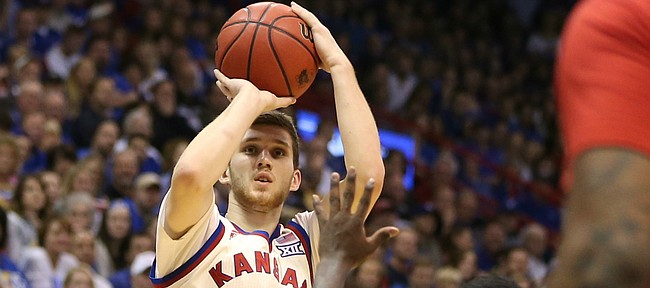 Kansas University junior guard Sviatoslav Mykhailiuk scored 14 points off 5-of-22 shooting and grabbed 11 rebounds in Ukraine's 70-68 loss to Slovenia in the first game of the FIBA Under 20 European Championships on Saturday in Helsinki, Finland.
The 6-foot-8 Mykhailiuk hit one of seven three-pointers as well as three of four free throws. He had two assists, two steals and one turnover in 36 minutes.
Slovenia's Nejc Martincic hit a driving layup to beat the final buzzer and assure the victory. Mykhailiuk's Ukraine team will meet Serbia at 8:15 a.m., today in its second game in Group C. Group competition determines seeding in the 16-team bracket to determine the overall champion. The event concludes on July 24.
To watch a replay of Saturday's game, go to the Web address http://bit.ly/29LIy1m
White disputes 'villain' tag: Former KU and Nebraska forward Andrew White III, who is visiting Michigan State this weekend, said a meeting with Husker coach Tim Miles ultimately led to his decision to become a graduate transfer.
"It (meeting) was interpreted as a slap in the face, as if I was saying I didn't believe in the program, my teammates or the coaching staff," White told mlive.com. "Really, I was just thinking about best-case scenario and worst-case scenario for everybody. I think that's something a lot of people do. When I was expressing those concerns, I thought that being one of the older guys (on the Nebraska team) would kind of put me in a place where I could talk about those things. So I talked to Tim Miles and he expressed his thoughts about me. We're grown men and we had the right to have some differences in opinion.
"Ultimately, that's what kind of sparked my decision. I didn't want to be in a situation where there was a bridge burned and I wouldn't be able to do what I dreamed of doing. So I thought it was best for both parties to move on in another direction."
White, who has been criticized by some Husker fans for leaving the team in June, said he was denied the opportunity to "make a statement and approach it the way that I wanted to — so that it would have had some sensitivity and something genuine attached to it. That's kind of why it's been so ugly and there's been so much heat. So I'm kind of being interpreted as classless and as not caring about anyone, but I don't think that's the case."
White, who has also visited Syracuse, and is said to be considering Texas, VCU and Louisville, realizes he'll be even more a villain to NU fans if he chooses MSU and stays in the Big Ten.
"I'm confident in myself as a person," White told mlive.com. "I'm not as bad of a person as the Nebraska fan base is deeming me. I just understand that it's sports and sports are emotional. People are invested in it. So I'm not going to hold a big grudge or fight back at Nebraska. If I go to Michigan State, I would just go in there and do my best just like I would anywhere else."
Summer league: Former KU wing Kelly Oubre Jr., scored 17 points off 4-of-15 shooting (1-of-7 from three) and grabbed seven rebounds in Washington's 88-85 loss to Chicago on Saturday in NBA summer-league action in Las Vegas. He was 8 of 12 from the line in 30 minutes.
Oubre remains a popular interview target as he gears for his second season in the league.
The New Orleans native, who moved to Houston with his dad in the wake of Hurricane Katrina, talked to csnmidatlantic.com about his travels. He played his senior year of high school in Las Vegas, then one year at KU before being drafted by the Wizards.
"I've been in like four different states playing for four different teams in like four different years. I've seen new faces each and every year," Oubre told CSN. "It's not going to be a smooth transition, but you've got to live. I've got to continue to get my money. All respect to those guys (former teammates Drew Gooden and Alan Anderson whom he cited as mentors that are no longer with the team) and I'm praying for the best for them, but it's not going to stop what I got going here."
Asked what he'd do if he was not a basketball player, he said: "I'd probably be a fashion designer. Computer nerd. Video game expert probably. Something along the digital lines. I'd probably be working with you guys (media). I'm a basketball player first and foremost. That's what I do."
And asked to pick his all-five NBA team, he came up with: "Magic Johnson, Michael Jordan, Scottie Pippen and Shaquille O'Neal. Four man. I'm going to get me a stretch-4 because that's how the game is going now. I'm going to throw Jared Dudley in there," he added of a former teammate.
Team FOE wins: Former KU guard Tyshawn Taylor scored 20 points off 8-of-16 shooting to lead Team FOE to a 90-82 victory over Liberty Ballers in a first-round East Regional game of The Basketball Tournament on Saturday in Philadelphia. Former KU guard Elijah Johnson had one point in 16 minutes, missing five floor shots for the winners. Team FOE will meet Team Mary today in the second round. To watch a replay of Saturday's game go to the Web address http://bit.ly/29DD9b7