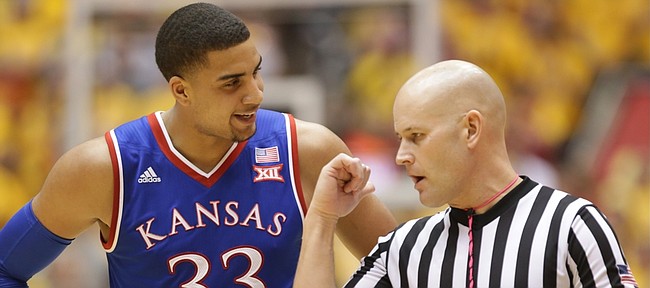 Kansas University's basketball big-man rotation has been trimmed the past two Big 12 contests — a home win over Texas and loss at Iowa State.
"The way we were doing it, it wasn't really working ... we decided, or I decided we were going to try to play as much as we could with four the last two games," KU coach Bill Self said Tuesday on his Hawk Talk radio show.
He was referring to starting Perry Ellis and Landen Lucas while giving double-digit minutes off the bench to Jamari Traylor and an average of 5.5 minutes the past two games to Carlton Bragg, Jr., with Hunter Mickelson and Cheick Diallo basically out of the mix.
"I know what our players that play the majority of the minutes feel the most comfortable with. We've had open dialogue about that," Self added of last Friday's meeting with Ellis, Wayne Selden, Jr., Devonté Graham and Frank Mason III. "I know that it isn't sometimes the most popular thing to do with some people or some fans who feel like they understand. The reality is it's not about the individuals. It's about who plays best with those individuals. That's basically where we were coming from. I felt experience the last two games gave us the best chance to win."
Freshman Diallo played four minutes in Monday's 85-72 loss at Iowa State (sitting out the Texas game) while senior Mickelson has watched the last two games after playing two minutes in a loss at Oklahoma State.
Of course it's possible Mickelson and Diallo could be used extensively at some point again.
"Sometimes playing a kid three minutes and if he doesn't do well he doesn't get back in, that's something even the guys say it's hard to play through mistakes when that's the case," Self said. "You get behind 14 points to Texas and they are not part of that ... to call them in to say, 'Hey spark us' when they've never been in that situation ... that's really not fair to those guys in that particular situation."
As far as Monday's game ... "I thought Landen (nine boards, two points) played great. The job he did on McKay (Jameel, six points, five boards) was excellent," Self said. "He's not going to score a lot of points, but he rebounds and he defends. Certainly he's easier to play with. A lot of people look at individuals and think about, 'Well he looks good or he should be getting this or that,' and that is a realistic thing to look at but you also have to look at who makes the game easier for the other four players out there. Who does Perry play better next to is as important as whether or not a kid looks good," Self noted.
"I thought Jamari (two points, two boards) was excellent the first half. We scored easy (in leading 43-36). There's subtle reasons you score easy. Then when the game gets tight and kids have never been in that situation, there's a little more pressure to put them out there."
On Hawk Talk, Self also was asked about sophomore guard Svi Mykhailiuk playing one minute total the last two games. He'd hit four of 19 shots in the previous three games vs. Oklahoma State, TCU and West Virginia.
"We all love Svi. He's just been in a little bit of a funk. There's no way to put it other than that," Self said. "He's a fabulous kid. He wants to do well. He needs to have some successful practices where he kind of gets a little bit of confidence ... which all players go through, especially young guys.
"He's still the youngest player on our team (18). But it's like we talked to Svi: 'We can't keep using youngest as a reason why. You've been here long enough to go out and make plays.'
"When you have won the league as many times as we've won it in a row (11), there are actually teams that get really, really up to play against you. It matters to their kids, too," Self continued. "It matters to our kids a ton. Our kids are operating under pressure without question. I think a lot of people don't realize kids operate under pressure and sometimes people react differently under pressure than what other people react to under pressure. It's not like it's all fun and games and we're playing Chaminade and you can shoot and miss and it doesn't matter. This is every possession matters. Not making excuses for our guys, that's the reality of it."
Self said after looking at the tape, he thought the Jayhawks played well at Iowa State except for a five-minute second half stretch in which ISU took advantage of five KU turnovers in an 11-0 run that won the game.
"I thought the first half was excellent. We were unlucky to only be up seven at half. We probably played better than that. The ball moved and we did some good things. We didn't really stick together whenever it got to really nut cutting time to be candid," Self said. "When it's winning-time we didn't stick together like a good team should.
Records: KC 810 WHB radio announcer Danny Clinkscale dug through the record books to find the last time KU lost three straight regular-season road games by double digits: to Evanston YMCA, Chicago Central YMCA and Muscatine Iowa YMCA in 1905-06 with James Naismith as coach. In 1954-55, KU lost at Colorado, Oklahoma State and Missouri by double digits, but the MU game was in the Olympic playoffs. KU came close in 1988-89, losing at Iowa State by eight, Duke by 25 and Missouri by 13.
The road: KU is 1-3 in league road games this season and 4-0 at home.
"Winning on the road folks ... if we played 40 minutes last night instead of 30, that still would have been a 50/50 game you'd have a chance to win on the road. It doesn't guarantee you win on the road if you play 40 good minutes in Ames because they are really good," Self said.
"They've got a better team (now) than when Danny (Manning, 0-4 in Ames) played here and Danny never won there. That's not an easy place to go do it. We just didn't put ourselves to be in position the last two or three minutes to make a go of it. That's what was disappointing. One road game we've had that has been so negative from an expectation and record standpoint is Oklahoma State. Oklahoma State was great against us that particular night but we contributed to them being great because we didn't do anything to keep them from being that."