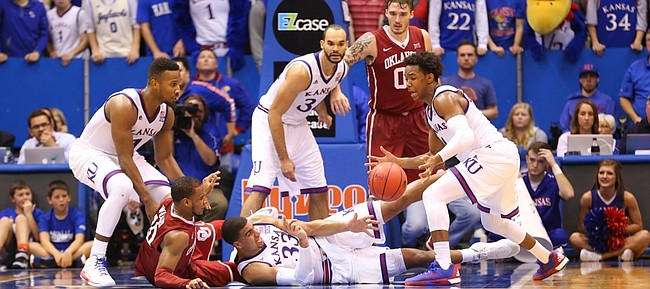 It's as if the 19-point loss at Oklahoma State never happened in the minds of those who set odds, the bettors who move them, and the voters entrusted with ranking the nation's top 25 college basketball teams.
Vegasinsider.com offers odds on winning the NCAA title, a tournament that concludes April 4th. The only school with a better chance to win it all than Kansas and Oklahoma, which both are listed at 7/1, is North Carolina at 13/2.
In the Associated Press college basketball poll, Kansas entered the week ranked No. 4 in the nation, behind Oklahoma, North Carolina and Iowa, in that order. In the USA Today coaches poll, Kansas is No. 3, behind No. 1 North Carolina and second-ranked Oklahoma.
Sure, Kansas likely will fall in the polls in the wake of a 13-point loss at Iowa State, but not as far it probably should. The Jayhawks have been so good for so long that force of habit on the part of the voters results in them being overrated.
Ditto for Duke and Kentucky.
The two worst bets on the Vegasinsider.com are Kansas at 7/1 and Duke, which has lost four of its past five games, at 9/1. Names weigh almost as heavily in the equation as games. The louder a school's tradition the more likely bettors are to ignore the facts and waste their hard-earned money. And at this point, let's be brutally honest: Wagering on either Kansas or Duke to win the national title is about as losing a proposition as trying to catch the wind. The Jayhawks shouldn't have to play with national-title pressure this season. It's not fair to put that on them. They aren't good enough. They should be allowed to play with free minds, unburdened by unrealistic expectations.
Conversely, the two best bets, given the inflated odds, come from the same state, the one crawling with presidential politicians at the moment.
Vegasinsider.com offers Iowa at the outrageous bargain of 15/1 and Iowa State at 35/1.
Iowa has the seventh-most efficient offense and 14th-most efficient defense in the nation, per kenpom.com.
The Hawkeyes (16-3 overall, 7-0 in the Big Ten) start three seniors, measure 6-foot-6, 6-9, 7-1 across the front line and make 41 percent of their three-point shots. The Hawkeyes leveled No. 12 Michigan State by 12 and 17 points, No. 21 Purdue by seven and 12 points and No. 22 Wichita State by 23 points. Their losses came to No. 5 Notre Dame by six, at No. 14 Iowa State by one and vs. Dayton, the leading vote-getter among unranked teams, by five. This feels very much like the year of the Hawkeyes.