Originally published January 24, 2016 at 3:57 p.m., updated January 24, 2016 at 11:50 p.m.
A troubling offensive trend once again thwarted Kansas University's women's basketball team in the Jayhawks' quest for their first Big 12 victory of the season.
KU finished with more turnovers (20) than assists (11) for the 13th consecutive game and remained winless in league play after a 74-46 loss to Oklahoma State on Sunday afternoon at Allen Fieldhouse.
After his team failed to reach 50 points for the eighth straight time, first-year KU coach Brandon Schneider said empty possessions have as much to do with the skid as anything.
Photo Gallery
Kansas women's basketball vs. Oklahoma State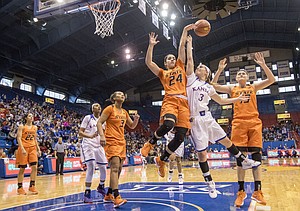 Images from Kansas' game against Oklahoma State on Sunday, Jan. 24, 2016 at Allen Fieldhouse. The Jayhawks suffered their 10th consecutive loss, falling to Oklahoma State, 74-46.
"It's a big stat," Schneider said following the Jayhawks' 10th consecutive loss. "It's a big factor."
Kansas (5-14 overall, 0-8 Big 12) trailed throughout, as OSU scored 28 points off the home team's give-aways. The players realize, of course, they need improved ball security to grow in the weeks ahead.
"They were just silly turnovers, honestly," freshman guard Kylee Kopatich said. "I mean, half of ours were travels. We did that to ourselves. It wasn't like we were trying to make a play and it got deflected and they got a steal."
In fact, OSU only came away with seven swipes, but the kind of mental miscues Kopatich referred to, such as stepping out of bounds in the process of spotting up for a corner three, contributed to KU falling behind early. Another first quarter marred by offensive woes put KU in a 13-point hole. The Jayhawks were 0-for-3 from the floor with five turnovers before junior guard Timeka O'Neal found sophomore guard Lauren Aldridge for a successful three-pointer 41⁄2 minutes into the loss.
Backfiring in the opening minutes, KU's performance nearly matched a 17-0 start for the Longhorns in a loss to Texas less than two weeks earlier.
"When we get behind, we get younger," Schneider said, "in that we mentally get younger. We lose focus, we make more mental mistakes, which causes that to kind of snowball, and that's the biggest concern for me. OK, so we don't get off to a great start. How do we stay engaged, whether I'm in the game or not? And how do I really get locked in to try to do something about it."
Kansas only connected on three of its 12 field-goal attempts in the first quarter and trailed 17-7 entering the second. Twice before halftime, the Jayhawks cut OSU's lead to six, with Kopatich hitting free throws to make it 17-11 and later knocking down a three that got KU within 20-14. However, the visitors countered by hitting seven of their next nine shot attempts, including six straight to close the half, to build a 34-21 cushion.
KU, on the other hand, missed six of its final eight field-goal attempts before the break and gave up 14 points off turnovers in the half.
The Big 12's leading scorer, OSU senior Brittney Martin, starred throughout and produced a double-double (24 points, 17 rebounds) for the Cowgirls (15-4, 5-3) on KU's "Superhero Day," which calls for young fans to don their favorite comic-book-character costume.
"She's our Superwoman," OSU coach Jim Littell said, calling Martin the best natural rebounder he has been around.
Schneider said Martin affects the game, even in an opposing coach's plans.
"We just don't have a person that we can guard her man-to-man with," Schneider added after KU spent much of the defeat implementing a zone.
Meanwhile, Aldridge — KU's leading scorer on the season — had trouble finding opportunities to score and finished with eight points on 3-for-8 shooting in 35 minutes. Kansas had to rely upon Kopatich for offense, and the guard from Olathe delivered a team-best 14 points on 4-for-11 shooting.
Schneider said Big 12 teams game-plan to take away both Kopatich and Aldridge as scoring options.
"It affects them, obviously, because they're not the kind of players that you want to always go make plays off the bounce," the coach said. "So people are crowding them and getting up into them to take away their ability to catch and shoot. That's where we have to continue to do a better job to create shots for them, whether it's with other people being more aggressive or doing a better job any time we're running any type of screening action to get (Aldridge and Kopatich) open."
The Jayhawks will play Wednesday at No. 6 Texas.
Kawinpakorn honored: Kansas senior golfer Yupaporn Kawinpakorn was named the 2016 recipient of the Marlene Mawson Exemplary Student-Athlete Award on Sunday. Kawinpakorn received the award during the game against OSU.