Loving parents Fred and Carol Hoiberg drove their daughter, Paige, a senior basketball and track standout at Gilbert (Iowa) High, to Lawrence to check out Kansas University's campus on a college recruiting trip in November of 2014.
Fred, Iowa State's fifth-year basketball coach, happened to inform KU coach/friend Bill Self that the family would be in town.
"I said, 'Why don't you just come to practice?'" said Self, a father of two himself, who knows proud papas want their children to make the correct college choice.
"Hoiberg's in our practice, and our guys are going, 'Coach, why's HE here? Why are you letting HIM in here?'" Self reflected with a laugh.
"I said, 'Because his daughter, I think, is going to come to school here,'" Self added, noting the Hoibergs only stayed for "minutes, seconds" at the KU workout and that no intimate team secrets were revealed.
Paige Hoiberg did indeed choose to attend KU over Iowa State and currently is a Jayhawk freshman who works in the KU basketball office part-time doing a variety of support-staff type jobs.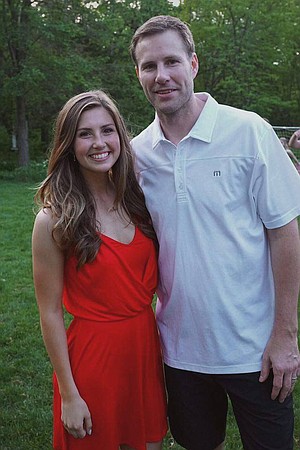 "We welcome Paige. She's very bright. She's been a nice addition to our office. It is unique but not near as unique as if Fred was still coaching at Iowa State," Self said.
Fred Hoiberg, who starred as a high-scoring guard at both Ames High and Iowa State, left ISU after a handful of seasons as head coach last June to become coach of the NBA's Chicago Bulls. His successor, Steve Prohm, is the man who will lead the 2015-16 Cyclones against KU at 8 tonight in Hilton Coliseum in Ames.
"My dad is actually the one who suggested I visit here. He thought I would like everything here. He always respected Allen Fieldhouse. He thinks it's the craziest arena he played in," Paige Hoiberg said, seated on a sofa in a lounge in the KU basketball office.
"They (her parents) could tell I really liked it, because I visited other colleges. Here felt right," Paige Hoiberg added. "Everyone here is so nice. I love everyone here. I'd just been there for so long. I kind of wanted a different view of everything."
Paige, who averaged a team-leading 13.6 points a game her senior year at Gilbert (located seven miles from Ames), considered trying out for KU's women's team as a nonscholarship walk-on.
"My dad told me he wanted me to, but I decided I'd rather just be a student," Paige said.
So she accepted coach Self's offer to have her work in the hoops office. She's enjoying her first school year here immensely.
"They (KU coaches and staff) were, like, 'We can totally get you a job next year.' Fred Q (Quartlebaum, director of student-athlete development) was showing us around," Paige said of an office tour on her campus visit. "I think it'd be fun to work in basketball (as a career). I don't know as a coach, but just around the game. I love being around basketball. I've been around it my whole life, maybe P.R. or just anything to do with it."
She'd been around Iowa State basketball a long time.
Well known as a player in her own right — she had 31 points in one game — Paige has a remarkable 6,599 followers on Twitter.
Many of those folks are Iowans who are curious why Paige picked KU over ISU.
"I usually tell them I chose Kansas because of the school and not because of the basketball team. Not everything is about the basketball team," she said. "I can't really go out without someone asking, 'Why did you choose KU? You hate them so much.' Because Iowa State kind of hates on KU a lot."
Though Paige attended ISU-KU games the past many years and rooted for ISU, of course, she wasn't one of those crazed spectators like the ISU booster who screamed at Self at the end of a game in Hilton a few years ago.
"I stay calm. I like to stay low-key at every game," said Paige, who said she most enjoyed Big 12 tournament games in Kansas City, Mo., because so many Cyclone fans would gather at the team hotel as well as players and their families.
Yes, she said, Fred Hoiberg is as popular in Ames as his nickname, The Mayor, would indicate.
"We couldn't really go out to eat without anyone interrupting our meal, which was kind of hard. That's another thing he likes about the NBA," Paige Hoiberg, said, adding dad is enjoying his first season in the NBA despite the fact "it is so much different from the NCAA."
"He can go into the big city and not everyone will recognize him," she added of Chicago.
Paige — she talks to dad daily — has no idea what will happen on Big Monday when the Jayhawks and Cyclones meet in Hilton.
"That's tough. The season has been so crazy already," Paige Hoiberg said. "I mean, it's hard to win on the road, but Kansas has pulled it out before. I think it depends who is having a good night."
ISU, of course, has the intangible of "Hilton Magic" on its side.
"As an Iowa State fan growing up, I think you have to believe in the magic," Paige said. "Anywhere on the road is hard to win, but Iowa State ... we all saw Oklahoma fall there last week. Anything can happen in college hoops. This is a crazy year."
As a public figure in Ames — a member of the royal family, so to speak — she watches what she says about the KU-ISU matchup.
"Everyone asks me what shirt I'm going to wear Monday. I say, 'I'll wear white,'" Paige said, noting she has a late class on the first day of the school week, thus won't make the four-hour drive to ISU's campus. Her grandparents still live in Ames, while mom, dad and her younger brothers Jack, Sam and Charlie (all into basketball and golf as well), reside in Hinsdale, Illinois, a suburb of Chicago.
One thing is sure: Fred and Paige will speak soon after the game, maybe in a group conversation that includes Self if KU wins the contest.
"I ask her all the time how her dad's doing," Self said. "I talk to Fred periodically. We're friends. I don't give her too hard a time (about KU-ISU). I imagine I'll give her a little bit harder time this next week."