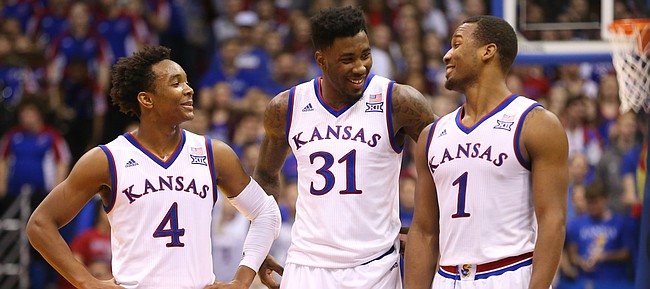 Kansas University's basketball upperclassmen called a players-only meeting on Wednesday — the day after the Jayhawks' 19-point road loss at Oklahoma State.
On Friday it was Bill Self's turn to summon the team's four best players — Perry Ellis, Wayne Selden, Jr., Frank Mason III and Devonté Graham — to the head coach's office prior to the final practice before his Jayhawks' 76-67 victory over the Texas Longhorns on Saturday in Allen Fieldhouse.
"Getting their opinion on a lot of different things ... making sure we're all on the same page," Self said of the purpose of Friday's session.
Photo Gallery
Kansas basketball v. Texas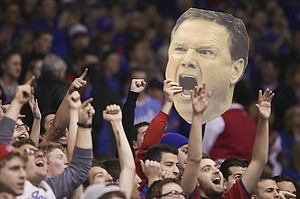 View a gallery of images from the Jayhawks' game against the Longhorns on Saturday at Allen Fieldhouse.
"It's one thing the headlines are never going to read: 'Freshmen play bad; Kansas loses.' It's going to be, 'Self this or Selden that or Ellis or Graham or Mason.' That's the way it should be.' I just want them to be on the same page. They need to take ownership and tell me how they really feel about certain things and they did. I think it'll help us moving forward," Self added after his team improved to 16-3 overall and 5-2 in the Big 12. Texas dropped to 12-7, 4-3.
The players who attended Friday's confab with the coach — "it was ownership on what is best. What do you think is best? How can I go better and how can he do better? An honest conversation," Self said — wound up producing big-time.
Ellis had 26 points and four rebounds in 35 minutes; Selden 19 points and five boards in 37 minutes; Graham 14 points and six assists in 37 minutes and Mason 13 points, eight rebounds and three assists in 39 minutes.
"Tonight you talk about four starters playing an unbelievable number of minutes. They are all equally important. Frank in his way. Devonté in his, Wayne in his and Perry in his," Self said. "We were fortunate. We had four starters play really well, those four and struggled to win (in a game KU trailed 17-5 early and 35-30 at halftime)."
The fifth starter, who Self said played "great," was junior Landen Lucas, who had 10 rebounds in 23 minutes. Self used just three other players, senior Jamari Traylor (15 minutes), junior Brannen Greene (nine minutes) and freshman Carlton Bragg, Jr. (five minutes) who combined for four points and six boards.
"Landen gave us a better chance to win," said Self, who awarded Lucas his first start of the season. "I shortened the bench. I thought it was the biggest game of the year from a momentum standpoint. I thought we were much better playing less guys. This is how we wanted to do it. Our starters really came through for us.
"We went with our veterans. This was the most important game of our season thus far because we needed to eliminate the negative momentum because we were in a rut. We were in a funk. I thought our experience gave us the best chance to do that."
Freshman Cheick Diallo didn't play after starting Tuesday's loss at OSU. Senior Hunter Mickelson also was not called upon to play in the frontcourt.
"Visiting with the guys and who trusts who ... I think Cheick is happier now than he would be if he'd played three minutes and not gone back in," Self said. "Like I said, we just wanted to win the game."
Self said, "I don't know," when asked about KU's rotation in upcoming games. "I don't think we're going to play 12 guys," he added, "but I don't know if it's similar (to Saturday) or not. To me if you've got a big guy in there (like Texas' Prince Ibeh who had a career-high seven blocks) Landen is most equipped to guard him. You got a pick and pop guy, somebody else is more equipped. It'll probably just depend how match-ups are."
Ellis, who hit nine of 15 shots (2-of-4 from three) and was 6-of-6 from the line, thought Friday's meeting with Self and his three teammates was productive.
"We all have the most say on the team. And we just see everything that's going on the court," Ellis said. "We all wanted to speak on things we felt we can do better. That was the key focus. And coach just telling us what exactly we have to do. Just be yourself and good things will happen."
Graham, who along with Selden hit two threes in an 18-4 run that erased a 42-39 deficit and provided a 57-46 advantage with 8:30 to play, thought the foursome responded well to the meeting with their head coach.
"I think we did pretty well today and the two practices we had. We've just been trying to be more vocal, you know pointing out little things that we thought didn't matter but actually mattered. Just like strong help off the ball, little things like that. Boxing out, setting screens, little things that we're calling people out on," Graham said.
KU, which is tied for first place in the league (at 5-2) with Oklahoma, West Virginia and Baylor, next meets Iowa State (15-4, 4-3) at 8 p.m., Monday in Hilton Coliseum in Ames. The Jayhawks hope to keep building on all the issues discussed at meetings this past week.
"I have some ideas on some things. Tape doesn't lie. We talked about a lot of things we can do better," Self said. "I think it's more between our ears, not in our heart though. You have a kid say, 'If I guard it the way you say, how do I know somebody behind me is going to do what he's supposed to do? He didn't do it last time.' Things like that. Guys get hesitant, not selfish play but (selfish) thoughts. You've got to trust," Self added.
— See what people were saying about KU vs. Texas during KUsports.com's live blog.
---
More news and notes from Kansas vs. Texas
---
---
---