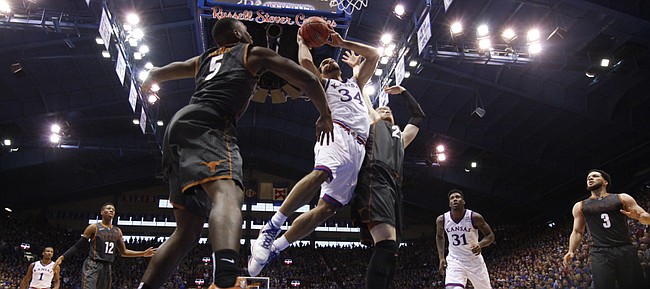 Everybody enjoys being right, but just this once Texas coach Shaka Smart wanted to be wrong. Didn't happen.
"He's terrific," Smart said of Kansas University senior forward Perry Ellis. "I said it before the game: I don't know why he doesn't get more attention nationally."
Ellis might after dropping 26 points on Texas in a 76-67, storm-from-behind victory Saturday in Allen Fieldhouse.
"I know in the Big 12 he's been a guy that's been highly thought of for a long time," Smart said. "He's a guy who deserves to be talked about just like some of these other guys as an All-American, maybe even national player of the year candidate because he is hard to deal with."
No matter where he is on the court, Ellis occupies the thoughts of the opposing defense. He made two of four three-pointers and nine of 15 field goals, and all but one of his four rebounds came off the offensive glass.
Ellis, a 6-foot-8, 225-pound senior from Wichita, was even more lethal faking shots and driving, and he made all six of his free throws.
"He played great today," Kansas coach Bill Self said. "He was aggressive. He drove it, and I thought he got fouled a few times on drives that weren't called. He was a different player today than he was at Oklahoma State."
Ellis had plenty of company in that regard.
On a day Self shrunk his rotation from 11 men to eight, Ellis showed no signs of fatigue in his 35 minutes of action.
Early-season hip problems no longer weigh on Ellis.
"I feel great," he said. "Body feels great. I'm definitely taking good care of it, and it's been paying off."
Ellis didn't have an assist, but that doesn't mean he doesn't make everyone on the floor with him better.
Photo Gallery
Kansas basketball v. Texas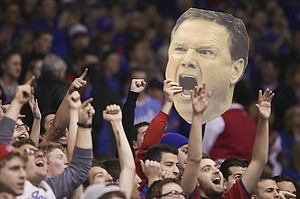 View a gallery of images from the Jayhawks' game against the Longhorns on Saturday at Allen Fieldhouse.
"The thing I was most worried about was the most simple thing they do, the high pick and pop," Smart said. "The guards are so good, you have to give them attention, and if you don't, they'll turn the corner and lay it up. But when you do, they throw it back to (Ellis), and now he's in space. No matter how we guarded it, Kansas had an answer. They had a lot of answers today."
Most of them involved Ellis in some way.
During his postgame interview, Self discussed the contributions of the other four starters first.
"I didn't mention our best player today, Perry," Self said. "They couldn't guard him, and he was aggressive."
Ellis leads the Jayhawks (16-3 overall, 5-2 in the loaded Big 12) in scoring (16.3) and rebounding (6.6) and is shooting .498 overall, .469 from three and .769 from the line.
His talent and experience present him with the opportunity to lambaste teammates when their focus slips, but his humble, quiet personality doesn't lend itself to that role. Still, he's trying to speak up more without changing his nice-guy approach.
"Just trying to motivate teammates whenever I can," Ellis said. "I caught myself a lot going up to Frank (Mason III) and saying, 'Keep attacking. Keep attacking.' I'm trying to speak up on things I think teammates can do, and I think it helps."
More national attention would neither help nor hurt Ellis, whose outward emotions don't swing much in either direction.
"It's not anything I stress about," Ellis said of national attention.
Stress is what opposing coaches experience when trying to figure out how to contain Ellis' impact on KU's offense.
— See what people were saying about KU vs. Texas during KUsports.com's live blog.
---
More news and notes from Kansas vs. Texas
---
---
---