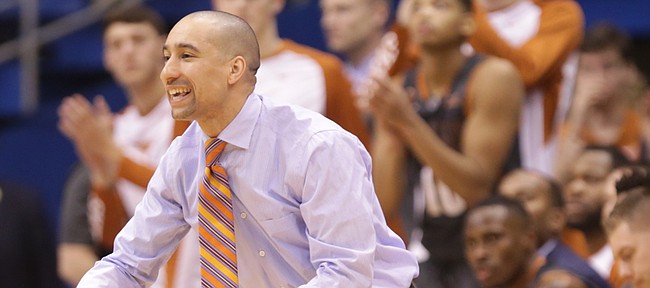 Even though Saturday's 76-67 loss to Kansas University came during his first trip to Allen Fieldhouse, Texas coach Shaka Smart sure sounded like a guy who had been coming to the old building for years.
Asked what went wrong that turned an early 12-point Texas lead into a late 13-point deficit and eventual nine-point KU win, Smart rattled off a few factors like he had experienced them a dozen times before.
"It was a combination of three things," the first-year UT coach said. "First, when you come in here and you play in this unbelievable atmosphere, you know that a run is coming, and the crowd is gonna be behind their team."
That run allowed Kansas to turn a 40-33 second-half deficit into a 57-46 lead with 8:44 to play.
Photo Gallery
Kansas basketball v. Texas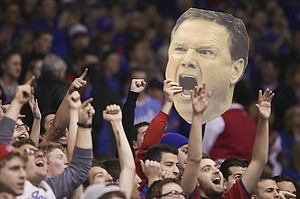 View a gallery of images from the Jayhawks' game against the Longhorns on Saturday at Allen Fieldhouse.
"Second thing is, we missed some pretty easy shots that I think we normally would make," Smart continued.
They did, missing four point-blank shots to kick-start the KU run during a second half in which they shot seven percentage points lower than in the first half.
"The third thing is, Kansas made some great plays, and I think you have to give those guys credit," Smart finished.
That last part, Kansas taking the game instead of Texas coughing it up, was the part that Smart continued to emphasize. But for a while it looked like he might not have to.
Eight minutes in, the Longhorns had built a 19-7 lead, and, with Kansas (16-3 overall, 5-2 Big 12) on its heels, looked like the much more aggressive team.
That was by design, according to both Smart and UT guard Isaiah Taylor. And never was the Texas game plan more evident than on a fast break that featured Taylor as the middle man for two talented freshmen.
With UT leading 15-5, freshman guard Eric Davis Jr. (13 points, five rebounds, 21 minutes) rifled a pass ahead to a streaking Taylor. Taylor, who also finished with 13 points but added six rebounds and five assists in 37 minutes, immediately attacked the rim and appeared to be well on his way to an easy layup. That's when things got wild. Instead of finishing the play himself, Taylor flipped a pass over his head to hard-charging freshman Kerwin Roach, who finished the play with a little flair to put Texas (12-7, 4-3) ahead 17-5.
"I just told 'em to play loose," Taylor said with a smile. "After that play, Kerwin was like, 'Yo, I thought you were gonna shoot the layup.' And I was like, 'Nah, man, we gotta get you going.' (Our freshmen) gave us a spark today."
That UT highlight served as notice the Longhorns were there to play. In the end, though, they could not sustain that same level of intensity and execution and watched Kansas remain poised en route to the come-from-behind home victory.
Smart said he was pleased with the way his team started and gave credit to Kansas for preventing the Longhorns from finishing it the same way.
"Those guys were stronger in the last 10 minutes than they were early," Smart said. "Great coaching, great players, great atmosphere, and it's not easy. I thought Kansas' players did a great job. They had more energy in the second half than they did in the first, and we had a little bit less.
"The best teams have a high, high level of resolve and toughness. We've made some progress with that, but, obviously, today shows that we've still got a ways to go."
— See what people were saying about KU vs. Texas during KUsports.com's live blog.
---
More news and notes from Kansas vs. Texas
---
---
---