Saturday, January 23, 2016
Once again, Kansas University junior guard Frank Mason III fell hard on his right elbow and hand late in KU's 76-67 victory over Texas Saturday at Allen Fieldhouse.
Mason, as he always seems to, shook off the rough landing and appears to be OK.
"He's fine," KU coach Bill Self said after the game.
Self said Mason, who has had knee and elbow problems, sometimes gets some time off from practice to combat his aches and pains and all the minutes he's played so far this season.
Photo Gallery
Kansas basketball v. Texas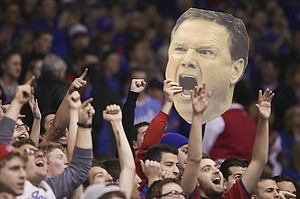 View a gallery of images from the Jayhawks' game against the Longhorns on Saturday at Allen Fieldhouse.
• Landen Lucas was awarded his first start of the regular season. He responded with 10 rebounds while not scoring in 23 minutes.
"Yesterday he (KU coach Bill Self) came up to me and made it simple. He said, 'Here's the things you can do to help the team win. Go out and do them,''' Lucas said. "Rebound, rebound, rebound. Play defense. Set screens. We have so much talent if I can get them (other KU teammates) open and do different things to help them score ... there will be games I'll be able to score more than zero, but (I) just (want to) help them do that and go after every single ball. The big thing is to create extra possessions to help the team out."
Of starting, Lucas added: "It's been in the conversation before. He was worried in the past about me fouling. Who starts is not the biggest deal. It's about game flow and who finishes the game."
• Self used just eight players. "Other teams do it. OU does it. Iowa State does it. The most important thing is in these situations you can ask our players ... they put a lot of effort into this. This isn't a popularity contest or everybody feel good and have cookies and milk after the game," Self said. "The most important thing is to win. Whatever gives us the best chance to win is what these guys want to do. Ideally (several played) too many minutes. We'll see how it plays out," Self added.
• GameDay next Saturday: ESPN College GameDay will return to Allen Fieldhouse for the seventh time, in advance of Saturday's 6 p.m., game against Kentucky. The morning show will start at 10 a.m., and the evening edition at 3 p.m. – all on ESPN. Doors to Allen Fieldhouse will open at 6:30 a.m., for fans wishing to attend the morning show. The event is free to the public and tickets are not required. Fans are encouraged to bring creative signs to Allen Fieldhouse for the morning show.
• This, that: KU football legend John Hadl was honored at halftime. He was given a bronzed Jayhawk by AD Sheahon Zenger. ... Josh Jackson, the No. 1 recruit in the Class of 2016 attended the game and sat behind the KU bench as did DeAndre Ayton, No. 4-rated player in the Class of 2017.
— See what people were saying about KU vs. Texas during KUsports.com's live blog.
---
More news and notes from Kansas vs. Texas
---
https://www.youtube.com/watch?v=z7KJJOMIbcI
---
https://www.youtube.com/watch?v=BoKC_o2E1ag
---