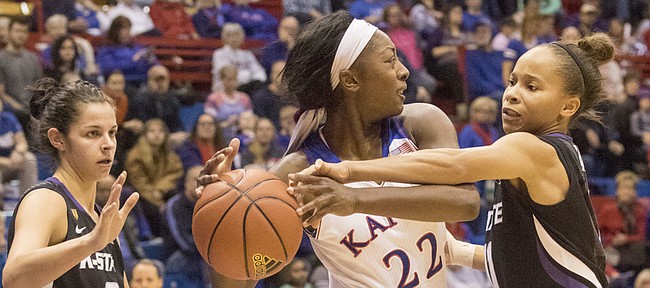 Wednesday night might have given Kansas University women's basketball coach Brandon Schneider his first true taste of the Sunflower Showdown rivalry with Kansas State, but it offered no relief from his team's offensive struggles and losing ways.
Thanks to a 1-of-15 shooting start that allowed Kansas State to build an early 13-point lead, the Jayhawks dropped their ninth game in a row and remained winless in Big 12 play, 59-46, at Allen Fieldhouse.
Kansas (5-13 overall, 0-7 Big 12) shot just 24 percent from the floor for the game — 14 percent in the first half — and failed to crack the 50-point mark for the eighth time this season.
"It's hard to be in any ball game (when you do that)," Schneider said after the loss. "For us, it's execution and missing shots. And then there's another element of the wrong guys taking the wrong shots, and we have a little bit of that going on, too."
Photo Gallery
Kansas women's basketball vs. Kansas State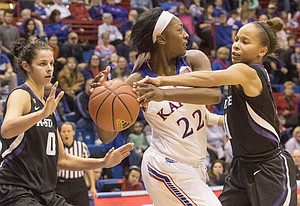 Images from the Sunflower Showdown game between the Kansas women and Kansas State, played on Wednesday, Jan. 20, 2016 at Allen Fieldhouse.
Kansas State's defense had more than a little to do with KU's offensive struggles on Wednesday night, but even when the Jayhawks did find the right shooting touch, K-State refused to let it matter.
Four times during the third and fourth quarters KU cut the KSU lead to 12 or 11 points. And each time, K-State (13-5, 3-4) responded with a mini-run that kept any thoughts of a Kansas comeback on the back burner.
"That was a little frustrating," said senior guard Timeka O'Neal, who led KU with nine points on 3-of-7 shooting from three-point range. "And it's all on us."
Scoring has become so difficult for this Kansas team that sophomore point guard Lauren Aldridge's buzzer-beating three-pointer from 27 feet at the end of the third quarter was treated more with amazement and a shrug than excitement and a shriek.
Sophomore Chayla Cheadle and freshman forward Tyler Johnson each added eight points for the Jayhawks during Wednesday's loss, while Jada Brown chipped in seven and Kylee Kopatich six.
Kansas shot 9-of-30 from three-point range and finished with fewer turnovers (16-13) more assists (11-8) and twice as many steals (8-4). But even those numbers could not help KU escape its latest offensive nightmare.
While the Jayhawks were struggling to put up points, K-State was getting its baskets right at the rim. K-State scored 34 of its 59 points in the paint, with junior forward Breanna Lewis leading the way with 23 points on 10-of-16 shooting. Had it not been for first-half foul trouble, Lewis, who played just 18 minutes, easily could have topped the 30-point mark in this one, as KU's defense offered little resistance for any of K-State's players at the rim.
"It's my fault she only played 18 minutes," K-State coach Jeff Mittie said after the game. "And her fault she got in foul trouble. But some coaches would've played her a little more."
After a rough first quarter that ended with Kansas trailing 11-2, Schneider said he was pleased with the intensity his team played with on the defensive end. The easy Wildcat buckets were not the result of complete defensive breakdowns by Kansas, rather poise and crisp ball movement by K-State in the face of KU's defensive pressure.
Both Mittie and Schneider said the energy, emotion and excitement of the Sunflower Showdown added to the effort turned in by both teams on Wednesday night.
"You can find our best quarters," said Schneider when asked if Wednesday's effort was one of the best this season by the young Jayhawks. "But I'm not gonna say we've had a best game when we haven't won a game in the league."