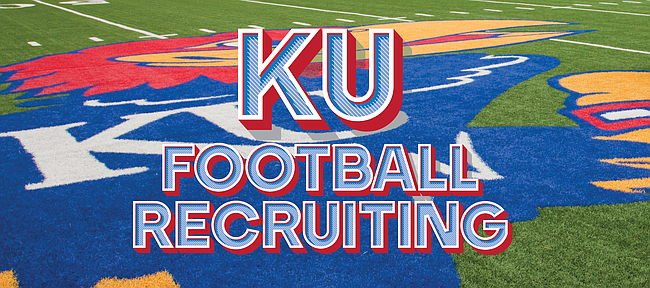 Tuesday marked the first day of the spring semester and the Journal-World learned that seven new members of the Kansas University football team expected to arrive on campus in time for spring football did, in fact, enroll and attend the first day of the new semester.
They include mid-year transfers DeeIsaac Davis (DT), Isi Holani (DT) and Stephan Robinson (WR), 2015 commitments Cam Durley (OL) and Shola Ayinde (DB) who were not able to make it to KU last semester and, therefore, will count in the 2016 recruiting class, and likely walk-ons Dagan Haehn (QB) and Keegan Brewer (WR), Lake Dallas High teammates who committed to the program in December.
It remains to be seen what impact these players will have on the program, but adding seven players in time for spring practices, which are set to begin in mid-March and wrap up with the April 9 spring game, provides the rebuilding program with a big lift, at least in terms of added bodies.
Second-year KU coach David Beaty and his staff have two recruiting weekends remaining before the Feb. 3 national signing day, and, as luck would have it, the KU basketball program has two Saturday home games during that stretch, this week vs. Texas and Jan. 30 vs. Kentucky.
Throughout the years, several KU coaches, including Beaty, have lauded the huge advantage that bringing recruits into Allen Fieldhouse provides because the potential Jayhawks get to see KU's fan base and campus rocking at its highest level.
That certainly will be the case this year, especially one week from now when KU and UK lock up in what figures to be as wild of an environment as you can find in Lawrence.
Because so many players on the 2015 roster counted forward, KU has five open spots remaining to fill in what will wind up being a 17-man class if all spots are filled.
Given that five of those names were names KU football fans already knew about — the three mid-year transfers plus Ayinde and Durley — you're looking at a maximum of 12 new faces being officially added to the KU roster on signing day in two weeks.
The seven future Jayhawks who already have committed and seem to be solid with Kansas are: Antione Frazier (OL), Hunter Harris (OL), Chris Hughes (OL), Maciah Long (LB), Kyle Mayberry (DB), Ian Peterson (DB) and Braylon Royal (WR).
Here's a quick look at some of KU's remaining targets, according to JayhawkSlant.com, in the current recruiting class.
ATH Isaiah Bean – 6-4, 210-pound, 2-star Athlete from Houston who figures to bulk up and play the rush end position considering Fresno State, Iowa State, Tulsa, UNLV, Illinois, UMass, Louisiana-Lafayette and Prairie View A&M.; Is expected to visit KU this weekend.
DT Joshua Bailey – 6-3, 270-pound, 3-star D-tackle from Jacksonville, considering Appalachian State, Iowa State, South Alabama, South Florida, Temple, UCF and Western Kentucky.
RB Khalil Herbert – 5-10, 190-pound, 2-star RB from Plantation, Florida, considering Appalachian State, Florida Atlantic, Florida International, Fordham, Georgia State, Kansas, Mississippi State, South Florida and Wisconsin. Expected to visit KU this weekend.
RB Jo-El Shaw – 6-1, 230-pound, 3-star Fullback from Pittsburgh, Pennsylvania, considering Bowling Green, Duquesne, Kansas, UMass, Old Dominion, Pitt, Temple, Toledo and Western Michigan.
RB Jawon Hamilton – 5-10, 187-pound 3-star RB from Homestead, Florida, who committed to Central Florida on Jan. 15 but recently told JayhawkSlant.com's Jon Kirby that he still planned to visit KU during one of the final two weekends of this recruiting period.
DB Toyous Avery – 6-foot, 200-pound, 2-star safety from Coffeyville CC, considering Arkansas State, Colorado, Colorado State, Jacksonville State, Kansas, Middle Tennessee State, Missouri, South Alabama, Southern Miss and West Virginia. According to Rivals.com, he is scheduled to visit KU this weekend and Mizzou the weekend of the January 29.

DB Julian Chandler – 5-11, 165-pound, 2-star DB from Missouri City, Texas (home of Nick Harwell), who committed to Louisiana Tech on May 9, 2015, but also had offers from Cal, Houston, K-State, Minnesota, Nevada, North Texas, Northwestern, Oklahoma State, Purdue and Texas Tech.
DB Hamp Cheevers – 5-11, 160-pound, 2-star DB from Trenton, Florida, considering Boston College, Buffalo, Eastern Michigan, Idaho, Kansas, Marshall, UMass, Tulsa and Utah State.
WR Evan Fairs – 6-3, 182-pound, 2-star WR from Richmond, Texas, considering Colorado, Illinois, Maryland, New Mexico, Sam Houston State, Texas State, UT-San Antonio and UNLV.
QB Tyriek Starks – 6-2, 188-pound QB from New Orleans considering Georgia Southern, Louisiana-Lafayette, New Mexico State and UCF. Starks, a late addition to KU's recruiting board, is expected to visit KU this weekend.
DB Desmond Fairell - 6-foot, 180-pound DB from Miami, Florida, considering KU and Northern Iowa. Rivals.com lists Fairell as one of KU's visitors this weekend.