Tuesday, January 19, 2016
Stillwater, Okla. — After Oklahoma State defeated No. 3-ranked Kansas University, 86-67, Tuesday night at Gallagher-Iba Arena, OSU's fans stormed the court, immediately following the final buzzer.
It looked as if a few Jayhawks, including Devonté Graham were caught in the middle of the mob.
However, the visitors were able to get to the sidelines and the handshake line without incident.
Small crowd: The game attracted an announced crowd of 11,383 in a building that seats 13,611.
Photo Gallery
Kansas basketball v. Oklahoma State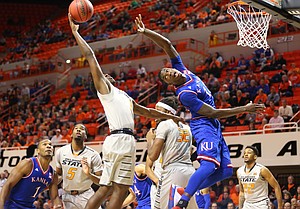 Images from Tuesday night's game between the Jayhawks and Cowboys at Gallagher-Iba Arena
"Geez, I don't get into that. I've got enough crap to worry about than worry about anything like that," KU coach Bill Self said, when asked about the crowd at his alma mater.
"There were some empty seats. I thought the people that were here ... were a good crowd. I'm not emotionally attached in any way, shape or form to the program like I was in the past," said Self, who used to play for OSU in that arena.
"I think their team deserves to be supported ... I think they are a fun team to watch unless you are on the end of a beat-down like we were tonight."
https://twitter.com/KUsports/status/689643116853198848
Shine on fire of late: Oklahoma State sophomore Tavarius Shine, who has missed seven games this season because of a shoulder injury, entered Tuesday's OSU-KU game on a high note.  
Shine hit four threes the second half of Saturday's 74-69 loss at Texas after making just two treys in his first nine games. He hit two threes in five tries against KU.
"Excuse my language, I was a little (bleeped) off with the way I've been playing this season," Shine told the Tulsa World. "I feel like I need to do more for my team, not just scoring but I just need to bring a better presence."
The Irving, Texas native entered Tuesday's game averaging 4.9 points a game off 29.5-percent shooting with six treys in 25 tries.
— See what people were saying about KU at Oklahoma State during KUsports.com's live coverage
---
More news and notes from Kansas at Oklahoma State
---
https://www.youtube.com/watch?v=jMtAnBvuo3w