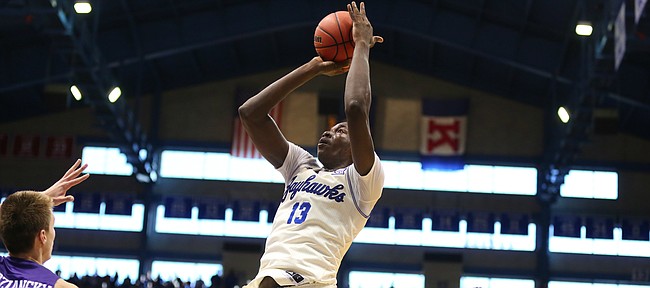 Cheick Diallo — who is hoping to have a long NBA career like the great Wilt Chamberlain — didn't choose his college jersey number as some sort of tribute to Kansas University's most accomplished No. 13.
"Well, my birthday is Sept. 13. That's why I chose No. 13. A lot of people think I chose 13 because of him. No, I've worn 13 since I started playing basketball. It's not anything about him," Diallo, KU's 6-foot-9, 220-pound freshman forward from Mali, said after scoring nine points, grabbing nine rebounds and blocking five shots in the Jayhawks' 70-63 win over TCU on Saturday in Allen Fieldhouse.
"I came here and people said, 'You are wearing his number.' I said, 'Who is him anyway?' I do my research so I know who is him now," Diallo added good-naturedly.
KU fans can't help but think about Wilt — at least a little bit — when they see Diallo swat shots as he did in 21 minutes of action Saturday.
Photo Gallery
Kansas basketball v. TCU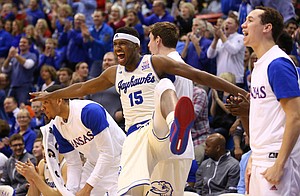 Images from the Jayhawk's game against the Horned Frogs Saturday at Allen Fieldhouse.
"That's what I do best. Blocking shots is kind of easy for me. My wingspan is 7-4 1/2. It's really easy," said Diallo, who exhibited good timing on his rejections.
"I count in my mind a little bit. One second, two. Two seconds I jump," Diallo said. "If you are a shot-blocker you have to take a little time. If you jump first, you will not get a block."
Diallo hit four of seven shots and one of two free throws. He cashed an 8-foot jump shot the first half, then deposited an alley-oop from Frank Mason, hit a 10-foot turnaround jumper and scored off an inside spin move all in the second half.
He was asked about his jumper tending to not have much arc.
"It's because I jump high," Diallo said. "I jump high and it's not gonna come down, just go straight. I think I've improved a lot. Before I could not hit a jump shot. I've been working on my game every day."
Diallo, who had played just 18 minutes combined in KU's first four Big 12 games, totaling four points, one block and five rebounds, figured he'd play more Saturday since Perry Ellis and Hunter Mickelson both picked up two first half fouls and Jamari Traylor took a shot to the face (actually administered by Diallo) on a rebound, limiting his time the final half.
Podcast episode
Kansas basketball coach Bill Self explains why he didn't leave the Jayhawks' 70-63 home win over TCU satisfied with the team's offense or energy.
"The first half I played like five minutes (six minutes, two blocks, two points). I was getting a little confident. I said, 'OK I think I can do it,''' Diallo said. "The second half I just bring all energy. I said, 'Now that's the time I can show everybody I can play.'
"Sometimes if you get tired, of course you need to come out," noted Diallo, who said he never got tired Saturday. "I just feel I can play more. I do. I feel like I can do it. It's not my decision. I'm not going to go to coach, 'Oh, why are you not giving me time?' I can't do it. It's coach's decision," Diallo added.
Podcast episode
Following a 70-63 Kansas victory against TCU, Jayhawks Devonté Graham, Carlton Bragg and Cheick Diallo take questions from the media.
He's not ever complained. In fact, during the first four Big 12 games, he was totally into the games despite mostly being a spectator.
"Even when I am on the bench I'm still pushing my team: 'Let's go. Let's go. Let's go. Let's go. Let's go,''' Diallo said. "I give energy even if I am not playing."
Self said he went into the TCU game figuring Diallo and fellow frosh Carlton Bragg, Jr. (10 points, four boards, 16 minutes) would get more playing time that usual.
"Obviously TCU plays a lot of bigs," Self said of the Horned Frogs, who fell to 9-8 overall and 1-4 in league games; KU is 15-2, 4-1. "Those (two) guys did some good things. They have certainly earned some more minutes. They are getting better, no question about it. Cheick's attitude has been so good. You can't help but get better when you care as much as he does.
"He's a fabulous kid. Everybody wants to play and he wants to play. You can see how raw he is, but you can also see how he can do some things to change a game that nobody else in our program can. We've got to get him more minutes. He's earned them, but it also would definitely help our team down the stretch if he is a little more seasoned player. There's no way he can get there unless we give him a chance to work through some things. I'm really pleased with his attitude."
Diallo and frosh forward Bragg are quite a combo at practice.
"Sometimes we play on the same team. Sometimes we play against each other," Diallo said. "We talk to each other every time. We play like a competitor. It's not a fight. We talk every night. He's my roommate. We talk a lot."
Diallo said he loves the occasions when he's on the court the same time as senior forwad Perry Ellis, who Saturday had 10 points and nine boards in 25 minutes. Bragg, Frank Mason III and Devonté Graham also had 10 apiece on a day Wayne Selden, Jr., led the way with 11 tallies.
"Perry is a senior. I am a freshman. If I play next to him, I can get a lot of experience. It's helped me a lot playing next to Perry," Diallo said.
Diallo, who is an outgoing person, said he continues to text Self daily, as was his habit before he was declared eligible by the NCAA.
"I still do. It's because I want to get better. Every single day I want to get better," Diallo said. "I ask him after every practice what I need to do now. He says, 'More rebounds, block shots, running the floor.' I say, 'OK, I got you,''' Diallo added.
As far as Saturday, "I got nine rebounds, five blocks, that's pretty good. I can do more. I can get more rebounds and blocked shots," Diallo said.
Perhaps he can land a triple-double at some point, considering he was reasonably close in points, rebounds and blocks Saturday.
"That's insane," he said of 10 blocks in one game. "I think I can do it because I'm not going to say I can't."
— See what people were saying about KU vs. TCU during KUsports.com's live coverage
---
More news and notes from Kansas vs. TCU
---
---
---