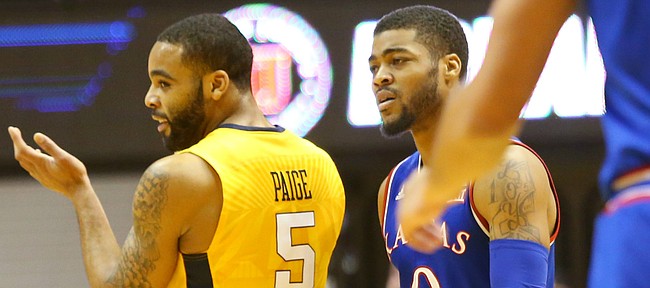 Kansas University's basketball team responded to its first loss of the season by winning 13 consecutive games and ultimately moving to No. 1 in both the Associated Press and USA Today coaches polls.
It's bounce-back time again, as the Jayhawks (14-2, 3-1) — who won three games at the Maui Invitational and were off and running following a 79-73 loss to Michigan State on Nov. 17 — at 1 p.m. today play host to TCU (9-7, 1-3) four days after a 74-63 setback at West Virginia.
"We're moving on from that game. We're focusing on the next game, trying to get better, looking at the tape seeing the things we can do to become a better team," said KU junior guard Frank Mason III.
"Always coming off a loss we come out and give more energy, because we know what we could have done better the other night," Mason added. "It hurts us to see on tape the things we could have done. We could have given more effort and energy. It definitely hurts."
The Jayhawks on Tuesday were alarmed at how easily West Virginia's guards blazed past KU defenders on the way to the basket.
"I feel like they didn't even shoot the ball well. Their whole percentage the whole game was low 30s," KU senior Jamari Traylor said of West Virginia hitting 33.3 percent of its shots in taking over sole possession of first place in the conference standings.
"We fouled them too many times. We didn't keep them from getting to the basket. Every time they'd just drive in there. We've got to do a better job with that. That's what the point was at practice today (Thursday) was defense. We were going out there trying to lock up on defense and get it back," Traylor added.
Mason said there were no excuses for West Virginia's guards getting to the basket seemingly at will.
"We always want to keep the ball out of the paint," Mason said. "Getting strong help on the defensive end, bluffing at the ball so we can discourage drives and things like that."
Noted coach Bill Self: "We didn't do what we were supposed to do to support the guy guarding the ball. I thought our lateral quickness was really exposed. And so we're going to have to get a lot better guarding the ball.
"I mean, it wasn't like our defense — it's just our offense was so inept. You go on the road and you play a top-10 team and you hang 49 on them the first 36 minutes of a game or 35 minutes, I mean, it doesn't matter what you do defensively, you're not going to win because you didn't score the ball," Self added.
All the particulars of the West Virginia game will fade quickly if KU can get back on track today against the Horned Frogs, who have beaten Texas in league play and lost to West Virginia, Oklahoma State and Baylor. KU is 30-6 following a conference loss in the Self era.
"They're better this year, and they can really score the ball," Self said of a team led by sophomore forward Vladimir Brodziansky and sophomore guard Malique Trent, who each average a team-leading 11.7 points per game for a team that averages 69.9 points per contest. Trent missed Wednesday's 82-54 loss at Baylor because of a violation of team rules, according to the Fort Worth Star Telegram. No announcement has been made on his status for today.
"Collins (Chauncey, soph guard, 9.9 ppg) can really score. He's kind of an instant-offense guy, and I think that it'll be a game in which for whatever reason, we've played well at times against TCU but not consistently well, and they've done some things to kind of mess with us defensively, and certainly it'll be a good ballgame, but you look around the league, they're all good games right now," Self added.
The Horned Frogs are 13-37 in road games in coach Trent Johnson's four seasons in Fort Worth.
This, that: TCU junior guard Brandon Parrish averages 8.3 ppg, while junior forward Karviar Shepherd averages 9.1 ppg with 6.5 rebounds per contest. ... KU is 10-1 versus TCU and has won six straight vs. the Frogs. ... Self is 14-4 all-time against TCU, including 7-1 while at KU. Johnson is 2-6 against KU, 1-6 while at TCU....
Recruiting: Blue-chip prospect Michael Porter, a 6-8 junior forward from Tolton Catholic in Columbia, Missouri, is expected to attend today's Kansas-TCU game as part of an unofficial recruiting visit. His Tolton team will meet Blue Valley Northwest in the Best of the Midwest Showcase at 8:30 p.m. today at Johnson County Community College. Tickets for that game will be on sale at the door at JCCC. He's the No. 3-ranked player in the Class of 2017 according to Rivals.com. Currently, Porter is considering KU, Duke, Indiana, Kentucky, Missouri, Stanford, Syracuse, UCLA, Virginia and Washington. Free State High will meet Lee's Summit (Missouri) North at 2 p.m. today at the Showcase.