Saturday, January 16, 2016
The Kansas University men's basketball team bounced back from Tuesday's road loss at West Virginia with a solid 70-63 handling of TCU Saturday at Allen Fieldhouse.
But more than the final score or any individual stats, this one will be remembered for Bill Self's willingness to let freshman Carlton Bragg and Cheick Diallo play extended and meaningful minutes.
And both freshmen took full advantage of the opportunity that came, in large part, because of early foul trouble to Perry Ellis and Hunter Mickelson.
Landen Lucas and Jamari Traylor got their chances, too, but this was by far the best look at the two freshmen that we've seen in a while and they responded with solid games.
Photo Gallery
Kansas basketball v. TCU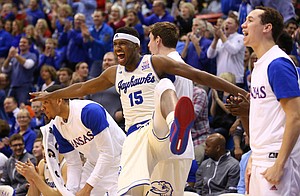 Images from the Jayhawk's game against the Horned Frogs Saturday at Allen Fieldhouse.
Bragg, who actually started the second half in place of Mickelson, finished with 10 points and 4 rebounds (3 offensive) in 14 minutes, and Diallo turned in his best all-around game since his first as a Jayhawk, blocking 5 shots and snagging 10 rebounds. He also added 9 points.
KU (15-2 overall, 4-1 Big 12) led TCU (9-8, 1-4) by nine at halftime and the Frogs trimmed the KU lead to as few as six points early in the second half, but each time TCU made a run, KU answered and kept its comfortable edge.
The Jayhawks built a 12-point lead on a couple of occasions midway through the second half and saw the lead climb as high as 19 at one point, and that proved to be enough to stave off the TCU threat on a day when the visitors actually played pretty well inside a tough environment.
Five Jayhawks finished in double digits and even though KU did not set the scoreboard on fire, that balance was enough to knock off the Horned Frogs.
Here's a quick look back at some of the action:
• The game turned when: KU responded to TCU taking a 19-15 first-half lead with a 22-9 run that closed the half and helped KU regain control.
• Offensive highlight: Four minutes into this one, Mickelson helped answer the question many KU fans are asking: Why does Hunter Mickelson continue to start? After a missed layup in the paint, Mickelson ripped down the offensive board and then flipped a quick, no-look pass to a diving Selden, who grabbed it and scored the easy bucket to put Kansas up early. Mickelson, however, did not parlay the fast start into more minutes, as he picked up two quick fouls and sat the rest of the first half and played just 5 minutes all game.
• Defensive highlight: Playing extended first-half minutes because of foul trouble to Ellis, freshman forward Diallo flashed a little defense with a monster block of Chris Washburn with under 5 minutes to play in the first half. The best part about the block was it came out of man-to-man D and was the result of Diallo staying with his man off the dribble and rejecting a shot as they got to the lane. It wasn't like one of those big-time blocks that look nice but come off of help D and the other guy had no chance. Diallo blocked another one in similar fashion later in the half, showing his explosive nature and athleticism to get it done. These were impressive. And clean. And encouraging for KU's defense.
• Key stat: KU's bench was a big difference maker in this one, outscoring the Frogs' bench, 29-16.
• Up next: After a quick stop at home, the Jayhawks head back out on the road on Tuesday, when they'll play at Oklahoma State at 6 p.m. in Stillwater.
— See what people were saying about KU vs. TCU during KUsports.com's live coverage
---
More news and notes from Kansas vs. TCU
---
https://www.youtube.com/watch?v=uv_IBttQeI8
---
https://www.youtube.com/watch?v=RgTsHNO36No
---