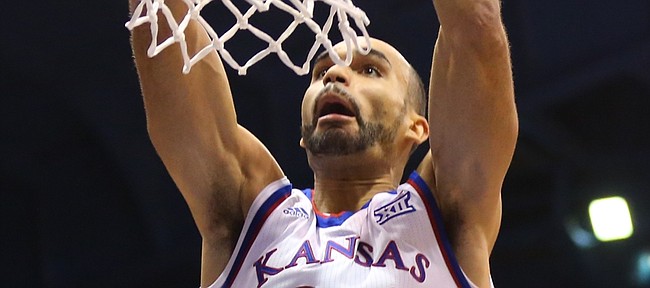 Perry Ellis sank eight of Kansas University's 20 baskets while scoring 21 of the Jayhawks' 63 points in Tuesday's 74-63 road loss to West Virginia.
All that production came off 14 shots, which in coach Bill Self's eyes were not nearly enough.
"He should have gotten off 20-plus in that particular game, but we weren't able to get the ball to him," Self said after the game.
On Thursday, Self fielded additional questions about failing to feed the 6-foot-8, 225-pound senior forward from Wichita, who leads KU in scoring at 16.3 points a game off 50.3 percent shooting.
Podcast episode
Kansas basketball coach Bill Self discusses what the top-ranked Jayhawks learned from their 74-63 loss at West Virginia this week, as well as what lies ahead in the Big 12 and a new rule which will give college players more flexibility in declaring for the NBA draft.
"When we go on our little 9-0 runs, Perry is the main reason offensively. So I don't understand why we go away from that. Even if it's makeshift, even if it's not very artistic, you just get the ball to him and make him go make a play," Self said.
"That's what West Virginia did. They just kind of moved the ball around a little bit and then just said, 'OK, play take 'em.' We could have done that with Perry some, also. It wasn't like we didn't throw it to him, but we probably could have done a better job of trying to throw it to him more," Self added.
"Even though he scored a lot of points, I think we could have gotten him the ball more," junior guard Frank Mason III said Thursday. "He could have gotten more angles. I think they (Mountaineers) sped us up. We lost focus. Guys were moving too fast. We didn't give him the ball as much when he was hot."
Self has been satisfied with the interior work of Ellis this season.
"I really feel like since Big 12 started he's graded out very well," Self said. "I think even against Oklahoma, he got up 28 shots (making 11, scoring 27 points), and although he didn't make an unbelievable percentage for him, because he's a 55-60 percent shooter, he was aggressive enough to get up 28 and our best offense was having him attack the basket, and I thought that was the same way the other night, Self added.
New draft rule: The NCAA has pushed back the date with which players must remove their name from the NBA Draft (if they want to return to school) to 10 days after the final day of the NBA Combine, which this year falls May 15.
Players can participate in the Combine and one NBA team tryout per year and still return to school if they are unsatisfied with their projected draft position, supplied to them by the league.
In the past, the NCAA required players to make their decision by the April 16 start of the spring signing period in order to maintain college eligibility. College players now may enter the draft multiple times without penalty.
"If you are not invited to the Combine, then obviously you're not on anyone's radar regardless of what agents are telling you or what other people are telling you," Self said. "If you are invited, what this allows us to do is have time to train them (on campus) so they don't feel like they have to leave campus to go get trained.
"A young man would not jeopardize his collegiate eligibility if things don't work out for him," Self added. "So now the way it has read in the past, you've got to make a decision by a certain time, and then if you don't take your name out by a certain time, you're automatically in, but no NBA teams have had a chance to talk to you. It's only the information that we have gathered for them. Now it's a situation if they're invited to the Combine, they're going to get within one week exactly where they grade out at the Combine, and if 30 NBA teams are saying, 'Hey, at best you're a late second-round draft pick and probably not draftable,' then that would still give a young man a chance to come back to school."
Coaches will have to wait until late May to know what some players will do. NBA execs have said they expect most college players to declare for the draft without hiring representation, continue to train on campus and see if they are invited to the Combine.
"It could put the schools in jeopardy of not knowing what your roster will be next year: 'Well, we think he'll come back and then he ends up leaving late and there's nobody left to sign,'" Self said. "So from a school standpoint you could make a case that it kind of puts you more in jeopardy for next year's roster, but if you're looking at it for the best interest of the kids, at least now they can rely on information from the NBA as opposed to third parties giving them information, and that was the goal of the rule."
Big man deciding: Udoka Azubuike, a 6-11, 260-pound senior center from Potter's House Christian Academy in Jacksonville, Florida, will announce his college choice on Sunday, according to ESPN's Jeff Borzello. Azubuike, who is ranked No. 27 in the Class of 2016 by Rivals.com, has a final list of KU, Florida State and North Carolina. In the past, he's also considered Duke, N.C. State, Wake Forest, Cal, Auburn and Florida.
"He just wanted to enjoy his senior season and take the pressure off," Azubuike's mentor, Harry Coxsome told Borzello.
Azubuike is originally from Nigeria and been in the U.S. for three years. He's a dominant low-post player. FSU is considered the leader.