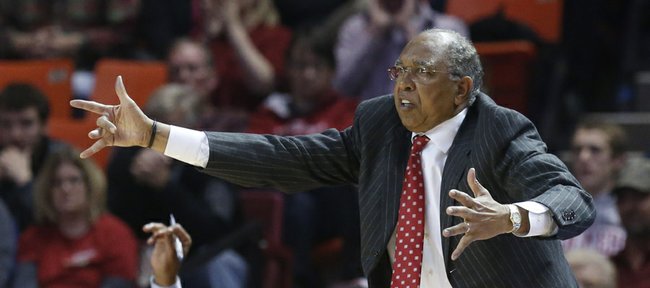 Lubbock, Texas — Picked to finish last in the Big 12 in a preseason vote of league coaches, Tubby Smith's third Texas Tech basketball team has to be considered the surprise squad in the conference.
Sure, it's early, but the Red Raiders, who play host to Kansas University in an 8 p.m. tipoff today in United Supermarkets Arena, check in at 1-1 after an 82-74 home victory over Texas and narrow 76-69 setback Wednesday at league-title contender Iowa State.
Overall, Tubby's troops own an 11-2 mark, with wins over Mississippi State, Minnesota, Hawaii and Richmond on the résumé, as well as losses to ISU and Utah.
ESPN's Joe Lunardi has taken notice, currently projecting Tech as a No. 10 seed in the 2016 NCAA Tournament.
"It's the same team as last year. I think they're just older. Their players individually have gotten a lot better," KU coach Bill Self said of the Red Raiders, who are led by senior guards Devaugntah Williams and Toddrick Gotcher, who average 14.8 and 11.8 points a game.
"They have athletic guards who can really guard and pressure, especially in the halfcourt," Self added. Williams, 6-foot-4 from Canton, Ohio, has 24 assists, 20 turnovers and 16 steals, and Gotcher, 6-4 from Garland, Texas, has 34 assists, 10 turnovers and 12 steals.
Zach Smith, a 6-8 sophomore forward from Plano, Texas, averages 10.2 points and 6.5 boards, and Norense Odiase, a 6-9 sophomore center from Fort Worth, Texas, contributes 9.8 points and 5.0 boards.
"Their bigs have really improved. They play two legitimate bigs," Self said, adding, "I don't think they're going to beat themselves.
"Tubby will will them to be better and will them to be good," Self continued. "They're really a nice team. They're definitely an NCAA Tournament-potential team. Look at their RPI ... they are fourth or fifth (sixth) in the country strength of schedule as well (10). They've improved a lot."
The Jayhawks (13-1, 2-0), who have won 12 straight games versus the Red Raiders and lead the all-time series 29-4, realize it can be tough to win in Lubbock. KU cruised, 73-51, at United Supermarkets Arena last season, but just 64-63 in 2014.
"We played pretty well down there last year," Self said. "Year before, Joel (Embiid) missed a short shot, Wiggs (Andrew Wiggins) tipped it in at the buzzer, and we won by one."
Senior forward Perry Ellis said he remembers the recent close call in Lubbock.
"Coach mentioned that yesterday, mentioned something about that so we know," Ellis said. "We know every game we play, every team is going to give us their best shot. We've got to go there and compete."
Veteran coach Smith, 64, would love to take the Raiders to the NCAAs for the first time since 2007. A win over KU, of course, would help the cause greatly.
"The difference has been that we're more experienced," Smith told the Lubbock Avalanche-Journal. "Devaugntah and Toddrick are really stepping up and giving us quality minutes. We don't really have an All-American player that can step up and put the ball in the basket, although Devaugntah is showing that."
Smith added: "Last year we had five freshmen in the program. We have four sophomores not playing a lot of minutes — Justin Gray (forward 7.3 ppg), Zach Smith, Norense Odiase and Keenan Evans (guard, 8.5 ppg). We're very fortunate to have those young men that believe in the program. We're building a good bench. That's always important."
Back-to-back home wins over Texas and KU would certainly be two of the most impressive performances in recent Tech history.
"I think we can be as good as we want to be," Smith, whose team went 13-19 a year ago, told the Dallas Morning News.
l
Assist-to-TO ratio: Texas Tech, which averages 76.2 ppg and allows 66.1, has totaled 178 assists to 156 turnovers.
"We made it an emphasis in the offseason, developing better ballhandling and getting to the line," Smith said. "Assist-to-turnover ratio is always probably one of the major factors in winning a basketball game. The team with the least amount of turnovers is usually going to end up winning the game. We've gotten stronger. We're limiting who is handling the ball. All those ingredients have been the reasons why we are taking care of the ball and having a better assist-to-turnover ratio."
Confident bunch: The win over Texas has really boosted the Raiders' confidence. "It's huge," Gotcher told the Avalanche-Journal. "You see we're coming together. It's a new millennium for Texas Tech basketball. I've been here so long. I'm happy to see things turn around."
In that game, Gotcher had 18 points, Williams 23.
"When they are clicking, both playing like that, we're tough to beat," Smith said.
Weather delay: The Jayhawks' charter flight to Lubbock was delayed because of weather problems Friday night. The 150-seat MD-80 aircraft, which originally was slated to depart Topeka Regional Airport with the Jayhawks on board at 7:30 p.m., actually took off at 10:10 p.m. The plane was late in arriving to Topeka from a city with winter-weather concerns, KU officials were told. The Jayhawks landed in Lubbock at 11:17 p.m.
This, that: Tech is 9-0 at home this season. ... Smith is 38-39 in his third season at Tech and 549-265 in his 25th season overall. ... KU is 11-4 against Tech in games played in Lubbock, including a 7-3 record in United Supermarkets Arena. ... Since the inception of the Big 12 Conference in 1997, KU is 22-4 against Tech; 19-4 in regular-season matchups and 3-0 in league tourney meetings. ... The first meeting between the two schools took place in Allen Fieldhouse on Dec. 7, 1959, an 85-71 KU victory. ... Self is 16-6 all-time against Texas Tech, including 15-3 while at KU. Smith is 2-7 versus KU, 0-4 while at TTU. ... KU has won 12 straight games, longest streak since the 2012-13 squad won 18 in a row. ... KU is 6-2 under Self as the No. 1 team in the country.
Probable Starters
KANSAS (13-1, 2-0)
F — Perry Ellis (6-8, Sr.)
F — Hunter Mickelson (6-10, Sr.)
G — Frank Mason III (5-11, Jr.)
G — Wayne Selden Jr. (6-5, Jr.)
G — Devonté Graham (6-2, Soph.)
TEXAS TECH (11-2, 1-1)
F — Zach Smith (6-8, Soph.)
C —Norense Odiase (6-9, Soph.)
G — Devaugntah Williams (6-4, Sr.)
G — Keenan Evans (6-3, Soph.)
G — Toddrick Gotcher (6-4, Sr.)
Tipoff: 8 p.m. today, United Supermarkets Arena, Lubbock, Texas.
TV: ESPNU (WOW! channels 35, 235).
Rosters
KANSAS
0 — Frank Mason III, 5-11, 185, Jr., G, Petersburg, Virginia.
1 — Wayne Selden, Jr., 6-5, 230, Jr., G, Roxbury, Massachusetts.
2 — Lagerald Vick, 6-5, 175, Fr., G, Memphis.
4 — Devonté Graham, 6-2, 175, Soph., G, Raleigh, North Carolina.
5 — Evan Manning, 6-3, 170, Sr., G, Lawrence.
10 — Sviatoslav Mykhailiuk, 6-8, 195, Soph., G, Cherkasy, Ukraine.
11 — Tyler Self, 6-2, 165, Jr., G, Lawrence.
13 — Cheick Diallo, 6-9, 220, Fr., F, Kayes, Mali, Africa.
14 — Brannen Greene, 6-7, 215, Jr., G, Juliette, Georgia.
15 — Carlton Bragg, Jr., 6-9, 220, Fr., F, Cleveland.
21 — Clay Young, 6-5, 205, Soph., F, Lansing.
22 — Dwight Coleby, 6-9, 240, Jr., F, Nassau, Bahamas.
31 — Jamari Traylor, 6-8, 220, Sr., F, Chicago.
33 — Landen Lucas, 6-10, 240, Jr., F, Portland, Oregon.
34 — Perry Ellis, 6-8, 225, Sr., F, Wichita.
42 — Hunter Mickelson, 6-10, 245, Sr., F, Jonesboro, Arkansas.
Head coach: Bill Self. Assistants: Kurtis Townsend, Norm Roberts, Jerrance Howard.
TEXAS TECH
0 — Devaugntah Williams, 6-4, 205, Sr., G, Canton, Ohio.
2 — Devon Thomas, 6-0, 170, Jr., G, Silver Springs, Maryland.
3 — C.J. Williamson, 6-6, 200, Fr., G, Orlando, Florida.
4 — Donovan Ham, 6-2, 200, Fr., G, Atlanta.
5 — Justin Gray, 6-6, 210, Soph., F, Tampa, Florida.
11 — Zach Smith, 6-8, 215, Soph., F, Plano, Texas.
12 — Keenan Evans, 6-3, 180, Soph., G, Richardson, Texas.
15 — Aaron Ross, 6-8, 225, Jr., F, North Little Rock, Arkansas.
20 — Toddrick Gotcher, 6-4, 205, Sr., G, Garland, Texas.
21 — Rokas Ulvydas, 6-11, 235, Soph., F, Kaunas, Lithuania.
22 — Jordan Jackson, 6-3, 180, Fr., G, Houston.
30 — Andrew Sorrells, 6-3, 170, Fr., G, North Richland Hills, Texas.
32 — Norense Odiase, 6-9, 260, Soph., C Fort Worth, Texas.
34 — Matthew Temple, 6-10, 235, Jr., F, Wichita Falls, Texas.
Head coach: Tubby Smith. Assistants: Joe Esposito, Vince Taylor, Pooh Williamson.