Saturday, January 9, 2016
Lubbock, Texas — When they looked at their hands in the wake of a 69-59 loss to the nation's No. 1 college basketball team, the Texas Tech players weren't in anyway tempted to use them to pat themselves on the back.
Instead, they reflected on what they let slip through their fingers.
"Kansas is a good team, a very good defensive team, all praise to them," said Texas Tech sophomore Justin Gray, who came off the bench for 10 points and a spectacular blocked shot from behind on a Wayne Selden dunk attempt. "But I think we could have gotten this one tonight and we let it get away."
A 9 for 19 performance from the free-throw line ranked atop the Red Raiders' list of regrets. Next was a 42-26 disadvantage on the boards. And second-half defense that enabled Kansas to score nine field goals from close range and five on open three-pointers also left the home team feeling as if it could have scored a major upset.
Photo Gallery
Kansas basketball v. Texas Tech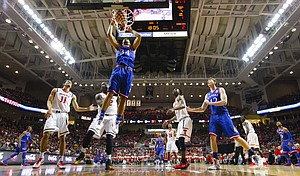 Images from Saturday night's game between the Jayhawks and Red Raiders at United Spirit Arena in Lubbock.
"We were going against one of the deepest teams in America and the best team in America," Tech coach Tubby Smith said. "If you don't execute to perfection you're going to get exposed at both ends of the court. ... We had some opportunities going against the No. 1 team in the country and they proved whey they're No. 1."
Kansas defended wide-bodied sophomore center Norense Odiase well in the first half, holding him scoreless on 0 for 4 shooting. Odiase took his game to the perimeter and made all seven field-goal attempts in the second half, keeping Tech in the game. But Kansas made 5 of 8 threes in the second half and 14 of 16 free throws on the night.
"A lot of things did us in tonight," Smith said. "We didn't rebound the ball. We didn't defend like we should in the second half. You put the free-throw shooting in with that and it's a recipe for a loss."
Texas Tech dropped to 11-3 overall and 1-2 in the Big 12.
— See what people were saying about the game during KUsports.com's live coverage
---
More news and notes from Kansas at Texas Tech
---
https://www.youtube.com/watch?v=aPGKRs3FqN0