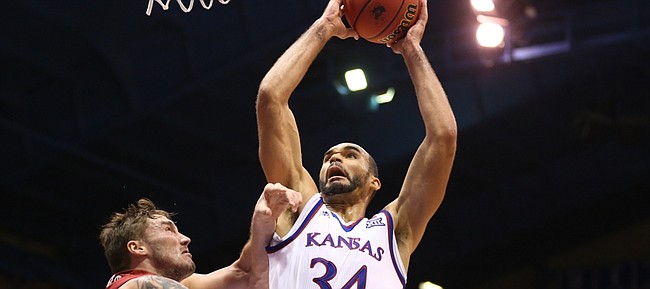 Seeing some exhaustion in his Kansas University basketball players after Monday night's triple-overtime victory over Oklahoma, KU coach Bill Self allowed for some down time this week.
"Frank said, 'Coach I got nothing still' and that was yesterday," KU coach Bill Self said Thursday referring to Frank Mason III, who played 53 minutes in Monday's 109-106 win.
"So much of that is not the physical, it's the emotional letdown, going from being so geeked up to being drained. We'll handle it, but I don't know if there's a perfect way to do it," Self added.
Podcast episode
Kansas basketball coach Bill Self discusses how the Jayhawks will manage to recover from their thrilling and exhausting triple-overtime win over Oklahoma before heading on the road for Saturday's game at Texas Tech.
His (13-1, 2-0) Jayhawks, who were awarded a day off Tuesday and practiced for just 35 minutes Wednesday, had a full practice Thursday in preparation for Saturday's 8 p.m., clash at (11-2, 1-1) Texas Tech.
"I feel great. I got iced up. My body feels good," said KU senior forward Perry Ellis, who also played 53 minutes vs. OU. "It was so much effort. We left it all on the floor. A lot of minutes were played. It's definitely an advantage the little break we had between games," Ellis added.
Sophomore guard Devonté Graham, who played 46 minutes, said he "was feeling pretty good" on Tuesday after staying up until 6 a.m., watching a replay of the contest. "I was still excited about the game. Actually yesterday (Wednesday) I was more sore than the day before. I'm feeling pretty good now. We've kind of got to get over it. It's just the second game of conference play. We've got to look ahead to Texas Tech and get ready for that game."
Senior forward Jamari Traylor, who had two vicious second-half blocks of OU shots, including one in which he fell hard on his back, apparently survived unscathed.
"I asked him yesterday, 'How is your back?' He said, 'My back is fine. I kind of messed my knee up,''' Self said. "It was a hard fall, though."
All things considered, Self is grateful the schedule maker allowed for just two games this week. If say, Monday's game, had been played Wednesday, "we'd be in trouble," Self stated. "The only other game I can compare to, when we played Missouri here (87-86 OT win, Saturday, Feb. 25, 2012), we played Oklahoma State Monday night at Oklahoma State (70-58 KU victory). After that (MU) game, what do you do? Go home and get some rest. I told them, 'Have a good time, be smart, then don't do anything on Sunday, and hope like heck that you got enough batteries to play on Monday.' Fortunately we did that particular game. I think that was a game that kind of clinched it (league). Yes, I don't think that we would have responded very well at all."
Amazingly, after two games, KU and West Virginia are the only Big 12 unbeatens at 2-0. Oklahoma, Iowa State, Texas Tech, Baylor, Oklahoma State and Texas are 1-1 with Kansas State and TCU 0-2.
"We knew the league was going to be tough," Graham said. "It's always tough. In the league, we really are not at the top. We've won both home games. West Virginia has won two on the road (at TCU, at KSU). They are really plus two ahead of us. We have to focus on winning on the road. It's going to be tougher to win those games."
Oddsmakers like Jayhawks: KU is the new favorite to win the NCAA title, according to betting site Bovada.lv. KU has 15/2 odds, followed by Michigan State 17/2, Oklahoma 9/1, North Carolina 10/1, Duke 12/1, Kentucky, 14/1, Virginia 14/1, Xavier 14/1, Louisville 16/1, LSU 16/1, Maryland 16/1, Purdue 16/1. Iowa State is 28/1, Baylor 75/1, Wichita State 75/1, West Virginia 75/1, Texas 100/1, K-State 500/1, Oklahoma State 500/1, OU's Buddy Hield is leading contender for national player of the year with 2/3 odds, while LSU's Ben Simmons is 4/1. ISU's Georges Niang is 16/1 with no KU players currently listed.