• Firsts: The Big 12 for the first time in history boasts two No. 1 teams (AP, coaches polls).
This is the first time any conference has had the No. 1 and No. 2 teams in any poll since KU was No. 1 and Texas No. 2 in the coaches poll in 2010-11. The Big 12 also was the last to accomplish the 1-2 feat in the AP poll, accomplishing it for six straight weeks with KU and Texas from Nov. 30, 2009 to Jan. 4, 2010.
OU is No. 1 for the first time since the final regular season AP poll of the 1990 season (March 6, 1990).
Monday marked the first time in Big 12 history that conference squads ranked 1 and 2 played each other.
Photo Gallery
Kansas basketball v. Oklahoma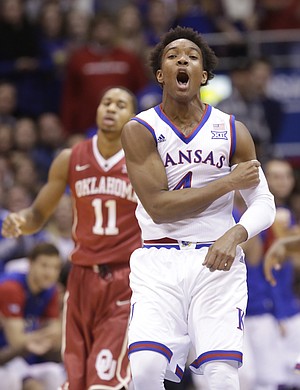 View images from Monday night's game between the Jayhawks and Sooners at Allen Fieldhouse.
There have been nine 1 vs. 2 matchups in the same league — the last taking place on Feb. 25, 2007 (No. 2 Ohio State 49, No. 1 Wisconsin 48). Two of the nine were in the Big Eight Conference less than one month apart — March 10, 1990 in the Big Eight Tournament semifinals (No. 1 Oklahoma 95, No. 2 Kansas 77) and Feb. 13, 1990 (No. 2 Missouri 77, No. 1 Kansas 71).
• How big was Monday's game? "I told our guys this ... 'This is a big game. This isn't the only big game we'll have this year because the league is too good. You'll have other games of national implications that also happen in February and some happen in early March," coach Bill Self said. "I don't think anything should be done to set up (a way) to try to have these matchups late, because there's no way to predict it in our league because everybody is good."
• Self, by the way, said he'd give the Jayhawks a well-deserved day off today.
— See what people were saying about No. 1 versus No. 2 during KUsports.com's live coverage
---
More news and notes from No. 1 Kansas vs. No. 2 Oklahoma
---
https://www.youtube.com/watch?v=xauvlybGY4U
---
https://www.youtube.com/watch?v=gBqs31M_ilE
---