Wayne Selden, Jr.'s mom, Lavette, pumped her left fist and smiled as her son backpedaled on defense after hitting his career-high tying fifth three-pointer with 10 1/2 minutes left in Kansas University's 102-74 Big 12-opening victory over Baylor on Saturday in Allen Fieldhouse.
"That I knew they were going to go in," Lavette Pitts said, asked what went through her mind in the stands as her son attempted (and hit) his first seven shots en route to 18 points the first half and 24 overall.
Mom's confident attitude is certainly shared by Wayne, who averages a team-leading 15.5 points a game off sizzling 55.5-percent shooting for the (12-1) Jayhawks.  
The 6-foot-5 junior has made 36 of 65 threes for 55.4 percent.
Photo Gallery
Kansas basketball v. Baylor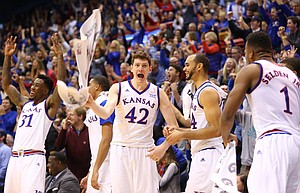 Images from Saturday's game between the Jayhawks and Bears at Allen Fieldhouse
"He's confident and he's mature. He's been playing D-One ball for three years. That adds something to you. Playing in the Big 12 ... he's been getting better every year," Lavette said, explaining the skyrocketing of Wayne's numbers from 9.4 points a game and 38.2 percent shooting in 2014-15.
"He's grown up," added Pitts, who has seen the change up close and personal after moving to Lawrence from Roxbury, Massachusetts, in August with her son, Anthony Selden, a 6-foot-3 sophomore basketball player at Lawrence High.
"He's 21 years old and knows what he has to do in order to compete and he's figured it out. He's making his own choices. He knows what he has to do and what he wants to do."
It should come as no surprise Selden — who was joined in double figures Saturday by Perry Ellis (17 points), Devonté Graham (15), and Frank Mason III (11) — shares his mama's reasoning for his stellar play. Selden is definitely on the same page as Lavette, whom he calls his "hero in life."
"I've grown up a lot here (at KU). I came here as a kid, a boy. I've grown into a man," said Selden, who scored 11 points Saturday in KU's game-opening 24-4 run.
"I'm confident," he added. "I feel every one (shot) is going to go in when I take it, before I even shoot it. I feel that's the ultimate confidence. That's what I need and what the team needs."
Podcast episode
Kansas basketball players Wayne Selden Jr., Perry Ellis and Devonté Graham discuss the Jayhawks' Big 12-opening, 102-74 victory over Baylor, and a little about likely being ranked No. 1 next week.
What he needs after every game is a nice one-on-one talk with his mom.
"After he does media ... in an hour or two we'll talk," Lavette said Saturday after the final horn. "(I'll say) 'I love you. Great game.' Then we'll move onto the next (game). We don't get stuck into celebration for too long," she added.
"She always texts me: 'I love you no matter what,''' Selden said, admitting he likes to see mom and brother in their seats in the players' family section behind the visitors bench.
Podcast episode
Kansas basketball coach Bill Self discusses the Jayhawks' 102-74 win over Baylor to open Big 12 play, and the coming Big Monday showdown at Allen Fieldhouse with Oklahoma.
"I'm happy. I'm excited. I'm glad they can get to the games. My little brother looks up to me. I'm just trying to perform for him," he added.
Anthony Selden was as proud as a brother could be on Saturday.
"He played really well. He was dishing the ball (four assists, no turnovers), getting rebounds (five) and scoring," Anthony said.
"Coming from my brother is the fact he could have done even better. I love watching him," he added. "Sometimes I'm not here but I watch them at home. It gets too crazy in here (fieldhouse) sometimes," Anthony added, smiling.
KU coach Bill Self acknowledges the possibility Selden is playing so well because of his family being in town his junior season.
"I don't know," Self said, "because he was good before they moved here in the summer (starring for KU's gold-medal winning World University Games team). I think it was great she stayed back (in Massachusetts) the first couple years and kind of let him find his way and grow up. I think having her around, he's been happy with it. I think she loves it here. He's come into his own and certainly I think having family around helps."
Wayne's take on the matter?
"It helps. I'm not sure that's the reason. I think it's just me growing up," he said.
"It helps a little bit," conjectured Lavette Pitts, who works for Shelter, Inc. "We moved to Lawrence in August to be a support for him and also for my other son. Actually the main reason was to be a support for Wayne and to be a support for Wayne is me going to the games."
There were other reasons for Selden's success being tossed around after Saturday's win, which sets up a huge game against (12-0) Oklahoma at 8 p.m., Monday in Allen.
"Wayne feels like it's his team. Other guys take ownership. He feels he has a much bigger role than he's ever had," Self said. "He's driving the ball to set up his shot as opposed to hoping to make shots. It goes to the hard work he's put in. He's put in a lot of time. He's really playing at a high level."
http://www2.kusports.com/photos/2016/jan/02/301352/
Selden noted: "Playing with two small guards (Mason and Graham) makes it a lot easier for me and everybody else. They get in the paint. I'm just open and taking open shots.
"I don't know if I've become a complete player," Selden added. "I'm trying to become aggressive. I've got to rebound the ball more and play better defense, just try to do things to help the team win."
There's nothing better to do after a big win, of course, than raid mom's refrigerator. 
Selden explained a final benefit of having mom around town.
"She is a certified chef," Wayne said. "She went to school for it."
"Everything," he quickly added of her specialty dishes. "Mac and cheese, soul food, just everything."
— See what people were saying about the game during KUsports.com's live coverage
---
More news and notes from Kansas vs. Baylor
---
https://www.youtube.com/watch?v=f5c_S_it3iM
---
https://www.youtube.com/watch?v=JPx-3LT8lfk