Monday, February 29, 2016
Austin, Texas — The hottest coaching candidate in America when he was at VCU, first-year Texas coach Shaka Smart knows as well as anyone how difficult it is to win a conference regular-season title, because he never won one, even though he took one team to the Final Four.
Smart also knows that Kansas hasn't won 12 consecutive Big 12 regular-season titles without leading with their chins and never backing up.
Kansas didn't just win Monday night in the Erwin Center, it won by a first-round TKO, slamming the Longhorns 86-56 after jumping to a 15-0 lead.
"They do a really good job of playing to win," Smart said. "I know that sounds simple, but you can play to win or you can play not to lose. And at Kansas, there is such a small margin of error because internally and externally the expectation is excellence. I would imagine at that type of place it would be easy to kind of have the mindset of, 'We can't mess this up,' or, 'We don't want to end this streak.' They don't play like that."
Photo Gallery
Kansas basketball v. Texas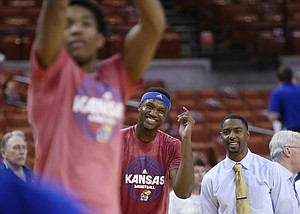 Images from Saturday's game between the Jayhawks and Longhorns at Frank Erwin Center in Austin, Texas.
Kansas, which moved to the top of the Associated Press Top 25 earlier in the day, certainly didn't play not to lose Monday night against a Texas team that two days earlier had used a 22-0, five-minute stretch to defeat Oklahoma, a No. 1-ranked team in the nation earlier this season.
"The credit goes to their coach and their coaching staff and their players," Smart said of Kansas staying in play-to-win mode. "They have what I call approach goals. They just go after it."
The new normal for Kansas, winner of 10 consecutive games, is looking a lot like the old normal from special seasons past. Attentive, relentless help defense, terrific ball movement, smart shot selection, players chasing loose balls as if they were $100 bills, reliable bench.
But even by the standards of a program that has won 12 consecutive Big 12 championships, Monday's 30-point slaughter of Texas was particularly jaw-dropping.
Defense? Texas missed its first 14 shots and didn't score until more than six-and-a-half minutes had elapsed. From there, Texas drew within single digits just once, when Tevin Mack hit a three-pointer to trim the deficit to 18-9.
Texas (19-11, 10-7) shot .302 overall and became the sixth Kansas foe in the past seven games to make less than 38 percent of its field-goal attempts. The Longhorns shot .231 from three and became the fifth foe during the 10-game winning streak to shoot worse than 28 percent from three.
This spot on the schedule reeked of letdown for Kansas since it came two days after a net-cutting ceremony.
"They looked like a team tonight that said, 'Hey, we've already clinched a share of the Big 12 title, we've got our senior game coming up on the weekend, let's go on the road and see if we can take these guys out.' And they just went after it," Smart said. "On our side, we didn't put up anywhere near the level of resistance that you have to against a team like that."
Kansas coach Bill Self chalked it up to the visiting team having a good night, the home squad a bad one and said something about if the teams played again it would be a 50-50 game. I'll take Kansas. Any takers for the other side of that?
— See what people were saying about No. 1-ranked KU's Big Monday game at Texas during KUsports.com's live coverage.
https://www.youtube.com/watch?v=Y4rJ5N6_qG4
---
More news and notes from KU's dominant victory at Texas
---