Monday, February 29, 2016
For the second game in a row, the Kansas University men's basketball team took on a team that was regarded as one of the hottest in the Big 12 and throughout college basketball, and the Jayhawks didn't flinch.
Two days after ending Texas Tech's five-game winning streak back in Lawrence, the Jayhawks hit the road for a Big Monday showdown with Texas and buried the Longhorns, who, two days earlier, knocked off Oklahoma at home.
Kansas 86, Texas 56.
Back at the top of the polls, KU (26-4 overall, 14-3 Big 12) came out and played like a No. 1-ranked team in the early going. The Jayhawks played physical, focused and with great effort and built a 15-0 lead in the first few minutes, leading by as many as 20 at the midway point of the first half.
Photo Gallery
Kansas basketball v. Texas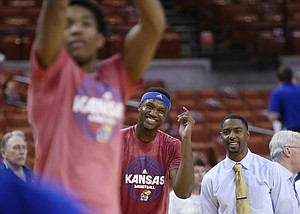 Images from Saturday's game between the Jayhawks and Longhorns at Frank Erwin Center in Austin, Texas.
No. 23 Texas (19-11, 10-7) eventually hit a few shots, but KU never let up and took a 24-point lead into halftime after scoring a whopping 47 first-half points and shooting 66 percent in the first 20 minutes while holding Texas to 27-percent shooting.
The song remained the same for much of the second half and, if anything, things actually got worse for Texas, which watched KU build its lead to as many as 33 points. What's more, the Jayhawks never let up and played as if the game and season were on the line throughout the final 20 minutes.
The Jayhawks now have won 10 in a row since losing at Iowa State and starting Big 12 play with a 5-3 record.
KU's victory Monday night gave the Jayhawks their eighth outright Big 12 title during the current streak of 12 in a row. If not for Oklahoma State winning the title at 14-2 in 2003-04 (KU finished tied for second at 12-4), the Jayhawks would have won a whopping 15 in a row.
The four years in which KU shared the Big 12 title were: 2005 (OU), 2006 (Texas), 2008 (Texas) and 2013 (K-State).
Three Jayhawks reached double figures, led by Perry Ellis with 20 points on 9-of-11 shooting. Frank Mason III (14) and Devonté Graham (13) also reached double digits.
Here's a quick look back at some of the action:
• The game turned when: The ball went up in the air for the opening tip. Texas opened the game shooting 0-of-13 and did not score until the 13:27 mark of the first half after digging a 15-0 hole.
• Offensive highlight: How about that alley-oop finish from Graham to Jamari Traylor midway through the second half, when Graham threw it without anyone being near him and Traylor went up and got it and nearly decapitated himself in the process. On a night when KU dogged Texas with all kinds of drives to the rim, open three-pointers and second-chance points, this was the one play that summed up just how dominant the Jayhawks were in this one. Despite his team being up by 30, Traylor went up and got the Graham lob like the outcome hung in the balance. Traylor then hung on the rim for good measure — as much to protect himself as anything — adding insult to injury.
• Defensive highlight: It had to be the start. Often talked about as a team without a true rim protector, junior big man Landen Lucas sure did his part to dispel that notion, coming up with four blocked shots in the first 5 minutes of the game. Most were the result of Lucas elevating, using his arms and length to make the shot tougher and then swatting it out of the air as the Longhorn shooters attempted to adjust.
• Key stat: All of them. Kansas dominated every meaningful facet of this game, and to single out just one statistical category would, or at least could, falsely lead one to believe that this one was close enough for a single aspect to be key. It wasn't. At all.
• Up next: The Jayhawks will return to Allen Fieldhouse one more time this season for a 3 p.m. Saturday showdown against Iowa State in the home finale and Senior Day for Ellis, Traylor, Hunter Mickelson and Evan Manning.
— See what people were saying about No. 1-ranked KU's Big Monday game at Texas during KUsports.com's live coverage.
https://www.youtube.com/watch?v=Y4rJ5N6_qG4
---
More news and notes from KU's dominant victory at Texas
---