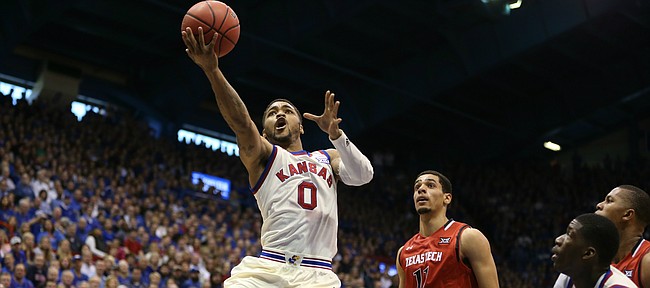 A day away from March, with one week left in the regular season, Kansas University's men's basketball team took over the No. 1 spot in the latest Associated Press Top 25, released on Monday.
Kansas secured 63 of the 65 first-place votes, with the other two going to No. 2 Michigan State (24-5 overall, 11-5 Big 10).
The Jayhawks (25-4, 13-3 Big 12) have won nine straight games, in the process clinching at least a share of the program's 12th consecutive conference championship. KU can win the league outright with a victory in one of its final two games — Monday night at Texas or Saturday versus Iowa State, at Allen Fieldhouse — or a West Virginia loss this week.
Previous No. 1 Villanova (25-4, 14-2 Big East) dropped to No. 3 after losing at Xavier this past week.
No. 4 Virginia (22-6, 11-5 ACC) and No. 5 Xavier (25-4, 13-4 Big East) join KU, Michigan State and Villanova in the top five this week.
Kansas held the No. 1 spot in the poll the first two weeks of January, before hitting a funk and losing three out of five games, with each setback coming on the road. The Jayhawks have spent all but one week this season in the top five, slipping to seven following their third conference loss, at Iowa State on Jan. 25.
This marks the 140th consecutive week in the AP Top 25 for KU, the nation's longest active streak.
It is the 23rd time in Bill Self's 13 seasons at Kansas that the Jayhawks have earned the country's top ranking.
The Big 12 continued to garner the respect of the AP voters, with six teams in the top 25: No. 6 Oklahoma, No. 10 West Virginia, No. 19 Baylor, No. 21 Iowa State and No. 23 Texas.
AP TOP 25 (Feb. 29, 2016)
No. 1: Kansas
No. 2: Michigan State
No. 3: Villanova
No. 4: Virginia
No. 5: Xavier
No. 6: Oklahoma
No. 7: Miami (FL)
No. 8: North Carolina
No. 9: Oregon
No. 10: West Virginia
No. 11: Louisville
No. 12: Indiana
No. 13: Utah
No. 14: Maryland
No. 15: Purdue
No. 16: Iowa
No. 17: Duke
No. 18: Arizona
No. 19: Baylor
No. 20: Texas A&M;
No. 21: Iowa State
No. 22: Kentucky
No. 23: Texas
No. 24: SMU
No. 25: Cal