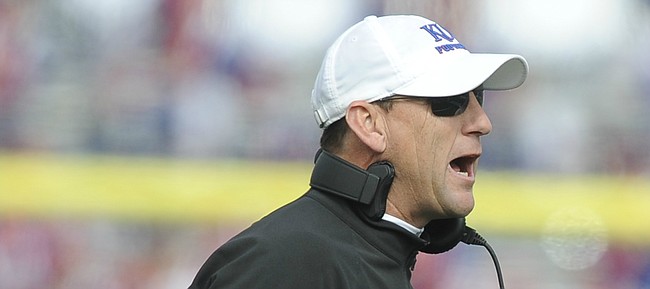 Kansas University coach David Beaty on Sunday confirmed the hiring of former Rice defensive line coach Michael Slater, who will join the Jayhawks for the 2016 season and replace Calvin Thibodeaux, who recently left for Oklahoma.
Slater, who is known for his strong recruiting ties in Houston, becomes the fourth full-time assistant hired by Beaty during a departure-filled offseason in which the second-year KU head coach was forced to replace five of the nine full-time assistants on his first staff.
Jason Phillips (wide receivers) and Todd Bradford (linebackers) were brought in earlier this year to replace Klint Kubiak and Kevin Kane, and, last week, Beaty hired former West Virginia and Oklahoma State special teams guru Joe DeForest to replace Gary Hyman.
The hire brings Beaty one man shy of filling out his coaching staff and a hire to replace running backs coach Reggie Mitchell, who left for Arkansas, is expected early this week, perhaps as soon as today.
"Michael is a great coach and a great man," Beaty said of his most recent hire, who spent 12 seasons coaching powerhouse high school programs in Houston prior to working at Rice. "He has consistently taken undersized and under-recruited players and developed them into top players for their team and in their conference. It is impressive to see his teaching carry over on game tape each and every week."
Slater, Beaty, the other new assistants and the rest of the Jayhawks will kick off spring practices on Sunday. Although being forced to deal with so much turnover on his staff was not ideal, Beaty said he was not worried about getting the newcomers up to speed.
"These guys are all pros," Beaty said recently. "They've been around it for a long time and most of 'em know our systems so it's a pretty easy slide-in there."