Saturday, February 27, 2016
Entering Saturday's showdown with No. 2 Kansas University at Allen Fieldhouse, Texas Tech coach Tubby Smith's squad had won five consecutive games, six of its last seven and elevated Smith from a coach fans grumbled about to a front-runner for Big 12 coach of the year honors.
And then the Jayhawks knocked off the Red Raiders, 67-58, to clinch KU's 12th consecutive Big 12 regular-season title, and even Smith felt the need to tip his cap in the direction of KU coach Bill Self.
"I doubt it," said Smith, asked if he'd ever see anything like KU's streak again. "I didn't think I'd see it now, but... It's amazing what Bill Self has done and I think he deserves to be coach of the year. There's been banter about me, but I think he's done a fantastic job."
Smith said KU's ability to keep its Big 12 title run alive during a season in which the conference has had six teams regularly appear in the weekly top 25 made this year's title all the more impressive.
Photo Gallery
Kansas basketball v. Texas Tech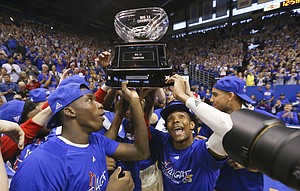 Images from Saturday's game between the Jayhawks and Red Raiders at Allen Fieldhouse.
"It's an indication of just how talented and how good Kansas is," Smith said. "Because it is a very talented league. The Big 12 is the toughest league in the country. Coach Self and his staff have put together a team that is very capable of winning it all. A lot goes into play when that happens. You have to stay healthy, you gotta pass the rock, the ball's gotta fall your way. But they certainly have the depth and the bench strength to get things done and they're playing well at the right time."
That was not the case when these two faced each other in early January. KU (25-4 overall, 13-3 Big 12) won that game in Lubbock by a similar score (69-59), but Texas Tech senior and leading scorer, Toddrick Gotcher, who dropped in a game-high 20 points on 5-of-9 shooting from three-point range in the rematch, said the group he competed against on Saturday looked drastically different.
"They're more complete," Gotcher said. "Each guy knows their role on the team and they know when to take the shot and who takes the shot. They're gonna make a good run in the tournament."
Added Smith: "Roles are defined better and that usually helps the kids understand, 'Hey, this is what my opportunity is and when it's gonna come.'"
As for the specifics of Saturday's loss, both Smith and Gotcher pointed to one moment — one shot — that wound up playing a huge role in Texas Tech (18-10, 8-8) falling short.
With KU leading 34-29 and the seconds ticking off the first-half game clock, KU guard Frank Mason III pushed the ball up the floor and found sophomore Sviatoslav Mykhailiuk (17 points on 5-of-5 shooting from three-point range) on the right wing for a three-pointer that swished through the net as the first-half buzzer sounded.
"We thought we were coming into halftime only down five, and they hit that big three at the buzzer," Gotcher said.
Added Smith: "It barely got passed. (Tech freshman) Jordan Jackson kind of mistimed his jump and if we get that steal and get that stop, it would've helped. That was a big shift in momentum." 
— See what people were saying about Kansas vs. Texas Tech during KUsports.com's live coverage
---
More news and notes from KU's win over Texas Tech
---
https://www.youtube.com/watch?v=K-nSMfqWHgE
---
https://www.youtube.com/watch?v=Fazly6xlCPk
---
https://www.youtube.com/watch?v=E0aMcKhacTU
---