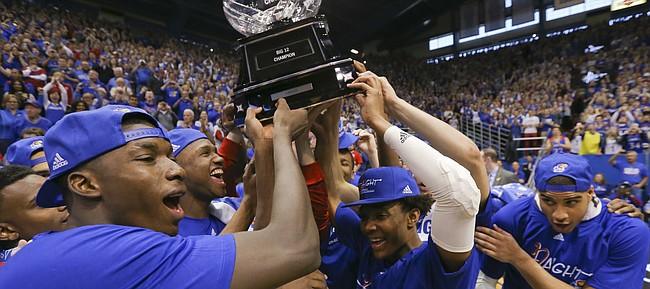 Former Kansas University basketball players Aaron Miles and Jeff Hawkins —accompanied by a trailing Wayne Simien — delivered the 2015-16 Big 12 championship trophy out of the northwest tunnel of Allen Fieldhouse into the hands of sophomore guard Devonté Graham at the conclusion of Saturday's KU-Texas Tech game in Allen Fieldhouse.
To the delight of 16,300 fans who remained in their seats after the final buzzer sounded in KU's 67-58 league-title clinching victory over the Red Raiders, members of Bill Self's first league-title team at KU celebrated with the players who'd just assured the program's 12th conference crown in a row.
"That was kind of cool. I think they all three were probably fighting over it, wanting their day in the sun (carrying the hardware)," Self joked after his league champs improved to 25-4, 13-3. Tech fell to 18-10, 8-8.
The 2015-16 Jayhawks took turns hoisting the trophy before senior Jamari Traylor placed it center court in front of a table on which sat 11 other trophies that constitute KU's current streak of 12 league titles, one off UCLA's all-time record 13 straight Pac 10 crowns.
Photo Gallery
Kansas basketball v. Texas Tech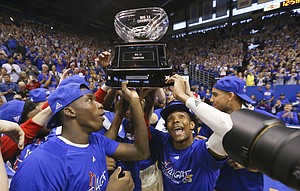 Images from Saturday's game between the Jayhawks and Red Raiders at Allen Fieldhouse.
"What an accomplishment by this team," Self said. "It was nice to see the fans stick around. Usually I don't like doing stuff like that, but they (Jayhawks) deserve it."
What followed was a players-only net-cutting ceremony that started with junior guard Frank Mason III climbing the ladder and ended with senior Perry Ellis clipping a final strand of net. Most of the players stuck the strand through the flap of their new, blue, "12 straight" Big 12 champion caps.
"It just feels great, thinking about all the hard work, all the hours you put in. It pays off in the end," said KU senior Perry Ellis, who scored eight points and grabbed five rebounds on a day Svi Mykhailiiuk led the way with five threes in as many tries and 17 points.
The fans chanted, "Perry Ellis, Perry Ellis" during his time with the scissors.
"It was awesome. I love the fans," Ellis said. "They supported me ever since I've been here. It just makes me want to finish out even stronger, the (rest of the) season."
Self, whose team led by 20 points with 10:19 left, only to see the margin dip to 58-50 at 4:18, was so pleased with the accomplishment a team that started 5-3 in league play that he allowed a celebration with KU technically only tied for its 12th straight league crown.
Oklahoma (10-6) was eliminated from title contention later in the day after losing at Texas, while West Virginia (11-5) remained alive for a possible share of the crown by later defeating Oklahoma State. One KU win or one WVU loss in the last two games eliminates the Mountaineers.
Podcast episode
Kansas basketball coach Bill Self discusses his team's home win over Texas Tech, which sealed up at least a share of the program's 12th regular-season Big 12 championship in a row.
"Because we are on the road the next game," Self said of the reason for partying after the tie was assured. "(Also) I've been called out by some people (that) I don't let the kids enjoy it as much as I should. I thought it was the right thing to do even though we've not won it and just clinched a tie. It's a pretty big accomplishment for any team to win it this year, certainly for our team."
He continued to lavish praise on a KU squad that held Tech to 31.6 percent shooting while hitting just 44.4 percent of its own shots.
"In a year that's the best the league has ever been in the history of the Big 12, it's a remarkable accomplishment," Self said. "People talk about 12 (in a row). They should focus in and talk about one because it's this team.
"I think sometimes you have to take time to enjoy the situation. We've been saying, 'Big 12 champs (during huddles to close each and every practice)' basically since we started practicing for the Korean trip (last summer's World University Games in which KU won gold). They need to be able to enjoy it.
Podcast episode
Kansas basketball players Frank Mason III, Perry Ellis and Svi Mykhailiuk meet with reporters after the Jayhawks earned at least a share of KU's 12th consecutive Big 12 title with a win over Texas Tech.
"It's 1:20 (p.m.) now. They'll get out of here (fieldhouse) by 2:15. I want them to have some fun. I'm not talking partying fun, but enjoy it and worry about Texas tomorrow. They deserve a little reward tonight. I wish the Texas game was Tuesday or Wednesday. These guys need to have some fun and enjoy themselves a little bit," Self added.
KU plays Texas at 8 p.m., Monday, in Austin, a schedule that put a dent in Self's celebration plans.
"We'll do something as a staff I'm sure here in a little bit," Self said of perhaps having lunch or dinner with his assistants and their families. "I'll watch tape tonight.
"Sometimes winning is relief and losing is the end of earth. This feels better than a relief because I'm really proud of our kids. I think they really tried hard. They've given us what they've got for the most part. Now my concern is making sure we stay hungry, because when you put such an emphasis on, 'This is our goal,' and then you accomplish the goal are you still hungry to keep moving forward? The great teams do. It remains to be seen if we can be a great team. I think we'll do the right thing."
The Jayhawks celebrated with class on Saturday. The players signed autographs for 30 minutes or more apiece in a longer than usual post-game autograph line, many posing for pictures while wearing their hats and blue title T-shirts.
"I don't know what to think, man. It's just an amazing feeling," said Mason, who hit three threes and scored 16 points with three assists, three turnovers and two steals in 35 minutes. "Twelve straight is something we'll always remember."
Senior Traylor, who had three points and three boards in 13 minutes, playfully counted each of the fingers and thumb on his left hand before entering the post-game handshake line with freshmen Cheick Diallo (six boards, two points, 13 minutes) and Carlton Bragg, Jr. (two points, one board, six minutes). He has five titles to his credit, having red-shirted his freshman year.
"They are in my room. I've got a little jewelry box for 'em," Traylor said of his rings. "I got 'em nice in there. I need to make a little room now."
Meanwhile, 2004-05 team member Miles, KU's assistant director/student athlete development, was asked where his three league title rings reside.
"My mother has all my goodies," the Portland, Oregon, native said, smiling. "I'm proud of the program and the job the fellas and coaches have done," he added in a serious tone. "I'm proud to be part of it. I'm proud to be a Jayhawk itself. I'm proud the streak continues. The fellas take pride in it and the coaches deliver. But we need to just talk about this year's team. It's 12 (titles) but it's one. It's one championship. They deserve it," Miles added.
— See what people were saying about Kansas vs. Texas Tech during KUsports.com's live coverage
---
More news and notes from KU's win over Texas Tech
---
---
---
---