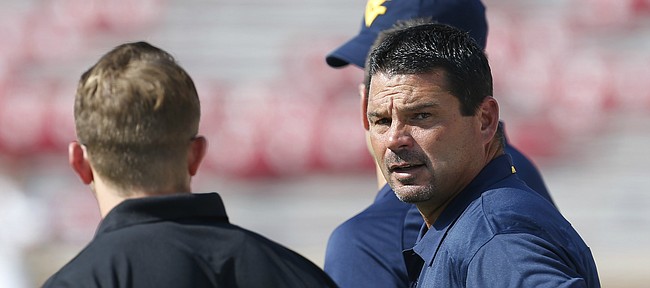 KANSAS CITY, KAN. — Five hours after confirming to the Journal-World the hiring of former West Virginia assistant Joe DeForest to become his special-teams coordinator, second-year Kansas University football coach David Beaty revealed that a coaching staff that was decimated by departures this offseason was nearly full again.
"Actually, we're getting close to being done," Beaty said Friday night from Sporting KC's home field, where he entertained a group of 250-300 KU football supporters during KU's final Football in February event. "We actually have another guy that we've already hired. We're just waiting on the background check to get here, so our D-line job is gonna be full here pretty quick, and then hopefully we'll finish the running-back job maybe Monday."
Beaty did not reveal the identity of either candidate for the two remaining vacancies, but did admit he was relieved to have the hiring all but done with a week to spare before the start of spring practices.
"It's great to get it behind us, and I'm just excited to get those guys here," he said. "They're on fire for KU, and they're excited to get here, and that's a really cool deal."
Having nearly a week to get his staff on the same page before opening spring practice on March 6 was invaluable, Beaty said. And he added that he did not anticipate it taking long to get the newcomers up to speed.
"These guys are all pros," Beaty said. "They've been around it for a long time, and most of 'em know our systems, so it's a pretty easy slide-in there."
One guy who will get a jump-start on the others is DeForest, a veteran of the Big 12 who comes to Kansas after a four-year stint at West Virginia that followed an 11-year run at Oklahoma State.
Beaty said he spoke briefly to DeForest about joining his initial KU staff at the beginning of 2015 and added, "It was gonna be really tough to get him away from there."
As luck would have it, WVU head coach Dana Holgorsen last month chose not to retain DeForest, and that left DeForest looking for a job at the same time KU was looking to fill its coaching roster.
DeForest coached special teams during his entire career at Oklahoma State. After serving as West Virginia's defensive coordinator for one season in 2012, he took over as special-teams coordinator for the Mountaineers from 2013-15.
"We've always talked about how consistent his teams have been in special teams in the Big 12," Beaty said of DeForest. "He has led every category at some point in time throughout his career in the Big 12. And he's done it often, not just a couple times."
Demoted from DC to special-teams coordinator after a 2012 season in which the WVU defense surrendered nearly 500 yards of offense per game, DeForest found success with West Virginia's special teams and safeties.
As safeties coach, DeForest helped develop WVU standouts Karl Joseph, K.J. Dillon and Dravon Askew-Henry, and his special-teams units also featured a few standouts, with kicker Josh Lambert earning Lou Groza Award finalist status in 2014, punter Nick O'Toole being named all-Big 12 in 2015 and a kick-return unit, led by dynamic return man Mario Alford, that ranked eighth nationally.
As was the case throughout 2015, Beaty continued to emphasize the importance of KU performing well in the third phase of the game to help close the gap between KU and the rest of the Big 12.
"With the amount of time that we put into the kicking game, we needed to be better," Beaty said. "That has to be a third (phase) that we win, and his production gives us something that we can lean on moving forward."
DeForest, 50, earned $375,000 with the Mountaineers in 2015 and likely was hired by Beaty for significantly less. Since 1990, he also has held various full-time coaching positions at Duke and Rice.
DeForest seems to fit the mold of Beaty's staff in that he is an intense competitor with incredible energy and a passion for recruiting. He has strong ties in both Houston and parts of Florida.
DeForest becomes the third new full-time assistant added to Beaty's staff this offseason — he joins wide-receivers coach Jason Phillips and linebackers coach Todd Bradford — and if the final two hires go as smoothly as Beaty projected Friday night, all five coaching vacancies will be filled less than a week after No. 5 became official.
"The response was overwhelming from people who wanted to come here and be a part of this university," Beaty said. "It was really cool and it just speaks volumes about what it means to be a Jayhawk.
"We had the season we had, and every single coach on our staff had job offers. Every single one of them. I feel good about the men that we hired, and we're going to continue to try to get the right guys in here."
DeForest interview prior to 2015 game against Kansas:
DeForest mic'd up at Oklahoma State in 2011: