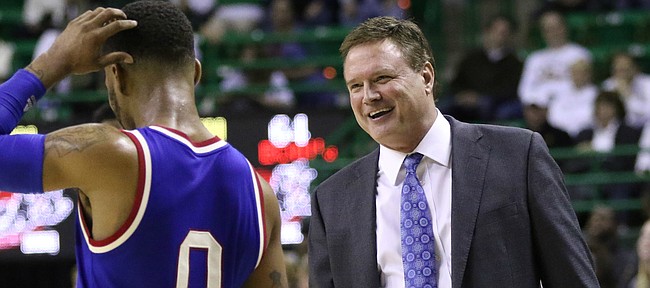 In about a week and a half, Bill Self and nine other Big 12 head basketball coaches will submit their all-conference picks to the league office.
"You've got three that are givens — Buddy (Hield, Oklahoma), Perry (Ellis, Kansas) and Georges (Niang, Iowa State)," Self said of first-team mention. "The other two ... you could make a case for a lot of guys who could be on that first team. There will be consensus on those three. Everybody (coaches, media) will have different opinions after that," Self added on his weekly "Hawk Talk" radio show.
Hield (25.4 ppg), Niang (19.5) and Ellis (16.4 ppg) are the top three scorers in the league. Some other players sure to be up for Big 12 honors: Isaiah Taylor, Texas; Taurean Prince, Rico Gathers, Johnathan Motley, Baylor; Monte Morris, Abdel Nader, ISU; Jaysean Paige, Devin Williams, West Virginia; Frank Mason III, Devonté Graham, Wayne Selden Jr., KU; and Isaiah Cousins, Jordan Woodard, Ryan Spangler, OU, to name a bundle.
Mason OK: Mason had a sore neck Wednesday, the result of a hard foul by Baylor's Motley with 2:14 left in KU's 66-60 win over the Bears on Tuesday. Mason hit one of two free throws to give the Jayhawks a 58-55 lead.
"Bill (Cowgill, trainer) said he is sore and will have to get it worked on probably with treatment the next three to four days before he's 100 percent," Self said. "It's not anything to keep him from playing. You will not keep him out unless it's something significant.
"When he jerked his head left, he tweaked something in his neck. It wasn't a head injury. His neck is stiff. They can work on that," Self added.
Ellis tough: KU senior Ellis scored 15 points while playing 36 minutes Tuesday, three days after he was kneed in the head by teammate Carlton Bragg Jr., opening a 12-stitch cut at Kansas State. Selden accidentally slugged Ellis in the right eye late in the KSU game. His eye remained watery on Tuesday.
"Wayne swung at the ball as hard as a man can swing. It was not just a poke. It was a blow," Self said. "I'm proud of Perry. He got beat up that game. That would knock most people out. I don't think I've seen him that upset since I've been here because he really wanted to be out there down the stretch (of 72-63 win vs. KSU). It means a lot to him. ... I think with Perry, we take for granted he is a rock out there all the time."
Mickelson update: Self said senior Hunter Mickelson still is not fully recovered from a high-ankle sprain he suffered a couple of weeks ago.
"He said he's 90, 95 percent," Self said. "High-ankle sprains take awhile to heal. He didn't get a chance to play last night. We decided to go with guys who've been playing the majority of the minutes, especially after we got behind. He stepped in and make a huge play against Kansas State (forcing a turnover late)."
Good grades: KU's Ellis, Svi Mykhailiuk and Evan Manning have been named to the Academic All-Big 12 first team, it was announced Wednesday.
This, that: A win over Texas Tech at 11 a.m. Saturday would give KU at least a share of a 12th straight Big 12 title. It also would surely vault No. 2 KU to the No. 1 spot in the AP poll. No. 1 Villanova fell to Xavier, 90-83, on Wednesday. ... Trevon Duval, a 6-2 junior from Dallas Advanced Preparatory International, attended the KU-Baylor game. He's considering KU, Baylor, Arizona and many others. He's ranked No. 2 in the Class of 2017 by Rivals.com.