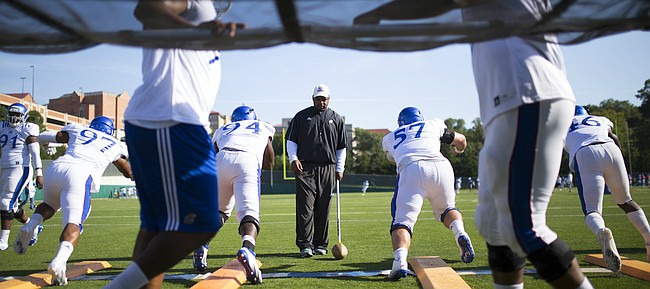 The University of Oklahoma and head football coach Bob Stoops on Wednesday morning made official the hiring of now-former Kansas University defensive line coach Calvin Thibodeaux, the fifth full-time assistant to leave KU coach David Beaty's coaching staff this offseason.
Like a couple of coaches who left Lawrence before him, Thibodeaux's departure came down to accepting an opportunity that simply was too good to pass up.
"It's a dream come true," Thibodeaux said in a news release sent out by the Sooners. "To have this opportunity is special. It's home. I know the culture, I know what the expectations are. It's truly a blessing. When I got into coaching back in 2008, it was always one of my goals to come back home. For it to happen is just remarkable."
The 32-year-old Thibodeaux, who spent one season on Beaty's staff at Kansas after three seasons with Tulsa, played at OU from 2002-06 and was an all-Big 12 selection during the 2005 season.
It was Thibodeaux's familiarity with and fondness for the program that landed him on Stoops' short list to replace Diron Reynolds, who left Oklahoma for Stanford after just one season on Stoops' staff.
"We're excited to have Calvin back in our program," Stoops said in the release. "He's a longtime Sooner and was an excellent player for us. He's gained great defensive line experience coming up through the coaching ranks and was being sought after by other programs. He'll provide great leadership and direction to our players and will make big contributions to our defensive scheme."
Well-liked by the players and coaching staff during his lone season at KU and viewed within the coaching fraternity as an up-and-comer, Thibodeaux said during the 2015 season that his time as a player with the Sooners played a big part in shaping his coaching path, which now has included stops at six schools since 2008.
"Most of my coaching philosophy has really been shaped by my experience at the University of Oklahoma and those experiences," he said prior to KU's game against the Sooners in Lawrence in 2015. "You carry a lot of those thoughts and ideas with you. As a player, when you're playing at Oklahoma, you're not really concerned about (your coaching future) but you carry yourself in a manner that, when your time is up, they remember (you) took care of your business on and off the field and possibly a door would open."
Thibodeaux's departure creates a third vacancy at KU, where Beaty is working around the clock to find replacements for running backs coach Reggie Mitchell (Arkansas), special teams coordinator Gary Hyman (demoted, then Indiana State) and now Thibodeaux.
Wide receivers coach Jason Phillips replaced Klint Kubiak, who left to join his father's staff with the Denver Broncos, and linebackers coach Todd Bradford came in to replace Kevin Kane, who returned to Northern Illinois to become NIU's defensive coordinator.
Beaty is expected to finalize his second staff before the start of spring practices on March 6 and said last week at a rally in Topeka that the list of quality coaches reaching out to Kansas about the openings was "a mile long."
---
Recent stories from KU's coaching carousel
---