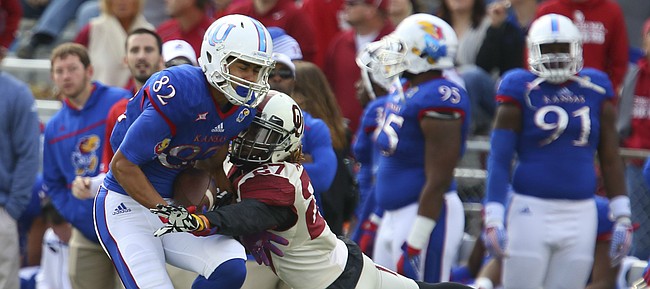 During a stretch in which the Kansas University football program seems to be losing more bodies than it's bringing in, the Jayhawks picked up a bit of good news on Wednesday afternoon.
KU officials announced that wide receiver Shakiem Barbel, who transferred to KU from Fresno City College before the 2014 season and has played in 13 games during the past two seasons, including all 12 last year, had been given an additional year of eligibility by the NCAA.
Barbel started two games in 2015 and finished the season with 130 yards and one touchdown on 15 receptions.
"We are excited to have Shakiem back for another year," KU coach David Beaty said in a news release. "He is a great teammate and a guy with some quality experience. It will be valuable to our program to have him in our locker room and back out on the field with us."
Barbel is one of the few upperclassmen in a deep and talented returning receiving corps that features sophomores-to-be Jeremiah Booker and Steven Sims Jr., who were among KU's top play-makers and leading receivers in 2015.
KU also returns juniors Tyler Patrick and Darious Crawley along with sophomore Bobby Hartzog Jr. Incoming freshmen Keegan Brewer and Evan Fairs also figure to add depth and potential threats to the receiving corps that will be coached in 2016 by new assistant coach Jason Phillips, who replaced Klint Kubiak after Kubiak left for the Denver Broncos, one of five assistants to leave Beaty's staff this offseason.
Dates to remember
As KU football charges toward another session of spring football, here are a few dates to remember in the upcoming weeks.
Friday, Beaty will host his final Football in February event from 5-7 p.m. at Sporting KC's Boulevard Members Club in Kansas City, Kansas. The event is free to the public and will feature Beaty, what's left of his coaching staff and various members of KU's athletic department speaking to and mingling with KU fans.
March 6 will mark the start of this year's spring practices. Beaty and the Jayhawks will run through 15 practices from March 6 through April 15, with the annual spring game kicking off at 1 p.m. April 9.
Matsakis to UK
According to a report from the Louisville Courier-Journal, former KU football staff member Louie Matsakis, who was a full-time assistant on Mark Mangino's staff and worked as Beaty's director of personnel in 2015, has agreed to join Mark Stoops' staff at Kentucky as a special teams quality control coach.
Matsakis, who also worked under Charlie Weis at KU, joins offensive quality control coach Tommy Mangino, the son of Mark Mangino and formerly the wide receivers coach at Iowa State, as new Kentucky football staffers with ties to Kansas.