Saturday, February 20, 2016
Manhattan — No need for the great minds of our time to take a break from searching for the meaning of life to figure out the primary reason Kansas State played so much better in the second half than the first Saturday night in wild Bramlage Coliseum.
No, not the whistles. Not even Perry Ellis suffering a gash to the head that required stitches and a scratch to the eye that is cause for concern at least until an eye doctor examines it.
Not half-time speeches. Not the spirited crowd fueling the home team with energy, which it most certainly did in impressive fashion.
The biggest reason that the same K-State team that trailed by 10 points at halftime on the way to losing to Kansas, 72-63, is quite easy to identify.
Photo Gallery
Kansas basketball v. Kansas State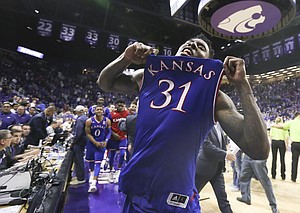 Images from the Jayhawks' rematch against Kansas State, Saturday in Manhattan.
Fourth-year Kansas junior post man Landen Lucas played 10 minutes in the first half and K-State wide bodies D.J. Johnson and Stephen Hurt combined for five points. Lucas played three second-half minutes before fouling out and K-State's two hulks combined for 19 points.
When Lucas is on the floor, Kansas has an answer for big, powerful bodies. When he has a seat on the bench, the opposition's muscle turns into a shark smelling blood and is targeted by teammates at the insistence of the coach.
Lucas, armed with smarts and strength, has developed into that important a player for the Jayhawks (23-4 overall, 11-3 in the Big 12), the nation's second-ranked basketball team.
The more crowded the lane grows, the more subtle body shots are exchanged, the more it enters Lucas' wheelhouse.
The intensity of this one was made for Lucas.
He played just 13 minutes of it, which was time enough for Kansas State to look for ways other than pounding it inside to score when he was out there and time enough for Lucas to contribute seven points, eight rebounds and a blocked shot. Four of  the rebounds came at the offensive end.
"Landen plays 13 minutes and gets eight rebounds," appreciative coach Bill Self said. "Perry plays 30 minutes and gets two. We need somebody in there to do the dirty work, to be real candid with you. (Jamari Traylor) would love to do it and try to do it, but he's not big enough some of the time."
Self said that two of Lucas' fouls came as the result of defensive lapses elsewhere that put him in a bad position.
Podcast episode
KU coach Bill Self said KU was motivated by its desire to win and nothing else during Saturday's nine-point win at Kansas State.
Lucas chided himself for what he called, "a silly" first foul. During his days as a reserve, Lucas didn't have to worry about counting his fouls. Different story now.
"He's become very, very important to us," Self said.
Lucas, who stands 6-foot-10 and weighs 240 pounds, said that his first choice was to play football, but before he reached high school his height led him in a direction that made more sense.
"That might be one of the reasons contact is something I've always enjoyed (as a basketball player)," Lucas said. "It hurts me sometimes. I'll be playing against a team that's not that physical and I'll be expecting contact and it's not there. I feel more comfortable playing in a game with a lot of contact."
Podcast episode
KU juniors Wayne Selden, Frank Mason applaud team effort in Saturday's nine-point win over K-State.
In the 13 minutes Lucas was on the floor, Kansas outscored its in-state rival by 15 points. In the 27 minutes Lucas sat, Kansas State had a six-point advantage. The difference in the feel of the game was every bit as noticeable as the numbers indicate.
"It helps when we get Lucas in some foul trouble and then Ellis isn't in there," Kansas State coach Bruce Weber said. "We thought we could take advantage of their big young guys and D.J. and Stephen did that. Those two guys, along with Justin (Edwards), really got us going in the second half." 
It took years of work for him to reach the point that Lucas was mentioned in the same breath by a coach as Ellis, which has to make it all the more gratifying for the big man.
— See what people were saying about KU's rematch with rival Kansas State during KUsports.com's live coverage
---
More news and notes from the Sunflower Showdown in Manhattan
---
https://www.youtube.com/watch?v=S825eOcSrzw
---
https://www.youtube.com/watch?v=Uoc7oUO-gDc
---