Saturday, February 20, 2016
Manhattan — Disappointed by yet another hard-fought loss, both to Kansas University and during this trying Kansas State men's basketball season, KSU coach Bruce Weber took a moment after Saturday's 72-63 loss to KU at Bramlage Coliseum to sound off about some bigger-picture Big 12 issues.
When one team, in this case Kansas, takes a two-game lead in the conference race with four games to play, it becomes time to talk about these sorts of things.
And Weber had no problem doing so, even if his claims were a little unconventional and unprompted.
"To me, if they win the league, (Perry) Ellis should be (Big 12) player of the year," Weber said of KU's senior forward. "I know (Oklahoma guard) Buddy (Hield) may be national player of the year, but Perry should be the (Big 12) player of the year. You know, if you win the league and you take your team to the championship, you should be the MVP. That's what it's about."
Photo Gallery
Kansas basketball v. Kansas State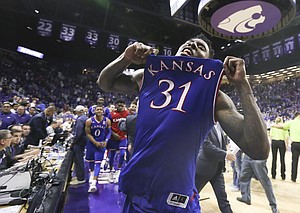 Images from the Jayhawks' rematch against Kansas State, Saturday in Manhattan.
Never was Ellis' importance to this Kansas team (23-4 overall, 11-3 Big 12) or the Big 12 Conference race, which KU now leads by two games thanks to Oklahoma's Saturday win at West Virginia, more evident to Weber than during a second-half stretch in which K-State trimmed a 17-point Kansas lead to three, largely because Ellis was in the locker room getting a dozen stitches on his head and dealing with a scratch on his eye.
There certainly were elements other than Ellis' absence that allowed K-State (15-12, 4-10) to crawl back into the game, but Weber did not shy away from expressing what a huge break Ellis' medium-sized gash was for the Wildcats.
"I hope people appreciate how good he is," said Weber of Ellis, who finished with 14 points on 4-of-6 shooting in 30 minutes Saturday. "Because, when he's not in the game, it sure makes a difference. I promise you I'd rather play them without him any time."
However, more than Ellis' impact, the K-State coach who, a few weeks ago in Lawrence, joked about wanting to go to Ellis' graduation party so he knew definitively he would never have to coach against him again, said it was KU's roster of weapons that made the Jayhawks so tough to take down.
On Saturday, KU's biggest gun was junior guard Frank Mason III, who single-handedly took over a stretch late in the first half that turned a four-point KSU lead into a 10-point Kansas advantage.
"It seems like different guys pick it up for them," Weber said. "(Sophomore guard Devonté) Graham's been playing special and he didn't have (a big) game, so Frank picked it up.... The stretch right before the half was probably the difference in the game."
For K-State, which KU coach Bill Self said easily could have won four more conference games this season and been right in the thick of the NCAA Tournament talk, the missed opportunities and inability to take that final step through the door currently is haunting them.
"We cut it to three," said KSU senior Stephen Hurt (13 points, nine rebounds). "We had our chance. We just have to execute a little bit better."
Added senior guard Justin Edwards: "Obviously, it sucks. When we spot teams a lot of points like that, it's hard to come back. Especially (against) good teams."
— See what people were saying about KU's rematch with rival Kansas State during KUsports.com's live coverage
---
More news and notes from the Sunflower Showdown in Manhattan
---
https://www.youtube.com/watch?v=S825eOcSrzw
---
https://www.youtube.com/watch?v=Uoc7oUO-gDc
---