Manhattan — Frank Mason III looked into the stands and screamed joyfully as Brannen Greene and Devonté Graham playfully wrestled with each other on the ground as they chased the final defensive rebound with three seconds left in Kansas University's huge 72-63 victory over rival Kansas State on Saturday in Bramlage Coliseum.
The victory not only gave (23-4, 11-3) KU a two-game lead over West Virginia, Oklahoma and Baylor in the Big 12 race with four games to play, but marked the first-ever "W" in Bramlage for KU's juniors, sophomores and freshmen.
"I was just happy. We never had a win here since I've been here at KU. I was just saying, 'Let's go!' I was happy at the time," Mason said, of his G-rated statement to the 12,528 fans issued after scoring 16 points with five assists, two steals and one turnover in 33 minutes. 
The 5-11 junior guard from Petersburg, Va., scored the final seven points of a 14-0 run that turned an early yet significant 25-21 deficit into a 10-point lead with 2:26 left in the first half.
Photo Gallery
Kansas basketball v. Kansas State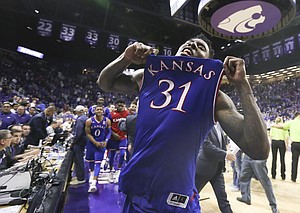 Images from the Jayhawks' rematch against Kansas State, Saturday in Manhattan.
The hard-earned victory — KU saw a 17-point second-half lead dip to three before Graham helped save the day by scoring six points (his only six of the day) in the final 1:44 — silenced a crazed KSU crowd. It was one that, urged on by pre-game comments from Justin Edwards (11 points) and Wesley Iwundu (eight points), hoped to storm the court on KU for a third straight season.
"We are tired of people storming the court on us. It's in our minds to not let that happen," said KU senior forward Jamari Traylor (six points including vicious drive and dunk that gave KU a 62-55 lead at4:43), "to not lose that game. There was a time we were down a couple games in the Big 12 race. We've hunkered down and come out swinging.
"All our juniors ... to finally come in here and win is a great feeling," added Traylor, who fouled out with 1:19 left, joining Landen Lucas (seven points, eight boards) on the bench as the junior forward was whistled for his fifth with 2:11 remaining. Also, Perry Ellis (14 points) played just 13 minutes the final half after both suffering a cut on his head that needed 12 stitches to close, as well as a scratched eye.
"We've had a lot of momentum the last few games and wanted to keep it going for the next game," Traylor stated after KU's seventh straight victory.
KU's 52-35 lead with 14:46 left dipped to just three points (63-60) when Edwards hit a driving layup at 2:45. Wayne Selden Jr. (12 points) scored off a Mason miss at 2:22, yet D.J. Johnson responded with two free throws at 2:11, cutting KU's lead to 65-62.
That's when Graham, who finished one of six from the field, hit a step-back jump shot to up KU's margin to 67-62 at 1:44.
"Devonté, who had a goose-egg (at the time), hits the biggest shot of the game," KU coach Bill Self said.
KSU's Johnson, who was nine of 10 from the line, went one of two at 1:19 and KU still led by four.
Podcast episode
KU coach Bill Self said KU was motivated by its desire to win and nothing else during Saturday's nine-point win at Kansas State.
Next came a crucial defensive play by Hunter Mickelson. The 6-11 senior, who played five minutes the final half, came from down low to guard Johnson, getting his hand on the ball 12 feet from the goal. The ball kicked off Johnson out of bounds and KU had the ball, up four at :43.1. Graham followed with a pair of charities at :30.6 and :20.1 and KU had the game in the bag.
"Hunter came in and made a great play deflecting that ball," Traylor said. "If you do that, you've got to get the ball (or it'll be dunk). Johnson was going great at the time. He was getting buckets on the low block, getting to the line. It was a great play by Hunter getting it out of his hands," Traylor added.
Of Mickelson's play, Self said: "We say it all the time, 'You can't fish and miss.' If he missed it's a layup or dunk. Fortunately Hunter was able to hit it off him. It may have been the biggest defensive play of the game."
KU also received a big effort from sophomore Svi Mykhailiuk, who after playing seven minutes total in the last three games, scored nine points. He hit three of four threes in 20 minutes, making two the first half as KU led, 39-29, at intermission.
Podcast episode
KU juniors Wayne Selden, Frank Mason applaud team effort in Saturday's nine-point win over K-State.
Overall, KU hit 50 percent of its shots and went six of 18 from three and 18 of 30 from the free-throw line. K-State, which received 13 points from Barry Brown and Stephen Hurt, hit 37.7 percent of its shots. The (15-12, 4-10) Cats hit five of 16 threes and 18 of 22 free throws. KU won the board battle, 34-32.
"K-State could have won the game today and more games in the league," Self said, praising the Cats.
He was asked if he considers KU-KSU a rivalry.
"With the success they've had against us ... they won the last two years here, certainly we look at it that way," Self said.
KU will meet Baylor at 7 p.m., Tuesday, in Waco.
— See what people were saying about KU's rematch with rival Kansas State during KUsports.com's live coverage
---
More news and notes from the Sunflower Showdown in Manhattan
---
https://www.youtube.com/watch?v=S825eOcSrzw
---
https://www.youtube.com/watch?v=Uoc7oUO-gDc
---