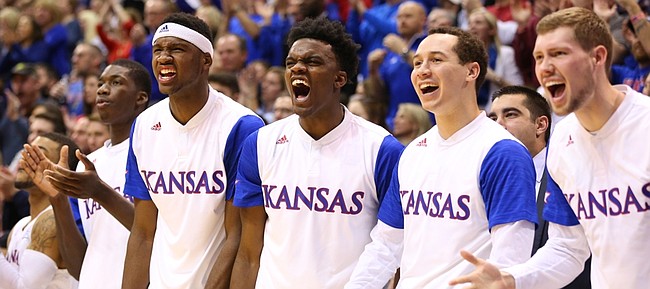 Notice the correlation between the size of Bill Self's rotation and the Kansas University basketball team's national ranking.
When the rotation gets smaller, the ranking becomes higher.
First, 11 players had equal shots at playing time. Then Hunter Mickelson was trimmed. Next, Svi Mykhailiuk's minutes greatly declined. Freshmen Cheick Diallo and Carlton Bragg seldom reach double figures in minutes.
Podcast episode
Kansas basketball coach Bill Self discusses what the Jayhawks will have to do Saturday to beat rival Kansas State on the road, as well as a number of other topics, at his weekly press conference.
In the past three games, victories vs. West Virginia, Oklahoma and Oklahoma State, Diallo totaled 16 minutes, Bragg 11 and Mykhailiuk seven.
For the most part, Brannen Greene and Jamari Traylor give coach Bill Self what he needs when he goes to the bench better than anyone else on the bench.
In the past three games, Greene has totaled 59 minutes, Traylor 33.
Landen Lucas earned the starting job and majority of minutes in the post by playing the best of all Self's options.
"He's our post defender, position defender, and he's smart, and he's our best offensive rebounder," Self said. "That's been evident. I mean, he's got 15 offensive rebounds the last three games, and he's probably our best defensive rebounder right now. I think that that — and he goes after the ball with two hands in traffic. I think he's given us an element of toughness, too, being in there."
If Lucas has a bad night, Self won't hesitate to turn to Diallo if he matches up better than Traylor, but Lucas clearly has moved to the head of the class.
Diallo and Bragg each could have a game in them in March that Cole Aldrich gave Kansas in a 16-minute dominant performance against North Carolina. Aldrich totaled 10 minutes in the three games previous to his national-semifinal outburst.
On the perimeter, and even at the power forward spot, Greene gives Self a terrific three-point shooter and solid defensive rebounder.
"I think he's been a positive factor without question, the last couple of games," Self said. "I thought he was good against OU and I thought he was good against Oklahoma State, so yeah, I'm hopeful that he's on an uptick, but more importantly, I hope our team is."
Riding a six-game winning streak, the team definitely is on an uptick. If the players do an even better job of finding Greene in the corner in transition, more improvement awaits.
One month ago today, Oklahoma State smoked Kansas by 19 points. It's amazing how much better this team is now and the paring of the rotation has had at least a little to do with that.
— Tom Keegan appears on The Drive on Sunday nights on WIBW-TV.
---
---
---