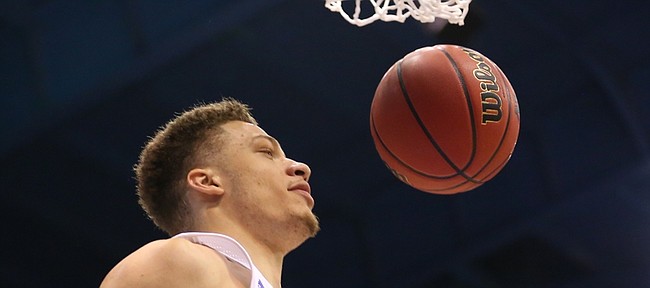 Kansas University basketball coach Bill Self was furious at junior guard Brannen Greene for flushing a meaningless, unguarded, unopposed dunk right before the final horn sounded in the Jayhawks' 77-59 win over rival Kansas State on Feb. 3 in Allen Fieldhouse.
Two weeks, four victories and no losses later, the wounds have healed on KU's side of the equation.
The 6-foot-7 Greene in fact — after playing just one minute against TCU following a public admonishment by Self — has responded to double-digit minutes with 30 points and 12 boards in wins over Oklahoma State, Oklahoma and West Virginia.
Podcast episode
Kansas basketball coach Bill Self discusses what the Jayhawks will have to do Saturday to beat rival Kansas State on the road, as well as a number of other topics, at his weekly press conference.
Meanwhile, in Manhattan, where the Wildcats are preparing for Saturday's 5 p.m. rematch against KU in Bramlage Coliseum, feelings just now are beginning to surface about Greene's controversial slam.
"It was kind of like they were just throwing stuff in our face when they did that," K-State senior Justin Edwards said Thursday as reported by Kellis Robinett of the Wichita Eagle. "To get back at them and just beat them on the court is what we want to do.
"It wasn't sportsmanlike of him to do that," Edwards added to Robinett. "The players kind of just said he was a (bleep). I don't know if I should say that or not, but, yeah, players talked about it."
Of the dunk, KSU junior Wesley Iwundu said: "In a situation like that you just want to walk off the court and let the game be over with. We still remember that. It is just motivation going into this game."
Self issued an apology to KSU after the game and Greene did the same after Monday's home win over Oklahoma State.
"I do apologize and am sorry for it. I'm just ready to play. It's about the basketball game," Greene said. "It is what it is, probably so," he added of fans likely booing him in Bramlage on Saturday. "It won't faze me much. I don't really care too much about that."
KU's players Saturday also could use an unsportsmanlike act committed by KSU as motivation, if they so desire. Last season, a KSU student plowed into Jamari Traylor and was issued a disorderly conduct citation following a courtstorming after the Wildcats' second home win over KU in as many years.
"They deserved to storm the court. They beat us. They deserved everything they got that night," KU junior Wayne Selden, Jr., said Thursday. "We lost the game. They beat us. It's a new year. We're not really looking toward sportsmanship (issue) or anything like that, the past or anything like that. We're just looking to go there and get a win."
"If we win, we don't have to worry about it. It (everything) would be all right," Traylor said. "We've just got to take care of business. As far as sportsmanship, that's old (news). I saw them win a game a little while ago, a big game. I think it was OU. Nobody got hurt after the game. My mindset is on winning anyway. We just have to take care of business," Traylor added.
The Jayhawk players indicated they weren't concerned about the Greene issue being on the Cats' minds.
"I feel any Big 12 game you should be motivated to play. I don't feel you need small incentives like that," Selden said. "I feel they're going to come ready to play and we're going to come ready to play."
Noted Traylor: "I'm just here to play. I'm just going to play. Whatever happens outside of the court, I don't have any control of that. We're just going to be focused and go out there and play."
KU coach Self said at his weekly news conference Thursday he anticipates no problems with sportsmanship in Round Two between the No. 2-ranked (22-4, 10-3) Jayhawks and unranked (15-11, 4-9) Wildcats.
"The reason they are rival games is because people on both sides, and fans primarily, don't really like each other that much. There's a reason why it's a rival. It's because it means something to your group, and it means something to their group, and both of them have pride in who is the victorious one," Self said.
"Things happen sometimes that doesn't equate to poor sportsmanship. It equates to a lot of people who care, that get upset at inopportune moments. That situation that happened last year is not a factor, and we've had situations where we didn't handle ourselves right. That's not a factor. The factor is you've got hopefully 10 guys out there at a time competing against each other and keeping everything within the lines certainly. That's not going to be a point with us, and you know, it shouldn't be. If you don't want to get the court storm, you should play better, and certainly we haven't done that the last couple times over there."
More on courtstorming: A Twitter post by reporter Robinett (who interviewed KSU players Thursday) reads: "K-State players are pushing for students to storm the court should they beat KU on Saturday. Why not have fun with it, says Wesley Iwundu." ... KSU this week issued a video on YouTube regarding treating its guests with class. It is available at bit.ly/1KYvdOA
Award finalist: KU senior Perry Ellis is one of 10 finalists for the 2015-16 Senior CLASS Award for excellence on and off the court. Other finalists: Georges Niang, Iowa State; Buddy Hield, Oklahoma; Ryan Arcidiacono, Villanova; Malcolm Brogdon, Virginia; Marcus Paige, North Carolina; Justin Sears, Yale; Denzel Valentine, Michigan State; Fred Van Vleet, Wichita State and Kyle Wiltjer, Gonzaga. Fans can vote for Ellis at the Web address SeniorCLASSAward.com.
---
---
---