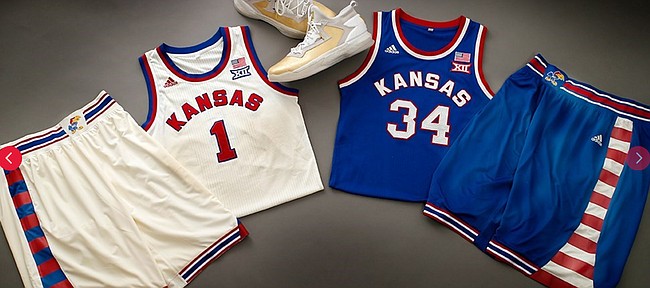 The Kansas University men's basketball team on Tuesday unveiled another set of alternate uniforms which will be worn during the Feb. 23 road game at Baylor (blue) and the Feb. 27 home game against Texas Tech (white).
In association with adidas, KU's newly released, new-look duds pay homage to the uniforms worn by the Jayhawks in the 1950s and are a part of college basketball's celebration of Black History Month.
Photo Gallery
Alternate KU hoops uniforms for Black History Month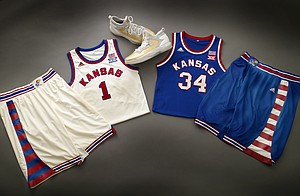 adidas and the Kansas University basketball program on Tuesday unveiled two special uniforms that KU will wear during road games at Baylor (Feb. 23) and home against Texas Tech (Feb. 27). The uniforms, which pay homage to KU's style in the 1950s, is a part of adidas' celebration of Black History Month.
Designed with royal blue and cream tones, the jerseys feature classic block lettering and numbers used during basketball's early years. The jersey includes crimson, blue and white accents, while the shorts feature a two-color stripe as a nod to Kansas' classic look and feel.
According to the release, the uniforms feature the same lightweight, sweat-wicking technology used in the NBA versions. Designed to give players optimum performance on the court, targeted ventilation zones on the chest, back and side keep players cool even in the most intense moments of the game. A mid-hole mesh on the short maximizes comfort and breathability.
These types of alternate looks have become pretty common since KU first partnered with adidas and they always seem to draw mixed reactions from the KU fan base. Most of the new jerseys have been well liked and scooped up quickly by fans wanting to represent their team at the game. Others, however, have been roasted on social media and message boards.
Judging by the initial reaction to the release of this year's late-season uniform switch, KU fans seem to reacting very favorably, calling the alternate unis "sick," "fire," "nice," and using other words and phrases to show their approval.
According to the release, fans can purchase the uniforms at participating retailers.