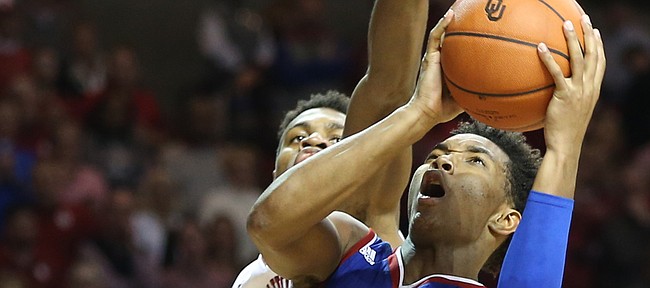 Ever on guard against the slightest hint of complacency and overconfidence, Kansas University basketball coach Bill Self is a master at pointing out the blemishes of an athlete's smooth day.
Self didn't go anywhere near that path in discussing Devonté Graham after the sophomore guard from Raleigh, N.C., scored 27 points, delivered in the clutch and held Buddy Hield without a field goal for the entire first half of KU's 76-72 victory against Oklahoma on Saturday.
Instead, Graham's endurance wowed Self.
"He didn't get tired," Self said of Graham, who played 39 minutes and guarded Hield from start to finish. "I don't know. That didn't seem possible to me."
Self went on to point out specific plays tired athletes typically lack the energy to execute late in games that Graham managed to complete.
Big game with the crowd fueling the other team, played midway through February, seems a prescription for exhaustion. So how did Graham stay fresh?
"I think they get more efficient as the season goes on, for sure," KU's strength-and-conditioning coach Andrea Hudy said.
That challenges conventional wisdom, always the first step in finding better ways to do things. Hudy banks on technology to tweak workouts.
"We monitor the fatigue and strength and power," Hudy said. "If they get fatigued, then they won't be able to produce force as fast. So then we pick up on that, and if we need to do more recovery or do something different, we do that."
Whatever Graham is doing physically at the urging of the strength-and-conditioning staff is working wonders.
Next comes the psychological challenge. It's so difficult for young athletes not to defer to older ones. No one disputes that Graham has the personality best suited for leadership on KU's roster. It's on Graham and the rest of the prominent players to knock down the age-hierarchy hurdles and follow the upbeat force's lead. That should become easier for all parties in the wake of his coming-out party Saturday in Norman, Okla.
On the topic of leading, coming out of Saturday's action, Graham leads the Big 12 in conference games only with a three-point percentage of .490, followed by Hield (.475) and OU teammates Isaiah Cousins and Jordan Woodard (tied at .444).
In many ways a hybrid of KU's hybrid-guards starting backcourt of Russell Robinson and Mario Chalmers, Graham averages 34.7 minutes per Big 12 contest and is the team's best perimeter defender. He's a leader worth following for the next 26 months.