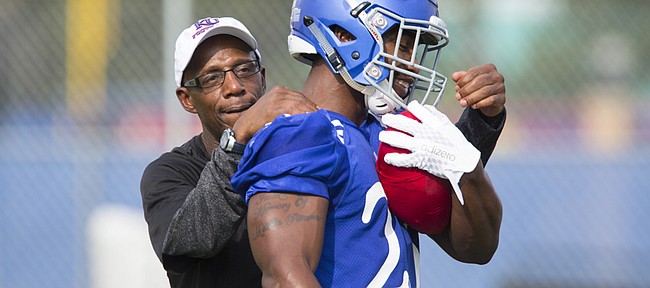 During the past six seasons, Kansas University won just 12 football games in 72 tries and suffered through some of the worst games, stretches and seasons in school history.
And one man was there for every moment.
That man is now-former running-backs coach and recruiting coordinator Reggie Mitchell, who last Friday accepted a similar job at Arkansas under Razorbacks coach Bret Bielema.
After working for Glen Mason in the 1990s, Mitchell returned to KU under Turner Gill in 2010 and was one of the rare faces that did not change in the Anderson Family Football Complex as KU cycled through three head coaches — four if you count Clint Bowen's interim era — during the rough stretch that followed the Mark Mangino era.
From bowl games under Mason to a winless season in 2015, Mitchell saw it all. And before leaving town for his new opportunity, Mitchell shared his thoughts on the current state of the KU program and what lies ahead.
"I really think the program is headed in the right direction," Mitchell told the Journal-World. "You've got the right leadership, and you've finally got the right guys. That's not a knock on anyone, but I think KU football is on an upward trend."
Mitchell said he believed in the vision shared by Kansas athletic director Sheahon Zenger and second-year coach David Beaty and added that if not for the opportunity presented to him by Bielema, he would not be going anywhere.
"They are committed to getting things turned around and aren't afraid to put in the work it's going to take to get it done," Mitchell said. "When you're at a place for a while, you get comfortable in your surroundings and environment, so I'm excited to see a new place and a new way of doing things and to learn as much as I can at Arkansas."
Asked if he still had head-coaching aspirations, the veteran assistant with 33 years of college experience said that was not a factor in his decision to leave KU for Arkansas.
"You know what? I don't know," Mitchell said. "I do know that guys who have been there and worked under coach Bielema have gone on to very successful things. So, right now, I'm just happy to be a part of it, and I'll see where it takes me."
Meanwhile, Beaty and KU will move forward looking to add a third new face to the staff for Year Two of the Beaty era. Todd Bradford replaced linebackers coach Kevin Kane, who left to become the defensive coordinator at Northern Illinois. And Jason Phillips joined the staff as a second wide-receivers coach, a move made possible by the reassignment of 2015 special-teams coach Gary Hyman, who remains on staff.
No timetable has been given for naming Mitchell's replacement, but with spring practices starting in early March and recruiting the Class of 2017 already in full swing, Beaty likely will move quickly.